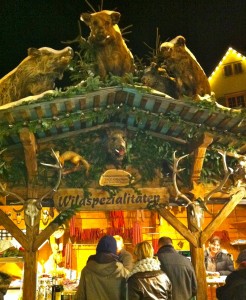 Germany has hundreds of Christmas markets – Munich alone has twenty four. Contrary to what many visitors believe, the most charming Christmas markets in Germany are not always the well known ones, but the smaller ones that often have a unique theme. These are often the Christmas markets that are most popular with locals as well.
Esslingen Medieval Christmas Market
Visiting Esslingen's Medieval Christmas Market feels like stepping into a time machine and coming out into the Middle Ages. Medieval stalls are manned by costumed vendors selling their medieval inspired goods ranging from whiskey flasks to heavy pottery to swords. On chilly nights you can warm up over several large fires while sipping a mug of mulled wine. Feeling lucky?  Then try your hand at one of several carnival-style medieval themed games. The Medieval Christmas Market is nestled in Esslingen's old town between half-timber houses adding to its ambiance and charm.  This Christmas market is all about fun, so go with a group of friends or children.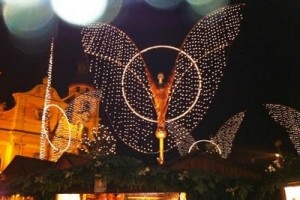 Ludwigsburg Baroque Christmas Market
Ludwigsburg's Baroque Christmas Market is held in the city's market square surrounded by two lit-up baroque churches and bathed in a golden glow. The Christmas Market even has its own guardian angels which watch over the market with their enormous lit up wings, encouraging everyone to be on their best behavior. A free evening program featuring live entertainment runs everyday, while a children's program is offered in the later afternoon. I find the Ludwigsburg Baroque Christmas Market incredibly romantic, and judging by the number of couples I see sneaking in kisses here and there, I am not alone.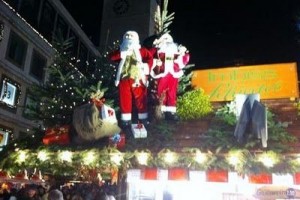 Stuttgart Christmas Market
The Stuttgart Christmas Market is not exactly small with over 280 stalls, but it does retain its cozy and charming feel with the medieval Old Palace and Abbey church in the background. It is one of Germany's finest Christmas markets and one of my personal favorites. This Christmas market's uniqueness lies in its decorated vendor stalls. Each vendor stall roof is elaborately decorated with each stall owner trying to outdo the other, and for good reason: there's a vendor stall competition every year that's taken rather seriously. It's easy to spend the entire time at the Stuttgart Christmas Market just staring at the stall rooftops pretending you are one of the judges.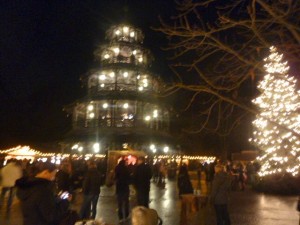 Christmas Market at the Chinese Tower in the English Garden, Munich
The Chinese Tower is a large beer garden in summer, but turns into a Christmas market every year at the end of November until December 23rd. Most Christmas markets are set in the market square but this one is special.  It's set in the English Garden, a park that's larger than Central Park in New York City.  Lights are strung up in the trees creating a cozy and romantic atmosphere.  If that wasn't romantic enough, c0nsider a carriage ride through the English Garden. It's not all about the romance though. Children will enjoy "Grandma's Story Barn" where stories can be heard for a couple of hours daily while music lovers can rejoice in the Christmas carols sung each evening from the Chinese Tower.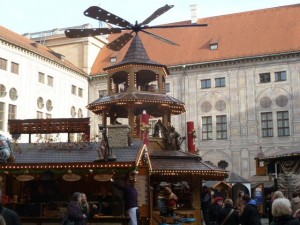 Christmas Village in Munich Residenz
This Christmas Market is small, but cozily held in the courtyard of the back-lit Munich Residenz (former palace to Bavarian royalty). It's coziness is exactly what makes it popular with locals. Each stall resembles a rustic alpine hut complete with wood shingles adding to its charm. Children and adults will both be amused in the Fairy Tale Forest where different characters put on singing and dancing shows with the press of a button. Who doesn't want to hear a moose singing Christmas carols? There's also a twice weekly puppet theater for children and daily live entertainment for adults including traditional music and Christmas carols.
These five Christmas markets are very different, but each one is charming in its own unique way. Which one sounds most appealing to you?