By night, the Barranco district of Lima, Peru is teeming with 20-something-year-old hipsters clad in ripped jeans and miniskirts, chain smoking outside the city´s hottest clubs. They pose in front of portraits of rock legends while the music thumps inside. The district has been romanticized as the poetic inspiration of many Peruvian singers and artists, making it a must-see stop for all things bohemia in Lima. But club-goers are advised to get some zzz's before heading out for the night: Peruvians rarely arrive before midnight and don't stop dancing until the sun comes up.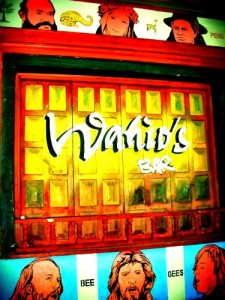 Wahio's | Boulevard de los Bomberos | http://wahiosbar.blogspot.com/
Wahio's Bar certainly wins the ¨most unique¨ award of all the night clubs in Barranco. That's because each room brings new surprises: One is furnished with low-to-the-ground sofas and plays reggae music, while the next showcases taxidermy deer heads and the greatest hits of the ´90s. Judging a bar by its outside appearance gives Wahio's a leg up over the competition, too: its street side mural pays homage to music icons like Bob Dylan, Stevie Wonder, Bob Marley, Kurt Cobain and Madonna.
El Dragón | Av. Nicolas de Pierola 168 | http://www.eldragon.com.pe/
Considered one of the premiere nightclubs in Lima, El Dragón´s mission is to ¨protect universal music.¨ On Wednesdays, the DJ spins electronic tunes, while on the weekends he plays everything from Calle 13's catchy reggaeton to Katy Perry's bubblegum dance pop.  El Dragón offers a small dance floor and a lounge area in an adjacent room for those less than thrilled about busting a move. The entrance fee usually entitles clubbers to their choice of beer or the staple Peruvian mixed drink known as chilcano, a refreshing mix of Peruvian pisco brandy and ginger ale.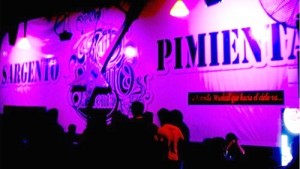 El Sargento Pimienta | Av. Bolognesi 757 | http://www.sargentopimienta.com.pe/
Named for the Beatles' famous album, Sergeant Pepper´s Lonely Hearts Club Band, El Sargento Pimienta Rock Bar is the clear favorite amongst Peruvian music junkies. Step into this club and you´ll hear the best rock of the ´80s, ´90s and today—the Red Hot Chili Peppers, Pearl Jam, and the Killers are local favorites. Sargento´s has a spacious dance floor which even extends onto the stage area, so there´s plenty of room for head-bopping and mosh-pitting to be had. The back lounge area—set apart from the dance floor— offers a break from the excitement and a framed photo of the men who inspired the bar.
Cover is usually S/. 5 (less than $2) and beers are in the S/.10 range (10 nuevos soles, local currency). For the same price, you can also buy yourself Peru's classic drink, the pisco sour, made from pisco brandy, lemon juice and egg whites.
Help! Retro Bar | Calle Catalino Miranda 158 | http://www.help.pe/
Every Thursday night, the usual criolla music and dancing at Peña del Carajo makes way for live music tributes to rock 'n' roll greats at Help! Retro Bar, named for yet another Beatles album.  At the club´s entrance, you´ll find artisans selling flashy costume jewelry. Inside, the warehouse´s décor consists of a graffiti wall and Warhol-style artwork. Beer specials are 3 x S/.25 (about $10) for a supersized draft of the Peru´s popular Barena beer.
Be sure to arrive early to avoid the exhaustive lines outside the club. While activity will be slow when you first get inside, the dance floors will be teeming with Limeños and expats by midnight. If you feel the late-night munchies coming on after a night of dancing, no need to worry: There´s a stand that sells hamburgers on the way out.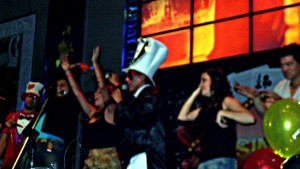 Embarcadero 41 Saturday Noon | Calle Catalino Miranda 154 | http://www.embarcadero41peru.com/
Instead of being named for a rock album or a mythical music guardian, Embarcadero´s straightforward name comes from the day and time its famous non-stop party begins: Saturday at noon. That may sound like an awfully early hour to start a dance party, but the club's DJs and emcees know how to get the crowd moving after a busy work week through a winning combination of dance-offs, reggaeton music, and free giveaways—everything from  glow sticks to felt hats and hot dogs. Embarcadero´s casino-themed decorations offer a strangely pleasant ambience for an all-day dance party.
Getting there:
Barranco district neighbors Miraflores, a hotel and hostel hotbed for Lima-bound travelers.  The best mode of transport is to take a taxi, which should cost around S/. 7. Cabs in Lima don't have running meters, so make sure you agree on the price with the driver before getting in the car.