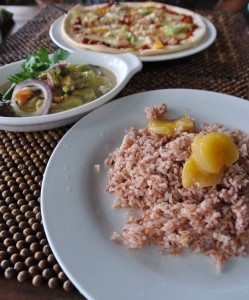 Bohol is often known as the "Bohemian" region of The Philippines. Life moves a little slower here than the frenzied pace in Manila.  Even the largest city on Bohol, Cebu, has more of a laid-back vibe, home to many universities and a real college-town feel. The main island of Bohol is surrounded by several smaller islands, many home to diving meccas attracting visitors from all over the world. Many don't visit more than the beaches, but they are missing countless hidden gems.
One such gem is to be found down a bumpy road about one kilometer off the main road on Panglao Island; here you'll stumble upon the Bohol Bee Farm. Tucked back with local farms and houses, this unassuming place was born about nine years ago by local environmentalist Vicky Wallace.
She wanted to bring organic foods and sustainability to her native Bohol and started developing a small organic vegetable garden and bee farming operation. Over the years, the Farm has grown considerably, and now most of the bee operations have moved to a larger location. The Farm still produces countless organic fruits, vegetables and herbs and is staffed with local Bohol residents.
One of the most popular parts of the Bohol Bee Farm is its charming café restaurant. Nestled under a canopy of trees and perched on the cliff overlooking the sea, the café is popular with locals and visitors alike and offers a truly eclectic menu.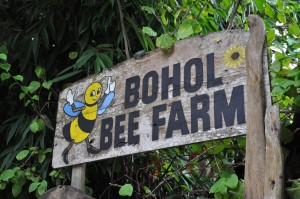 Lunch or dinner at the Bohol Bee Farm is more than just a meal; it's an opportunity to also visit the Farm, see local craftspeople in action and sample some truly original tastes.
All of the vegetables and fruit ingredients in dishes at the café are grown on-site, which is truly astounding when you consider its relatively small size and the number of diners it serves each day. The café is open-air palapa style, with warm tropical breezes blowing off the ocean below, and comfortably fits about 30 tables.
Menu items naturally focus on organic, fresh ingredients. Refresh yourself with a delightfully spicy and sweet homemade Ginger Lemonade for 80 pesos (about $1.80); Corn, Squash and Carrot Muffins are a terrific side dish and are a real value at 15 pesos (35 cents) each.
Main dishes at the Bohol Bee Farm include numerous salads such as the Spicy Flower Salad for 190 pesos ($4.33).  Tasty hot entrees abound, such as various pizza combinations (200 pesos/$4.50  and up) and Spicy Eggplant Kinilaw (180 pesos/$4.11), bursting with flavor and a real bite.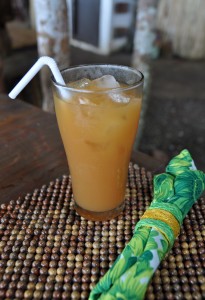 Diners are also treated to a complementary slice of the Bee Farm's signature Herbed Comote Bread and a selection of either Pesto or Mango Spread to top it off.
Your visit to the Bohol Bee Farm would not be complete without a stop in their gift shop where you can purchase many of their homemade products (honey, spreads, breads, snacks, etc.) and crafts made by local workers at the Farm. The Farm also offers accommodations with a sunbathing deck down below on the sea, perfect for catching a few rays. The entire visit is topped off with a scoop of any one of their freshly made ice cream flavors such as Mango, Avocado, Ube or Choco.
The Bohol Bee Farm is an unexpected treat and worth the trip to see what great flavor combinations Vicky comes up with next! www.boholbeefarm.com