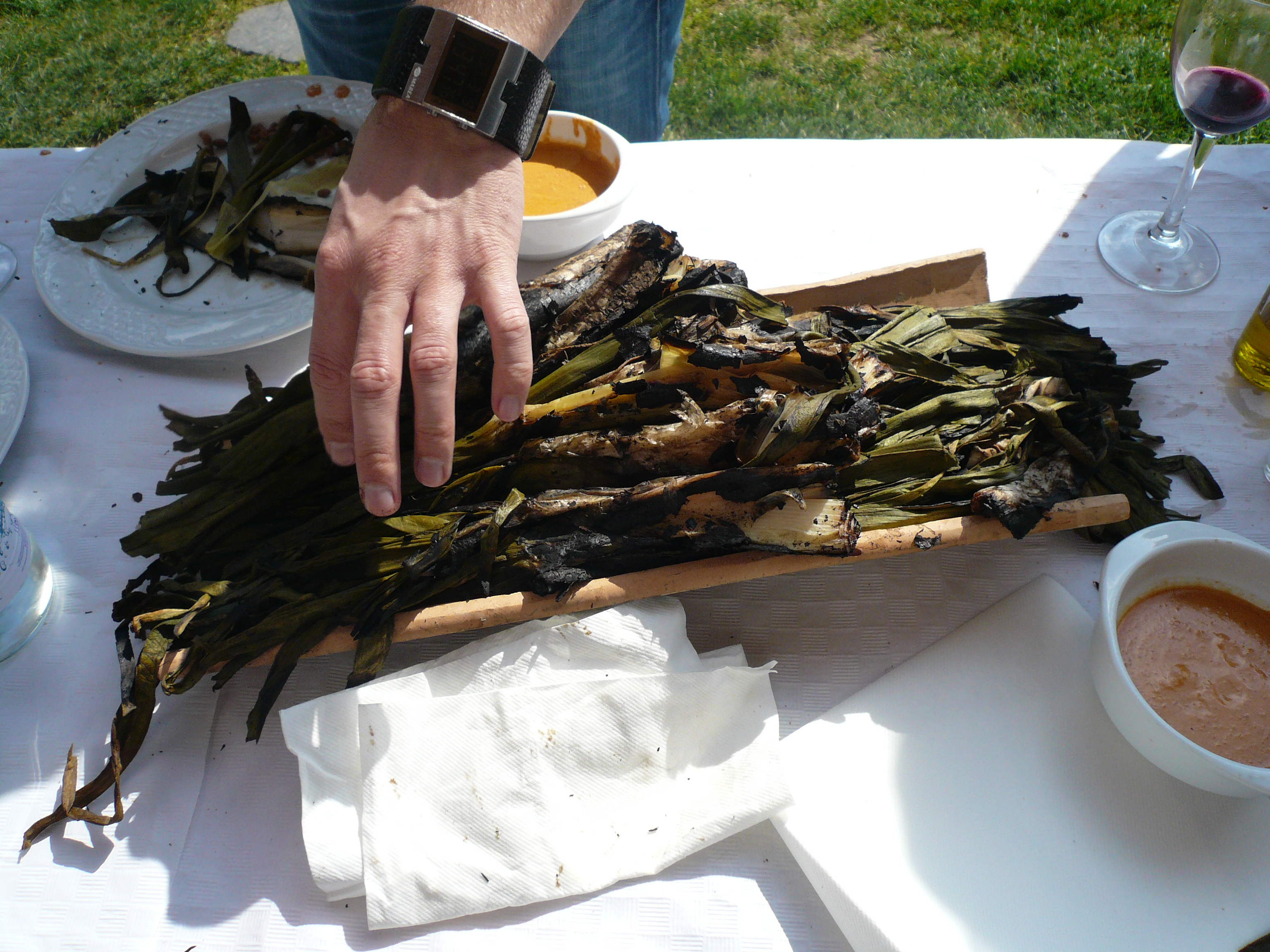 1. Secure bib.
2. Strip off charred skin revealing white meat.

3.Dunk generously in romesco sauce.

4. Tilt head back and bite sweet onion in half.

5. Savor.

6. Repeat 19 more times.
These are the basic steps to eating calçots, a seasonal Catalan food that is something between a sweet onion and a leek. Millions of these toothsome winter treats are served sizzling off the barbecue from January to April in Catalonia, Spain.
Feasting on burned onions may not sound too appetizing, but charred and tender with the right amount of creamy romesco sauce (almonds, roasted tomatoes, garlic, olive oil), calçots are down right scrumptious. Eating calçots is called a calçotada, and is usually a lunchtime affair in the countryside in a farmhouse. The calçotada begins with wine, bread and about ten to twenty calçots per person.
Calçots are served piping hot off the barbecue on a clay roofing tile. Then the fun begins. Munching calçots is a messy experience, which is why most restaurants provide bibs and plastic gloves and many times the whole ordeal takes place out of doors. A starter dish, calçots are followed by a main course of barbecued meats (lamb, rabbit, butifarra sausage), grilled vegetables and white beans. This is followed by cava, (Catalan Champagne), desserts and coffee.
All of this feasting will set you back about €30.00 per person (or more).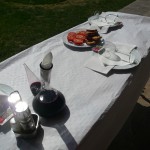 There are many places to eat calçots in Barcelona. One of the best is Restaurant L'Antic Forn, which specializes in grilled fare. The upside to eating calçots in town is that most calçotadas involve a lot of drinking, and after such an enormous meal, you may want to stumble home for a siesta! However, if you have a designated driver, then you could go to the calçotada mecca of Catalonia, Valls. About an hour away from Barcelona, Valls is the birthplace of the calçot tradition, and a calçot festival is held there the last weekend of January each year, complete with a calçot-eating contest.
In Valls, check out these exceptional restaurants for a true Catalan calçotada:
Traditional calçotadas: Restaurant Masia Bou –
About €35.00 per person. Watch them grill the calçots in the backyard. Also take a look at their informative calçots video on their website.
Address & Info:
Carretera de Lleida Km 21,5 – Valls (Alt Camp)
Tel. 97 760 0427
www.masiabou.com
Hotel + calçotada: La Grava-
Many city-slickers combine a weekend getaway with a calçotada. La Grava offers a Calçotada Package for €178.00 which includes a double room, breakfast and the complete calçotada. During the week the rate is €148.00.
Address: Pareteta, 6 – El Morell (Tarragona)
Tel. 97 784 2555
www.lagrava.com
Barcelona calçotada: L'Antic Forn-
In Barcelona's El Raval neighborhood, this restaurant has a long tradition of grilling onions, and all sorts of other veggies and meats, for that matter. Easy to get to and very central, this is the place for a hassle-free calçotada.
Address: C/ Pintor Fortuny 28, -Barcelona
Tel. 93 412 0286
www.lanticforn.com/calcotades.htm
Creative calçotada: Bar Restaurant Ca l'Angel–
At this eatery, the traditional calçotada is replaced by innovative cuisine using calçots as ingredients in other dishes. For example, you might find a cream of calçots soup or octopus with a calçots sauce.
Address: Ctra. del Pla, 126 Baixos – Valls (Alt Camp)
Tel. 97 760 0481
no website

Wherever you decide to put on the bib, remember that eating calçots is more than a meal: it's an event. It's a traditional way to celebrate winter, family, friends and the fat green onion while getting a glimpse at Catalan culture. It's also a heck of a lot of fun!