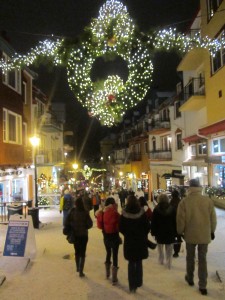 As far as winter destinations go, Quebec's Mont Tremblant is no one-trick pony. Sure, it boasts the biggest peak in the Laurentians and attracts downhill thrill-seekers from all across North America, but the mountain isn't just for slope lovers. In fact, during my short, day-and-a-half visit, I quickly learned — with outdoor activities so plentiful, a village so charming and restaurants with food so delicious — finding time to sneak in a few runs is harder than suspected.
First up: dinner. After flying Porter Airlines directly to Mont Tremblant's adorable lodge-like airport on a Friday night, my fellow travelers and I are taken by shuttle to the Westin in the heart of the village.
Famished, we pull up at chair at L'Avalanche where a smorgasbord of food awaits. Beef tartare, filet mignon, rack of lamb, ostrich and mushroom risotto are among the amazing offerings, and when the crème brûlée and chocolate-mess-gateau show up, it's all I can do not to stuff my cheeks. I manage to conjure up some restraint, then head back to my room to turn in for the big day ahead.
Bright and early Saturday morning, I depart for the bunny hill. Having only ever attempted downhill skiing once before, a lesson is very necessary. I venture up and down the two-level hill at least eight times, perfect my snow plough and even learn a thing or two about purposeful turns. After an hour, my instructor decides it's time to move onto bigger and better runs, so we head for the chairlift. To my surprise, I not only manage to get off the lift without taking anyone down, the trip down the hill is easier than I thought.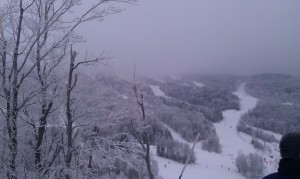 Next is ice climbing. By now it's afternoon, my belly is full and the sun is shining. I head to the Activities Centre to gear up for my ascent of one of Tremblant's frozen cliff faces. With my ski boots still on, I follow another instructor up a small hill with an incline so steep I'm winded 30 seconds in. The path leads me to a few sets of snow-packed stairs and I try not to tip over as I Frankenstein my way up them. Finally, we arrive. I gingerly add the spikes to my boots, and set to work as the holder-of-the-rope while a fellow writer climbs up and down the cliff. All goes well, so I'm up next. I try to make every spiked kick deliberate and every pick jab stick, but still lose my footing a few times. Once I reach the top, I lean back as advised — all of my spikes should be flat against the ice on the way down, my instructor says — and pray the rope holds. It does, and I spend the next two hours shuffling up and down the frozen cliff.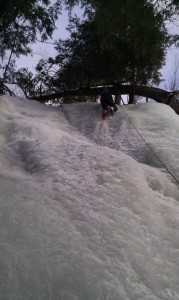 Adventure complete, I decide to take on skating, the one winter activity I've attempted more than once. I grab my skates and head for Saint Bernard's Chapel, the location of Tremblant's quaint outdoor rink. I underestimate my abilities on sharp skates, though, and quickly realize that slow and steady glides will win the race. I steer clear of the crowds and decide after a short 20 minutes that I should quit while I'm ahead.
Tubing is next on the agenda, and my legs can't wait for the break. I head up to the top of the bunny hill and get in line to take a spin down. Riders are given the option of rocketing down on a GT or donut tube, and I choose the latter. We're also asked if we prefer to coast or spin, and again, I choose the latter. The combination of being launched down the hill and spinning uncontrollably makes me feel like a kid again, so I happily make a few return trips.
To wrap up the day, dinner is at Aux Truffles, a five-star restaurant just seconds from the Westin. I try the daily soup — a mouthwatering onion medley — to start, and an unforgettable roasted guinea fowl stuffed with basil butter, goat cheese and honey sauce for my entrée. I save room for a bowl of delicious walnut stew with maple ice cream, and chat with Martin Faucher, the incredibly personable owner and chef of Aux Truffles and call it a night.
When morning arrives, I do the unthinkable and head to the chairlift. I make it down a few times without falling, and realize on my first descent that the mountain has done the impossible by turning me into an outdoor winter enthusiast. Though I didn't take in all the activities Tremblant has to offer — dog sledding, cross-country skiing, snowshoeing, sleigh rides and aerial games are just a few of the additional options available — they're great reasons for me to come back.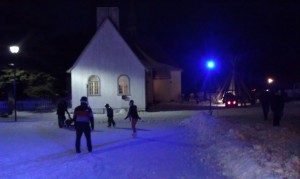 If you go:
–Mont Tremblant's ski season typically runs from November to April. For information on rates, conditions or lessons for downhill skiing, skating, tubing or ice climbing, visit www.tremblant.ca.
– Porter Airlines flies directly to Mont Tremblant from many locations, and to Montreal from all of its locations. Visit flyporter.com for information.
– Le Westin Resort & Spa Mont Tremblant is a picturesque four-star resort located in Tremblant village. Visit www.westin.com/monttremblant for information.
–L'Avalanche Bistro Lounge, www.avalancebistro.com
–Aux Truffles Restaurant, www.auxtruffles.com