There is no water anywhere in the world quite like the Caribbean. I have been to beaches all my life but the first time I saw the incredible, innumerable shades of blue and green that make up the Caribbean I was truly amazed. Sparkling jade, dark and mysterious emerald, clear turquoise, pale blue topaz – it's a whole jewelry box of colors. Diving into the Caribbean is an experience like no other, with jewel-bright fish darting through water so clear you can see the white sand 40 feet below. But there are many different ways to experience this gorgeous liquid prism. You can go over, under, around and through it.
Over: Climbing a Waterfall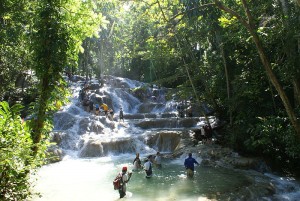 I stepped carefully onto another water-washed and rather slippery rock, holding tightly to my husband's hand and the hand of a stranger climbing the waterfall ahead of me. The warm Jamaican sun beamed down on us and the clear turquoise water of the Caribbean sparkled at the base of the falls, but this experience was not exactly what I had expected.
When I signed up to climb Dunn's River Falls in Jamaica, I naively assumed it would be sort of like a little stream. A waterfall, of course, but gently flowing down a lovely, flower-festooned and tropical hill where we would step from stone to stone as we enjoyed this unique experience. It was unique alright. It just was not a little stream meandering down a tiny hill – this was a major waterfall you had to climb in a group, holding on to each other every moment. But it was getting easier every minute and the view was absolutely incredible.
Finally, we reached a stopping place at one of large pools and everyone paused for the requisite photo shot, splashing in the cool water and enjoying the break. This wasn't so hard! We joined hands again and began clambering up the rocks to the top of the falls. By the time we got to the top, I had forgotten all about my trepidation at the beginning. The incredible view of the Caribbean, with the sun glimmering on the waves like strewn diamonds, helped considerably – and so did falling backwards into the pool at the top in the traditional end of the waterfall climb!
Under: Snorkeling
If you have never snorkeled, you have nothing to worry about. Slip on a vest to keep you afloat, a mask and snorkel to see and breathe, fins to help you move and slip into the water. Now just lie there – that's it. The hardest thing is putting your head in the water for the first time – you just can't believe you will be able to breathe under there. But do it and you will see a world unfold before your eyes like nothing you have ever experienced.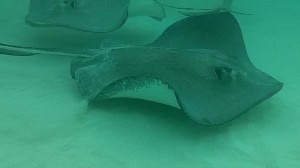 One of the best places in the Caribbean to snorkel is Grand Cayman because, not only do you get to experience snorkeling, you can also swim with stingrays. This is not nearly as intimidating as it sounds. Stingrays are gentle creatures who have no desire to hurt you and the encounters take place in crystal-clear, waist-deep water. You can get as close or as far away as you choose but you will probably find yourself moving forward to touch the ones the guides will gently lift out of the water. Think of a wet, velvety marshmallow and you know how it feels to touch a stingray; but you should experience it yourself.
Then snorkel some more. Float like a spread-eagled starfish and watch sea turtles and brightly colored fish skim by below you. You'll be an expert snorkeler before you know it!
Around: Glass-bottomed boats
If you want to do all your viewing of the water from the comfort of a boat, you will have plenty of choices in the Caribbean. Sailboats, catamarans, tours on big wooden schooners decked out as pirate ships – you'll find them all. One of the easiest and most fun ways to see what's swimming around down there but stay comfortable and dry is in a glass-bottom boat. Cancun is one place to take a glass-bottom boat tour and they are also offered by the same company in other parts of Mexico.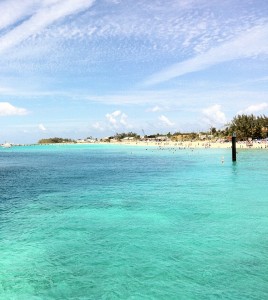 We relaxed, cool and comfortable, and were amazed as a huge lobster sauntered by, down on the sandy bottom. You may see sea turtles and other aquatic life, but you will definitely see scores of cobalt, hot yellow and striped tropical fish schooling and swimming by. Just remember to take your seasickness medicine if you are prone to this – my husband had his first bout of seasickness on a glass-bottom boat!
Through: Submarines
I followed my son through the small hatch and down the tiny ladder to the interior of the submarine. I had no idea what to expect, but it was brightly lit and very cool with plenty of comfortable bench seating with a great view through the big windows.
Atlantis Submarines are based all over the Caribbean but one of the best places to venture out in one is in St. Martin. Sit in comfort as the sub descends, then glides over the ocean floor with a guide talking about the area and explaining what you are seeing through the glass.  It's another great way to experience the Caribbean without getting wet!
No matter how you choose the experience the water of the Caribbean, you are going to enjoy it. You simply can't believe the incredible colors until you see it for yourself. So, what are you waiting for? Get in the water!