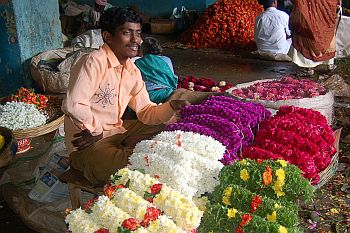 In the past few years at least a dozen shopping malls have sprung up across Bangalore, and many more are in various stages of construction. But in this South Indian city where modernity and tradition happily co-exist, the swanky malls do not outnumber the neighborhood markets, which continue to bustle with activity. In these lively markets and bazaars you can find almost anything you're looking for, bargaining is expected and the sensory overload is part of the experience.
Each neighborhood has its own market where locals have been going for generations to pick up the day's fruit, vegetables and flowers (for their daily prayer rituals), and to catch up on news over a hot cup of chai. For the first-time visitor, these markets offer a colorful glimpse into local life and a photo opportunity not to be missed.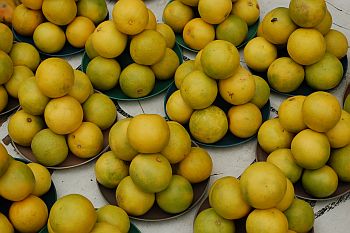 Gandhi Bazaar
The lively market area in the old neighborhood of Basavanagudi in the south-west of the city runs along Gandhi Bazaar Main Road. This wide avenue provides ample space for the makeshift stalls squeezed between the sidewalk and the road. Fruits and vegetables are stacked in neat, colorful – and even artistic – piles. Heaps of fresh flowers strung into colorful garlands are arranged in huge wicker baskets. Stalls selling puja articles like incense sticks, kumkum powder, clay lamps and pictures of gods and goddesses make a brisk business.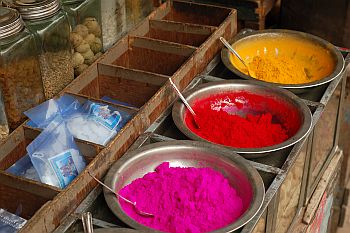 Malleswaram Market
This is another charming market in one of the city's most picturesque neighborhoods of bungalows and tree-lined streets, just northwest of the city centre. Take a walk down Sampige Road and you're sure to come across the flower market, which spills out onto the sidewalk. Colorful garlands of freshly cut flowers hang from the stalls: the smell of fresh jasmine is intoxicating. Just behind the flower market is a sprawling covered fruit and vegetable market. This is where locals come to do their grocery shopping in the early mornings or late afternoons. A predominantly Brahmin neighborhood, there is no meat or fish for sale here.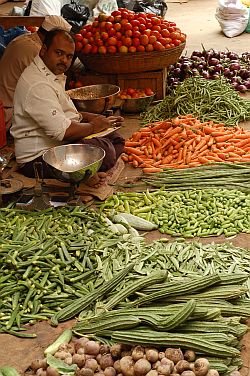 Russell Market
One of the most popular markets on the tourist trail is centrally-located Russell Market in Shivajinagar. Opened in 1927 by the British, this is a covered market with a maze of narrow aisles full of stalls selling fruit and vegetables, flowers, spices and also meat, fish and seafood. The market spills outside the main building and down the side streets where vendors spread their goods on burlap or canvas sacks on the ground. The tomato market takes place in the early mornings, just in front of St. Mary's Basilica. Along a stretch of Meenakshi Kovil Street are a row of shops selling cane, bamboo and wicker baskets, blinds and furniture. Just west of the market entrance is a surprising market selling spare auto parts. This is a junkyard of sorts where the city's beat-up vehicles are taken to be dismantled. If you're looking for a headlight, hubcap, muffler or engine for your car, this is the place to go.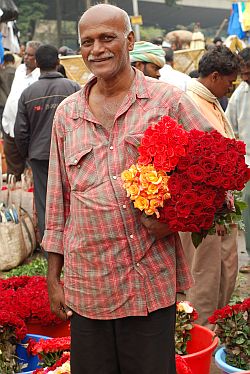 City Market
Bangalore's biggest market is the huge, lively City Market, whose official name is Krishna Rajendra Market, or simply KR Market (as it's called in a city that likes abbreviations). This market is located in Chickpet, one of the oldest neighborhoods of Bangalore, just next to the main bus terminal and railway station. It is also one of the oldest markets, in business since 1928. Here you can find just about anything: from fresh produce to cookware, and flowers to flip-flops. The best time to visit is early in the morning by 6 or 7 a.m. At this time, the southern end of Avenue Road is the scene of the city's biggest flower market. Everywhere you look, there are huge piles of flowers of every variety: freshly cut long-stemmed roses, intricate garlands of marigolds and delicate wreaths of tuberose. Within minutes, these blooms and blossoms are bargained and sold, and what's left is auctioned off at throw-away rates. Shop owners from across the city come here to buy flowers for wholesale prices, which will be significantly marked up in the shops.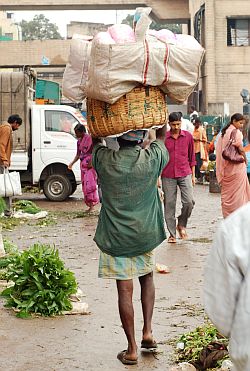 The main market building just off Avenue Road, as well as neighboring lanes, is the site of the fruit and vegetable market. You will see men carrying huge loads on their heads as they ferry their wares to and from the wholesale market. There are hundreds of these "runners" or "carriers" who make their living this way: balancing huge sacks of vegetables on their heads as they move at a half-jog through the narrow lanes where trucks cannot pass.
The city's pushcart vendors are daily visitors to the city market. After loading their carts with the day's vegetables, they will push their carts on foot to the residential neighborhoods where they ply their trade. They push their carts from one street to the other, yelling out in a sing-song whatever it is they have for sale. It is thanks to these itinerant vendors that housewives can buy whatever it is they need for the day's cooking from their doorstep. The pushcart vendors bring the market to them!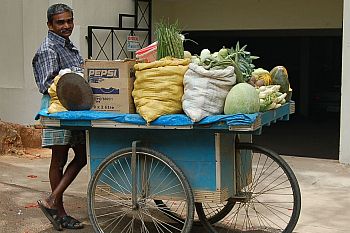 It is in Bangalore's neighborhood markets and street bazaars that you can step off the beaten track and experience the true soul of the city. The best time to explore them is in the early mornings when activity is at its peak. Visit on the days running up to an important festival like Diwali or Ganesh Chaturthi for a truly festive atmosphere.