Drive South across Alabama.
Now just keep on driving you are totally out of road. You should see the sugar-white sand and crystal green water of the wonderful gulf coast area.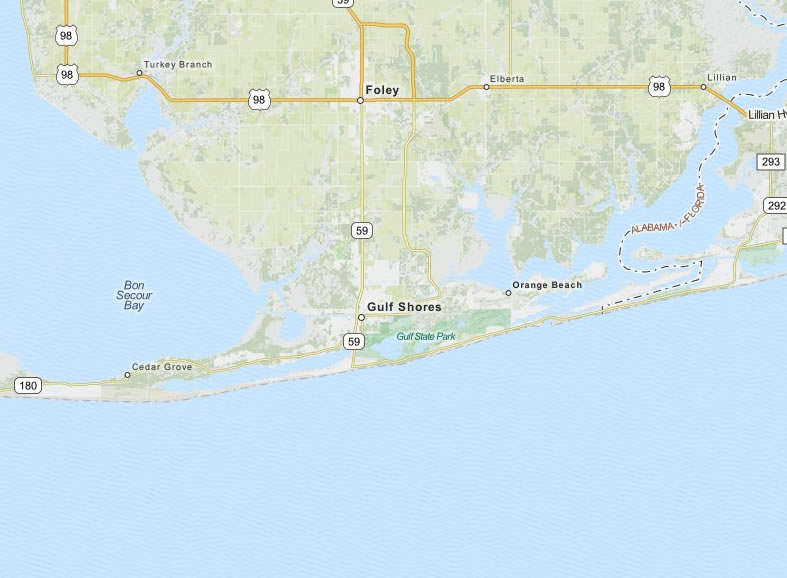 You have arrived in one of the loveliest, quietest and most family-friendly destinations in Alabama. Gulf Shores and Orange Beach Alabama are so close together they are considered one beach area, and you won't have any idea when you cross from one to the other. They are both equally lovely.
Tucked neatly into a strip of land separated from the mainland by a bay, Gulf Shores and Orange Beach might as well be a barrier island. The choice of the quiet bay or the more lively Gulf of Mexico seems like a difficult one, but in this area it's really pretty easy: choose both! Both bodies of water are within easy access of each other – in fact, if you are staying in a hotel or beach house, you can see the bay out of one side and the Gulf out of the other. Such is the case at the Perdido Beach Resort, a gorgeous resort located on the Gulf of Mexico side of Orange Beach.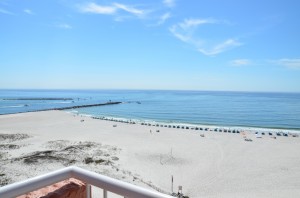 With a large pool right on the beach, a choice of restaurants from casual to fancy (try the steak at "Voyagers" – you won't be sorry), and an incredible stretch of that sugar-white sand beach, you may never leave. We were constantly amazed at the beautiful view of the beach and Caribbean-like water from our balcony.
Go down each morning to the Cafe Palm Breeze and choose the breakfast buffet or order a freshly-made omelet at the omelet bar. Then have lunch by the pool at the Half Shell Grill, order some seafood at the Cafe Palm Breeze, or get a hot, fresh pizza at the Pizzeria and have lunch relaxing on your room balcony. You can even buy snacks and drinks to stash in the large fridge in your room. Then spend the rest of the day lounging on the beach, just watching the waves roll in. It's the most relaxing activity in the world.
When you are ready for something besides lounging on the beach and scarfing down some great food, you will have plenty of choices in the area. The Alabama Gulf Coast Zoo is nearby and they offer a great kids Zoo Camp in the summer. Leave your car parked and take the convenient Gulf Beach Express trolley to get around the beach area. Kids will love the Gulf Coast Exploreum Science Center which is featuring an exhibit about the largest shark that ever lived – the Megaladon.
Fort Morgan is right up the beach and has several reenactments with participants in full uniform. If you have a rainy day, it's time to head to Foley, Alabama, which is just a few minutes from Gulf Shores. Drop by the Foley Railroad Museum, which has some great model train exhibits, then spend the afternoon browsing at the Tanger Outlet Mall for some great shopping deals.
There's plenty of boating, fishing and a variety of water sports in the area but if you really want to have fun getting wet, plan to spend a day at the Waterville Water Park, which has plenty of water slides, a lazy river and a wave pool, just for starters.
Set aside one or two days to drive to Mobile, Alabama, which is only about an hour and a half from Gulf Shores. You can tour a real battleship, the USS Alabama, and there are tons of great museums, many of which are very interesting for kids.
Try to reserve an entire day for a visit to Bellingrath Gardens, which is located just outside Mobile. Everyone in the family will be amazed at the incredible gardens, which vary in color and design, depending on the season. We were astonished at the gorgeous purple azaleas and were surprised by seeing a raccoon casually fishing in the lake while walking on the boardwalk. Take a tour of the historic home and enjoy the lovely and relaxing river cruise.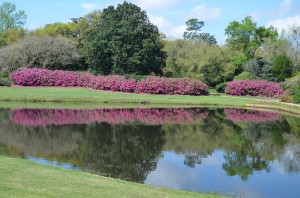 After one of these very full days, head to Lulu's for a great seafood dinner. You are going to want to leave plenty of time to spend at Lulu's because there will probably be a long wait – but also because the kids will want to play in the sand and climb on all the climbing apparatus. This place is huge and there will be tons of people there, so just enjoy the whole experience.
That long wait will be well worth your while because the seafood at Lulu's is incomparable. There's always a live band, so just sit back, enjoy the view of the river and the taste of the best seafood you have ever had. Order their famous onion rings for an appetizer – there's plenty to share – and a fried fish and shrimp basket for dinner. Delicious!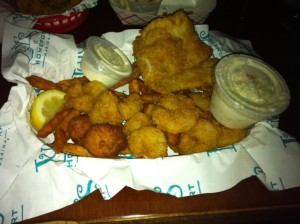 There's plenty of seafood restaurants in Gulf Shores and Orange Beach, so just spend your week checking out each and every one!
If you want to find some souvenirs to take home, there's plenty of shopping and many of the stores are within easy walking distance of most of the hotels in the area.
Choose the most strenuous activity you can imagine or the most leisurely – it's up to you. That's what makes a perfect vacation.
Beautiful beaches, great seafood, a relaxed and friendly atmosphere, and plenty of activities to choose from – Gulf Shores and Orange Beach, Alabama truly offer it all for a memorable family vacation.