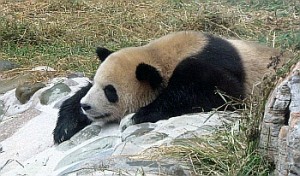 You and your kids (or grand-kids) are going to love Beijing. The Chinese capital is a very kid-friendly city, with so many things to see and do they won't have time to get bored. An extra benefit is that the Chinese love children. Don't be surprised if they want to take pictures of their kids with yours.
Here are six family-oriented things to do that are fun for kids of all ages, from eight to eighty:
1. Get dressed up
We're not talking Sunday- "go-to-meeting" clothes here, but rather the satins and brocades that China's imperial family members wore. For a few minutes, you, too, can be an emperor or an empress, but be forewarned those headpieces royalty wore for hours at a time are pretty darned heavy.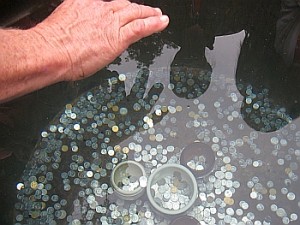 After donning your gowns, give your camera to the attendant who helped you into them. He'll take pictures of you and your family in a variety of settings. Think how cool one of these photos will look on your Christmas cards!
Photo stands like these are at most popular attractions, such as Beihai Park and the Summer Palace.
Speaking of Beihai, it's Beijing's most popular park. Any time is a good time to visit the beautiful park, but try to time your visit to a weekend morning. That's when the Chinese turn out en masse to practice their ballroom dancing and tai chi exercises. So much is going on that the park resembles an old-time vaudeville show, with Chinese juggling, writing characters on the sidewalk with huge brushes dripped in water, singing karaoke or playing in string quartets. The centerpiece of the park is a huge lake punctuated with the White Dagoba Temple. Just inside the entrance gate to the temple is a huge vat filled with water. The family will have fun trying to get the coins you toss in the vat to land in one of four bowls at the bottom.
Beihai Park is located at No.1 Wenjingjie; this is about a 10-minute walk west of the north entrance/exit of the Forbidden City. The park opens at 6 a.m. daily.
2. Eat insects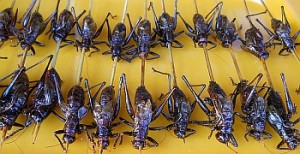 If you or your kids are into weird snacks, the night food market at the north end of the pedestrian mall on Wangfujing Street is the place to go. The market opens in late afternoon to feed Chinese getting off work or the curious. Snackers can find traditional dumplings and noodle dishes, while more adventuresome eaters can try kebabs made with such things as deep-fried scorpions, seahorses, silk worms, grasshoppers, snakes and other things adults will think are gross. Even if you don't try anything, it's fun to see what's available.
Take Subway Line 1 to the Wangfujing stop, then walk north; the night food market is to your left.
3. Climb on statues
Beijing hosted the 2008 Summer Olympics Games, with two venues becoming especially famous: the Bird's Nest and the Water Cube. Both of these buildings can be seen at the Olympic Green, though there is a charge to tour the facilities. The green is filled with really cool statues of athletes, so take some time to walk the length of this site. Chinese children love to climb on these statues to have their pictures taken; your kids will enjoy this, too!
To get to Olympic Green, take subway Line 10 to Beitucheng then transfer to subway Line 8, the special line put in just for the Olympics. Get off at Olympic Sports Center Station.
4. See pandas and fish
Families can easily spend an entire day at the Beijing Zoo and Aquarium.  The zoo's main attraction is the giant pandas. The zoo has two panda houses for indoor and outdoor viewing. While the zoo isn't up to international standards for the other animals, it is improving. You'll walk by some of these animals as you head to the aquarium in the zoo's northwest corner. The Beijing Aquarium is the world's largest inland aquarium. It's filled with thousands of fish and other sea life in seven pavilions. The final pavilion showcases marine mammals; time your visit here for the daily shows put on by trained seals and dolphins.
The Beijing Zoo is located at No.137, Xizhimenwai Avenue. You can walk from the Line 2 subway stop at Xizhimen or transfer from Line 2 to Line 4 and get off at the zoo stop. The zoo opens at 7:30 a.m. Separate tickets are available for the zoo, panda houses and aquarium, but you save a few renminbi if you buy a combination ticket at the gate.
5. Ooh and aah at acrobats
The Chinese are famous the world over for their fantastic acrobatics. They juggle not just balls, but chairs and flaming torches. They form human pyramids with the person on top juggling or doing something more daring like a one-handed handstand. They are contortionists par excellence, and their feats will amaze you. The Chaoyang Theatre on east Third Ring Road is the best place to see acrobats perform; shows are nightly at 7:15 and 9:15.
The Chaoyang Theater is located at No. 36 NE Third Ring Road. Get off at the Hujialou stop on subway Line 10, exit C.
6. Collect silly signs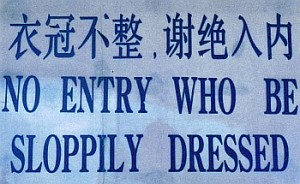 As you travel around Beijing, be on the lookout for "silly" signs. These are signs where the meaning loses something in the translation from Chinese characters to English words. For example, you might see a sign at an art gallery or museum that says "don't stroke the works" when it should say "do not touch." At the Forbidden City, you might see a sign that says, "Visitors are forbidded" when it should say "keep out." Be sure to take pictures of these signs as your friends may not believe you when you get home.