Asia. The East. The other side of the world. A melting pot of cultures as yet largely unexplored by the West. For the independent traveller, the Asian continent is a figurative Everest, (and a literal one if you happen to find yourself in Tibet.) If you brave the great divide of the Pacific, you'll find a wealth of unique countries whose cultural hearts beat with the passion of a war drum.
But, if you've never stepped foot over the aforementioned divide, traveling in Asia can seem scary as hell. I'm from Africa, and the thought of venturing alone into Asian countries still scared me. But I got there and loved it, and here's how it went:
I flew into Bali's Denpasar airport after spending eight weeks in the blissful first worlds of the US and Australasia. Almost immediately, I got conned into paying three customs officials 100, 000 Rupiahs (about $12) each for absolutely no reason I could think of.
There's your first tip:
– don't wander around looking like a nervous bird on its first trip out of the nest
– and, there's no reason to pay for anything unofficial – visas and taxis will obviously cost, but nothing else at an airport should.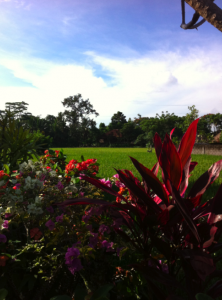 Luckily, that was one of my very few unsavoury Asian experiences and I stepped out of the airport into the intoxicating humidity of beautiful Bali.
This lovely little island is likely to steal your heart by the time you've settled in for the first night. Avoid getting pigeon-holed into the tourist hotspot of Kuta Beach where you'll be lucky to meet any locals at all. Rather head to Sanur Beach. Or, to find the true spirit of the island, stay in the more religious section of Ubud. (In case you were wondering, Ubud is where Eat Pray Love was filmed.) From here, you can plan day trips to public temples, local healers and even Holy springs where tourists are allowed to partake in purification ceremonies – there's literally no more thorough way to immerse yourself in local culture.
Bali is a very religious place and since you're a visitor here, you should try your best to respect this, even if it is not your chosen belief. On a totally different note, because of your tourist appearance, the locals will try to sell you a lot of their wares. They are very persistent. So if you are not interested, you need to be equally as persistent (but still polite) in saying 'No' and moving on. And if you are interested in buying something, there was never a shop I went into that didn't accept a bit of discussion over what price should be paid.
Spending a week in Bali at the start of an Asian trip was a great way to ease into the new continent – the locals are friendly, the country is pretty safe and the tourist resorts are lush and picturesque. But soon enough, Bali was done and it was on to Cambodia.
Here, the basic tips for conducting yourself in Asian culture will be the same as in Bali, but it's important to keep in mind that Cambodia is a very young country in terms of peace and democracy – the last of the Khmer Rouge fighters only laid down arms in 1999. Cambodia is, therefore, still a very poor country trying to find its feet in the modern world.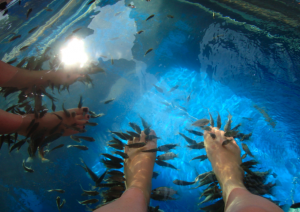 For the most part, I felt that the Cambodians were very welcoming to tourists. Eager to promote their country, they are always happy to offer travellers a unique holiday experience in exchange for their dollars. The local markets in Siem Reap, Phnom Penh and Sihanoukville are particularly fun places to soak up the Cambodian vibe and pick up some brightly printed trousers or get a pedicure from a tub of Garra rufa "doctor fish" at a minimal cost.
Despite Cambodia's official currency being the Riel, it's not necessary to get any of this when entering the county. Because it's a very unstable currency, the locals all work in US Dollars instead. They'll still accept your Riels, but everything's less of a conversion hassle if you stick to Dollars. You can easily get through an entire Cambodian holiday without handling a single Riel.
Cambodia's friendly population and its largely sincere attempt to pull itself out of war-induced poverty made it a highlight of the trip.
Next it was on to Nepal. This sliver of a country was the culmination of my trip in many ways – I'd be going on to continental Europe after this, and had been waiting half my life to land in the Gateway to the Himalayas. And 17 days in Asia already had prepared me well for the loudest, busiest and most polluted of all the cities I'd be visiting on this leg of the trip.
Like their city, the residents of Kathmandu are also incredibly engaging – sometimes disconcertingly so. Again, it's perfectly easy to be polite to people you wouldn't like to talk to. A quick 'Namaste' (Hello) to a shopkeeper trying to entice you in will be cordial enough to stop them shouting a barrage of questions after you as you walk by.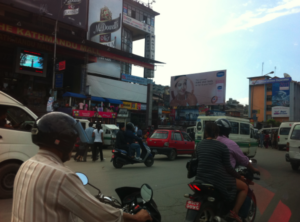 Because of the strong international presence constantly on its way to and from the Himalayas, most Kathmandu residents speak decent English. You'll also be able to find a myriad tour guides/companies on most streets in the center of town to help you with any traveling queries.
And before I knew it, I'd come through my first Asian trip unscathed. That 11 year old kid who'd been reading Seven Years In Tibet and dreaming of Buddhist monks and big mountains finally got to wander through a continent whose rich culture is ready to be tasted (and smelt) at every turn: it was friendly, captivating, and right up any adventure-seeker's alley.