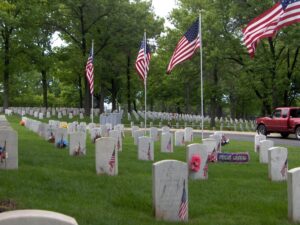 Think this will be just like any other cemetery? Not true. Think this will be like Arlington National Cemetery in Washington, D.C.? Maybe. Similarities do exist.
After all, the men and women buried in both have one thing in common … they all served their country.
Southeastern Iowa holds some unique history. Lush rolling hills along the Mississippi River initially were inhabited by members of the Sauk and Fox tribes. Sauk Chief Keokuk, an important piece of history for both the state and the settling of areas to the west, lends his name to the town.
Then came the treaties, followed by farmers to claim cheap land and the Civil War. Keokuk became a vital link in river transportation as it sits at the confluence of the Des Moines and Mississippi Rivers. Eventually five Army hospitals were established in the area to help care for the thousands of sick and wounded soldiers transported up the Mississippi River from Southern battlefields.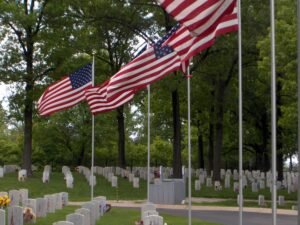 Explore locks along the river and tour over 18 sites listed in the National Register of Historic Places. Tour once opulent mansions. Legends who lived in this sleepy river town include the likes of Mark Twain and Howard R. Hughes, Sr.
Finally, take some time to visit the Keokuk National Cemetery, located at 1701 J Street. Walk the gently rolling terrain and realize this is more than a cemetery — this is truly a monument to soldiers who fought for our freedom. History lessons don't get any more real.
Originally, only 12 National Cemeteries were approved by Congress. Iowa still has only one. Its honor is being the first one west of the Mississippi River. Now it prominently lists on the National Register of Historic Places.
Most of the original interments at Keokuk National Cemetery came from the Civil War hospitals. Of the first 627 interments, 600 were known Union soldiers and 27 unknown soldiers. A little known secret was that there are eight Confederate soldiers, prisoners of war, buried here.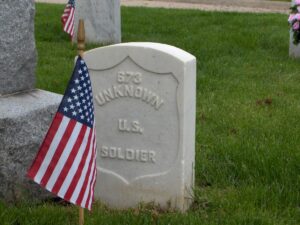 Some died during wartime, some of old age. Some fought for the North, some for the South and one even fought with Teddy Roosevelt's Rough Riders at San Juan Hill; the young ages of some of these soldiers are sobering. Reading names of casualties of the current war in Iraq brings a certain reality to this peaceful setting.
All fought for their America.
Precision is impressive. In typical National Cemetery fashion, white slim markers stand at attention throughout manicured green grass. Name, rank and war fought in are engraved on the simple granite or marble markers. Some stones are weathered and barely readable. Some are recent … too recent. Spouses buried in the same spot are recognized with names engraved on the opposite side.
This place in history has a special meaning for many, including me. Dad wanted to be buried in a National Cemetery. He talked about it for years. There was really no other choice in my mind when that time came where to bury him. His marker proudly stands in a row with others who fought in WWII. Two rows away, soldiers who fought in Korea and Vietnam are buried. Just down the hill are markers listing casualties from the Gulf War. Ones from earlier wars are hard to read.
As I walk through row after row of white headstones, Dad's desire became real to me. He was a proud WWII veteran and he belongs here with his fellow soldiers. The sense of camaraderie is strong even in this most final place.
There is a sense of history here with the past and the present merging in your heart.
I reverently walked away with a sense of pride. Even the flags stood at attention. The image will always remain.