Imagine sticking a straw down the throat of a goldfish and blowing.
Then blowing some more. And you only stop blowing when the goggle-eyed fish looks as if it's finally about to pop.
That's what I was staring at in little plastic bags hanging outside the shops in Hong Kong's aptly named Goldfish Street. Behind their massively misshapen heads were tiny fins that flapped aimlessly as they tried to steer the bulbous bulk around.  A bit like trying to steer a cruise liner with a canoe oar.
Then there was a pop and a sizzle as one bag fell off the display board onto a pavement made frying pan hot by the relentless sunshine.  "Ranchus," a shopkeeper told me, picking up the half-baked body of the now deceased man-made monster.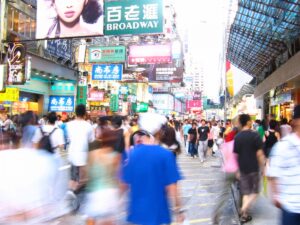 Mutant fish were only one of the crazy things I discovered in Hong Kong. The food was pretty weird too. You can easily do the chips and burgers or run-of-the-mill noodles, but adventurous eaters have a fabulous time poking around market stalls investigating things that are impossible to identify.  I spent ages poring over a dried food stall, trying to guess if the different items had started life as fish or meat, or were some kind of fruit or vegetable. I tasted some and still couldn't figure out which food group it came from.
Maybe it wasn't a food at all… Well, let's not dwell on that idea, although it would explain why the stallholder had given me a very odd look indeed.
Hong Kong is a crazy place – and I mean that as a compliment. It's packed to bursting point with far too much of everything. Too many millions of people, too many buildings, too many markets, too many roads and too many cars. It's expanded every which way until its run out of land and grown upwards instead. The density is awesome. Or awful, if you have to share a couple of rooms in a high-rise apartment with your entire extended family in Mongkok, one of the most densely populated parts of the planet.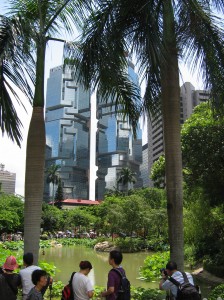 I was overshadowed by those tower blocks as I wandered through Yuen Po Bird Market, a sad but fascinating place where the birds live in confined spaces like those endured by their owners.  Wrinkle-faced men squatted in groups, smoking, playing board games and chatting, while I wandered along alleys where the smell was as overpowering as the noise. In one corner a large plastic dustbin bore a sign that was strangely printed in English as well as Cantonese. "Dead Birds Only" it said. It looked ominously full.
I almost trod on a tray of budgerigars as I stepped forward to admire flamboyant finches in a delicate bamboo cage. Parrots and cockatoos shrieked endlessly on the perches. Smaller birds sat silently, and if I were one for anthropomorphism, I'd think they looked awfully dejected.
I'd already visited the wonderfully lush Edward Youde Aviary on Hong Kong Island, where there are supposed to be all sorts of beautiful birds that I simply couldn't spot. One helpfully static stork and a few terrapins had been my sole sightings. Oh, and loads of photographers taking pictures because they were instructed to do so by a sign saying "view point."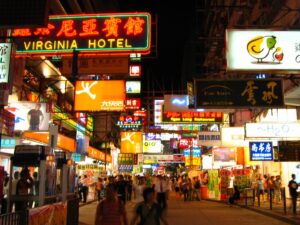 I left the bird market and strolled through side streets to a main avenue teeming with buses. Hong Kong's transport system is an absolute doddle. Bus stops all have the route maps and fares printed in English, and free maps from the hotels also show the criss-cross of bus and underground train routes. That makes this enormous city easily manageable, since it's riddled with a highly efficient transport system that even a foreigner with zero sense of direction can master.
My absolute favourite journey isn't gawping out of the see-it-all buses or bombing around on the super-efficient metro system – it's the Star Ferry. A workday boat that transports endless locals between mainland Kowloon and Hong Kong Island. It costs a pittance but delivers scenery that's priceless.
As you pull away from the harbour the views are magnificent. Well they are if you're a city person. If you don't like crowds, best avoid Hong Kong completely. You can find isolation, but the journey there and back will be filled with streams of people going about their daily business.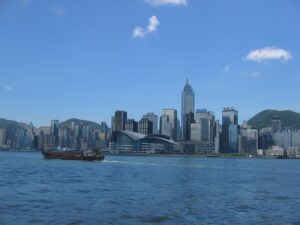 Yet on the walkways around Victoria Peak you find solitude. A few other tourists, perhaps, or young lovers seeking some privacy. But other than that, just you and the view of a million buildings across the water.
Another magical place is Aberdeen, reached after a meandering bus ride around the island on a journey you can break for a mooch around Stanley Market.
At Aberdeen more skyscrapers squeeze into a strip of land between the mountains and the harbour. Here tiny old ladies in triangular straw hats cling onto the traditional way of life with their sampans, those unglamorous sturdy little boats that transport workers between the boatyards.
One particularly tenacious lady can see I'm dying for a boat ride. We haggle in sign language, and I hope she's talking minutes rather than dollars when she gesticulates 30. I don't really care. I've crossed half the world and the whole of Hong Kong to get here and if I get ripped off I'll be none the wiser.
I clamber in, and this tiny mite turns out to be a muscle-packed mamma as she negotiates her sampan away from the jetty. I grin at her, and a toothless grin flashes back. She starts chatting away and I grin some more. I'm not really listening, although I wouldn't understand her if I was. I'm admiring the views, again, and watching workers jump on our boat as we pass a jetty and jump off again at a boatyard. I'm cringing at the gaudy neon-encrusted floating restaurant, and watching my hostess as she proudly steers her sampan through this piece of her territory for my pleasure alone.

Eventually we dock again, and she takes less money for more time than our hands had originally negotiated.
I catch the underground train back to Kowloon, and stop in a market to buy some day-glo green sticky thing which, hopefully, is actually food. It's delicious. All sugary sweet and coconuty.
I stroll past the YMCA that looks more upmarket than my own hotel, and jostle along Nathan Road haggling for clothes at a fraction of the prices back home.
After dusk I catch another bus down to the shore at Tsim Sha Tsui, and join hundreds of other people looking out across the water. Then the music starts and lights and laser beams illuminate the opposite shoreline. It's the nightly show where the buildings almost seem to dance under the radiance of extravagant light displays. It's magical, and at the end of the performance people clap as if the buildings themselves can hear the applause.
I clap too, then turn back into the crowds and breathe in some more of this exhilarating city.