If you want to explore an old city European town with a youthful vibe without bumping into one too many collegiate themed party scenarios, consider booking a fall trip to Ghent. Become infused with the energy of 32,000 students returning to the Ghent University, as the city gears up to welcome international musicians and other artists for its fall festival season.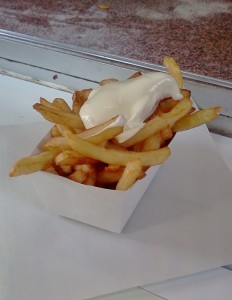 If possible, try to catch the Festival of Flanders which celebrates its 55th season this year. Every year over 55,000 visitors converge on this city to hear over a hundred concerts presented by over 1,500 artists. Among this festival's musical offerings include the "Avanti!" (a musical cycling tour), a Venetian ball, "KidsOdeGand" and "OdeGand" (the grand opening event). A listing of this year's line-up which runs from September 15th through the 29th can be downloaded here.
While savoring the festival flavors, be sure to also take in the tastes of the city. Over at the Great Butchers' Hall become acquainted with the Flemish gastronomical tradition of pairing chocolate and beer with Belgium bites. After you wade your way through the hams hanging from the rafters, sit down and sample specialties from East Flanders including Ganda ham, chocolate, cheese and beer. Those who are new to Belgium beers could benefit from this guide compiled by The Lonely Planet.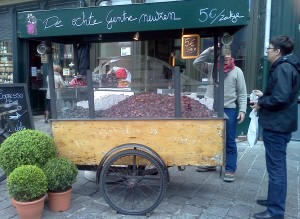 Be sure to pick up some Belgium fries and frikandel (sausage snack) from a nearby cart while keeping your eye out for merchants selling cuberdon, a chewy sweet commonly known in Flanders as neusjes (noses). As these delights have a short shelf life, they cannot be exported outside of the region. Also, mustard lovers will want to stop by Tierenteyn-Verlent, a shop that makes Gent's traditional mustard using the original recipe dating back to 1790.
After sampling some beer and bites, soak in the city's architectural anarchy by gliding along the river via a guided boat tour. As your guide narrates a historical overview of Ghent, keep your eye out for he occasional odd modernist structure intermingled with the rows of houses and riverside cafes and bars. These contemporary edifices seem to stand in defiance akin to a surly teenager challenging their more staid medieval elders. Like a loving parent, the city embraces these 21st century edifices as an integral part of the evolving Ghent landscape.
By the end of this boat tour, you should have your bearings and ready to embark on a walking tour of the city. By following the pedestrian signposts, you can lose yourself amidst Ghent's medieval spires without getting lost. Pick up a 3 day Ghent Museum Pass at the Ghent Tourist Office where for € 20.00, you can tour all of Ghent's major monuments and museum as well as using all De Lijn's buses and trams in the city gratis.
Hear the heartbeat of the city at St. Baafs Square, the center of the city near the confluence of the Scheldt and Leie Rivers. (The name Ghent derives from "Ganda" which is the Celtic word for confluence.) Step inside seeming unassuming St. Bavo's Cathedral, home to the Van Eyck brothers' artistic creation "Adoration of the Mystic Lamb."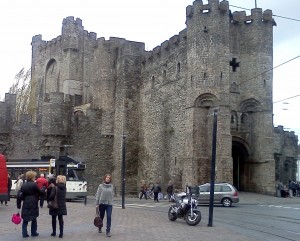 Be sure to allow ample time to explore Gravensteen (Castle of the Counts), a 12th century castle situated in the heart of the city. Unlike other more touristy castles, this castle retains enough of its rugged veneer that one can almost hear the shrieks contained therein. Even though the guillotine last hit its mark in 1861, the prisoners' collective centuries of terror remains tangible to the senses. Be sure to walk around the tower taking time to capture aerial shots of the city.
Stroll along the city and pick a restaurant that catches your fancy and price range. Foodies will delight in The Guardian's selection of top 10 food destinations in Ghent. If you want a break from sampling beer, try a shot or two jenever, another alcoholic beverage native to Belgium that comes in over 200 flavors including chocolate and lemonade.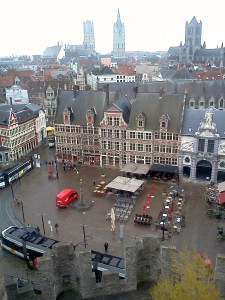 If you're looking for a hotel with an ancient-future focus, consider staying at the Sandton Grand Hotel Reylof. After a full day of sightseeing relax with a swim, sauna and steam bath in the Wellness Centre before enjoying a late night dinner. While this city will keep beating well into the evening, you can return at your leisure to a quiet night. Wake up to a full continental breakfast. Then check your email courtesy of the free wi-fi before venturing out for another day of festival fun.
For more information on booking your trip to Ghent, log on to Visit Flanders.