According to the Guinness Book of World Records, Milwaukee plays host to the world's largest festival. From late June to early July each year, Summerfest  takes over a 75-acre festival park with over 700 entertainers on 11 stages over an 11 day period. Last year despite a record setting heat wave, Summerfest attracted over 800,000 people participating in one or more days of the festival.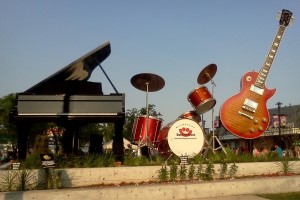 Along with some regional musical acts, this festival also attracts headliners including The Foo Fighters,  the Beach Boys' 50th Anniversary Tour, Iron Maiden with special guest Alice cooper and Lady Antebellum. Whatever your musical preferences, you will be able to find acts that make your heart sing. Stay connected to the Summerfest website for updated listings of this year's lineup that should start to roll out in April 2013.
Add into this mix a range of children's activities and this day can become a family affair. Those wanting an adults only atmosphere can grab a beer and kick back. Over 45 food vendors offer a range of food for every taste. Be sure to take a bite of Mader's Restaurant famous German fare and sample the fried food sampler from Saz's Dockside Barbecue. The pricing for the food and beverages remain reasonable so a meal here will not cost significantly more than a comparable meal at restaurant.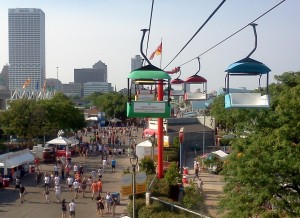 Despite the large size of this arena, this festival proves to be quite easy to navigate. The layout will enable you to move around without feeling sweaty and stuck in an unmovable mosh pit. A ski lift can take you from one end to the other of the park, so you can get a bird's eye view of the action and catch your favorite acts without rushing from stage to stage. Ample restrooms, facilities for those with disabilities and opportunities to purchase notions such as sunscreen provide some much welcomed amenities.
A ticketed wristband will enable to you to come and enjoy almost all of the musical acts. Prices are $10.00 for weekday admission noon to 4pm or $17 for anytime general admission. Those wishing to take in several days of the festival can get a three-day pass for $39 for a three-day pass. Kid 10 and under and seniors over 60 can purchase a $5.00 ticket. Those wanting to catch the headliners performing at the Marcus Amphitheater will need to a purchase a separate ticket though this ticket will also include general admission to the festival.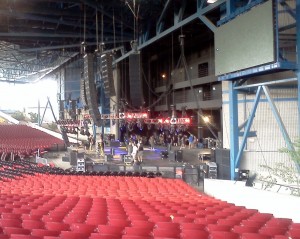 When traveling to the festival, leave the car behind. Instead, check out a number of public transportation options. The MKE trolley loop loops from Summerfest through downtown including the Historic Third Ward. The Milwaukee County Transit System or Ozaukee County Express Freeway Flyer offer transportation from a park-ride lot or downtown. Be sure to check out the websites for the latest schedule information.
If you want to keep current with the trends while in Milwaukee, check into the Aloft Milwaukee Downtown. This hotel located only 15 minutes from the airport is very accessible to catching a shuttle or trolley to Summerfest. Their loft-inspired guest rooms will give you ample room to lounge about. Cap off your night with a drink at their wxyz(SM) bar or play in their re:mix(SM) lounge. Relax in their indoor pool or work out in their 24/7 re:charge(SM) facility. Their 24/7 pantry re:fuel by Aloft(SM) allows you to pick up a snack or continental breakfast that fits your schedule.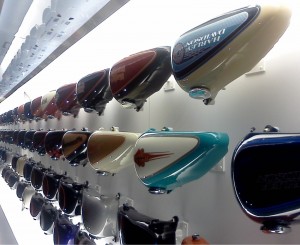 Motorcycle enthusiasts might want to check out the Iron Horse Hotel, a 100 year warehouse remodeled into this city's first modern luxury boutique hotel. Here you will find a number of amenities for riders and a pet friendly policy that can even accommodate large dogs. Also this hotel is situated near the Harley Davidson Museum if you want to take a break from the music to check out the bikes.
This year Summerfest will bring music to Milwaukee from June 26-30 and July 2-7, 2013. Log on to Visit Milwaukee  for additional information about booking your trip to this city.