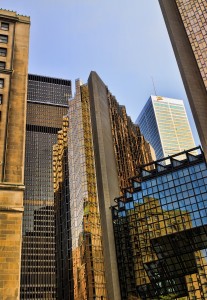 From boardwalks, beaches, bookshops and bistros, Canada's largest city is also its trendiest and when it comes down to urban activities it's on par with some of the world's biggest cities.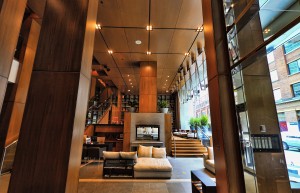 Alongside its ritzy skyscrapers Toronto maintains colorful residential neighbourhoods in its centre; and until recently downtown's Queen Street West area was a crumbling with fading facades and abandoned storefronts. Now though it's transformed into the trendy Bohemian part of town, with funky art galleries and chic eateries – ideal for people with sensible shoes to enjoy and navigate on foot. Starting at Bathurst walk west on Queen past Morba, a Danish interiors store; Banu, an Iranian Kabob Vodka bar; the Spice Trader & Olive Pit; then to fashion at 69 Vintage, Champagne & Cupcakes and Thieves – just a few of the many jewel box boutiques.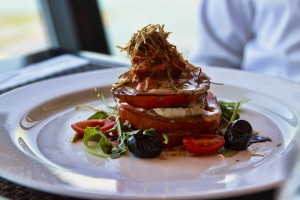 Toronto is laid-back and offers innumerable hard-to-resist lunchtime options like a good chow-down at the Gladstone Café (Gladstone Hotel, Queen St West www.gladstonehotel.com). It's an eclectic bistro in an arty Victorian hotel with a lunch menu overflowing with organic produce – like their lean ground beef burger with tomato marmalade, kolziks mustard topped with shredded bacon and blue cheese ($14). For a kick-in-the-pants cocktail, step across the hallway to Meloday's Bar, named one of the top ten bars in the world by Condé Nast Traveler, and introduce yourself to their cocktail Diva, Sandy, and have her knock together a Full Metal Jacket for you.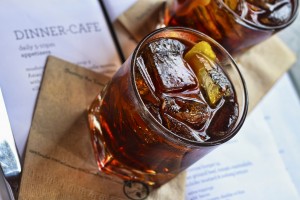 Neighbouring Queen Street is Kensington Market – a story of immigrants and the best place to experience the city's animated multiculturalism. Back in the 1920s Kensington Market grew out of the Jewish Market, which was run by Jewish immigrants. The neighbourhood's alive with street art and its scruffy alleys are a flurry of independent stores, restaurants, bars and food stalls that bring the world's foods to one tightly knit community – from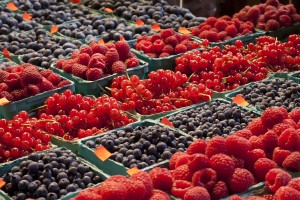 Mexican bodegas, to Italian pizzerias, ethnic Ethiopian spice shops and Jamaican bakeries – it's a bit like Soho. Even if you're not in the market for a trendy C$5 sunglasses, or ganja potpourri, you'll be drawn by the purveyors of all things vintage like the stores of Fairies Pyjamas and Excile. The whole area from Dundas to College is crammed with all things quirky and alternative.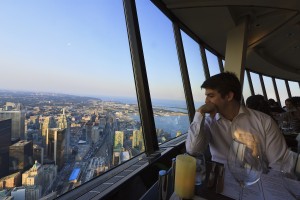 For wow factor dining take the ear-popping 58-second ride in the glass elevator strapped to the outside of the CN Tower (the world's tallest structure) up to the 114th floor to the 360 Restaurant – a revolving temple to fine cuisine. The food is unforgettable (their dark chocolate tower dessert is to die for) as is the spectacular ever changing views across the city. Their prix fixe menus (at $55 and $68 respectively) is especially good value as it includes a visit to the Star Trek-like observation platform.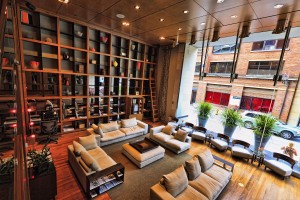 For accommodation stay close to the action and book in at Hotel Le Germain – an understated yet elegant hotel in the city's entertainment/financial district and is within walking distance of most main attractions, shops, restaurants and the theatre. The communal areas are softly lit with filtered light; the flooring is hardwood, with deep and inviting sofas in the guest lounge. The rooms are dressed in sedate shade of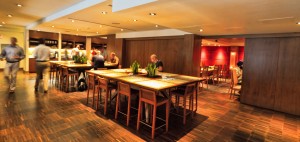 taupe and cream with lots of wood, and mine consisted of a spacious lounge with a fireplace, a terrace and views of the CN Tower, a separate dining room, a bar, a guest toilet, a luxurious sleeping arrangement and a Hollywood bathroom with a walk in shower and oversized sunken bath. Rates start at C$285 and with this cones breakfast and free in-room WiFi.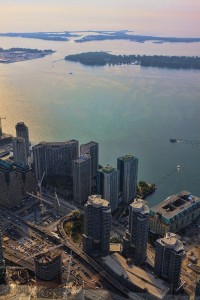 SIDEBAR
• Toronto is a true city of the world where you'll experience things you won't find anywhere else in the planet – like a shoe museum or walking along the edge of the CN Tower. Here are a few other Toronto must-do's.
• The nightlife in Toronto is truly awesome. For the best parties, Fly is the place to be as they host some of the world's biggest DJs. For atmosphere head to Pegasus bar and the cool Voglie Risto-Bar. Then there's Slack Alice – a popular bistro; and for the best Mojito in Canada drop in at The Drake Hotel, on Queen St West. Then see the night out at the Huxton Nighclub, on Bathurst. Alternatively, take a moonlight cruise with Epic Cruises and dance till dawn on the largest open deck dance floor in Toronto.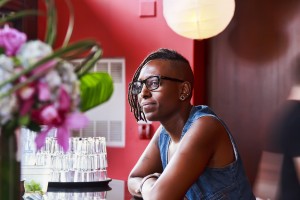 • During summer, explore Toronto's urban history by joining one of the free guided neighbourhood walks that take place at weekends www.heritagetoronto.org.
• You're less than an hour's drive from Niagara Falls which is crowded with tourists and tour buses. To avoid disappointment take in the most scenic views from up high in helicopter tour www.niagarahelicopters.com. And whilst you're in the Niagara Falls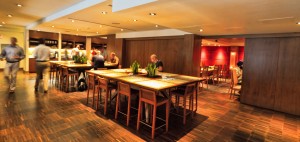 area, take in a few wineries like Hillebrand for one of north America's best chardonnay's and Jackson-Triggs' ice wine. When you're back in Toronto drop in at Steam Whistle Brewing. For more information see www.seetorontonow.com.
• Unless you've purchased a qualifying fare or show proof of a qualifying membership, forking out a few dollars to escape the chaos of the airport and gain access to the serene Maple Leaf business class lounge is an investment you'll be glad you made. Complimentary snacks and beverages, including local beer on tap, cappuccino and espresso, newspapers and magazines, HD televisions, wi-fi, a business centres with PC workstations www.aircanada.com