The psychedelic works of Antoni Gaudí draw thousands of visitors to Barcelona, Spain, each year. While the eccentric architect completed projects outside of the city as well, his most impressive buildings are clustered in the Catalan capital. In fact, there are so many Gaudí buildings in Barcelona that it can be hard to choose which ones to visit if you've got limited time. Here's the scoop on his top creations, plus a few more to consider which are off the usual tourist radar.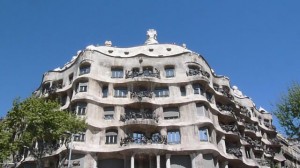 La Sagrada Família

If you see no other Gaudí site, see this one, although it is unfinished! Gaudí took on the creation of this Basilica in 1883 and died before it was completed. Construction continues now, and in the last seven years I've seen it morph considerably. Mass is held at La Sagrada Família; if you're religious, this could be quite a unique experience. You won't have to pay an entrance fee if you're going to a service. Otherwise, pay the €13.00 to get in to this otherworldly church. I recommend paying a bit more and getting the audio guide or the guided tour for €15.00. It's worth it to understand just what you're looking at more fully.
Tips: This is one of Barcelona's most popular tourist sights and at peak times of the year lines can be long. Come early to avoid waiting in line or get your ticket in advance.
See more on how to get to La Sagrada Família and buying tickets here.
Casa Batlló

Though La Sagrada Família made my jaw drop the first time I saw it, it is not my favorite Gaudí building. My pick of the bunch is Casa Batlló, the cobalt and kelp-green 'house of bones' on Barcelona's posh drag, Pssg. de Gràcia. Gaudí did not fully design these luxury apartments, but revamped the building between 1904 and 1906 for Josep Batlló i Casanovas. It was while touring this masterpiece that I really came to appreciate Gaudí's genius use of shape and light. Part of the building can be visited, though it's not cheap! At over €18.00 a person to get in, many visitors skip this Gaudí building. If nothing else, do admire Casa Batlló's glittering sea-life façade from the outside.
Tips: It's a snap to see both Casa Batlló and La Pedrera on the same day; they're close to each other on the same street. See more on Casa Batlló prices and opening times here.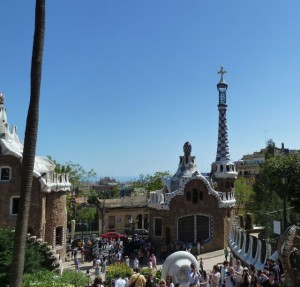 La Pedrera
Also located on Pssg. de Gràcia, La Pedrera was built between 1906 and 1912 as a high-end apartment building. Unlike sparkly Casa Batlló, La Pedrera is solid white, cream and tan tones. Declared a World Heritage Site by UNESCO in 1984, it's possible to visit the Espai Gaudí, El Terrat and El Pis de La Pedrera plus an art museum with rotating exhibitions inside the impressive structure. El Pis de La Pedrera is my favorite bit because it is set up to resemble what the original tenants' apartment would have looked like in the 1900s. The rooftop of La Pedrera, El Terrat, is also a truly trippy experience. The museum on the first floor is free, so do check out which exhibition is on when you're in town as many times the shows are exceptional.
Tips: Check here for the upcoming exhibition line-up atLa Pedrera's CatalunyaCaixa Museum and find opening times and entrance fees here.
Park Güell
Mr Güell was one of Gaudí's biggest supporters. Thanks to him we've got Gaudí's Park Güell, Palau Güell and Colonia Güell, to name a few. Mr Güell had vision and money, which led him to create Park Güell in 1900. The park was supposed to be a sort of exclusive neighborhood where wealthy, reputable Barcelona families would each have a house (designed by Gaudí, of course). However, there was not as much interest in this 'suburb' as Mr Güell expected; only a few homes were actually constructed and eventually the project was abandoned. Unlike most Gaudí sites in Barcelona, the park is free to visit. It's vast and captivating, so bring your walking shoes.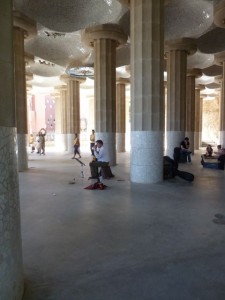 Tips: Be careful here with your camera and personal belongings. The park is massive and I've seen pickpockets lurking and even running off into the bushes with some poor tourist's camera. You'll never catch them. Just be aware. Also, bring something to eat and drink to the park, plus good shoes. It's best to go on a clear day as the views from the park are spectacular.
Lesser Known Gaudí Buildings

While the above are sure to be in any guidebook on Barcelona, here are a few Gaudí sites that are rarely covered:
Casa Vincens. Built in 1888, this is one of Gaudí's wackiest buildings. People still live in Casa Vincens, so you can't go in unless they invite you for dinner. You can admire this Gaudí creation from the sidewalk and then have lunch in Gràcia, the hip area of the city where this gorgeous house is located. C/ Carolines 24, Barcelona
Palau Güell. Built between 1886-1888, this was the Güell family palace. The site was closed for restoration for a few years but is now open for visits. €10.00 per person entrance fee. See more on the palace here.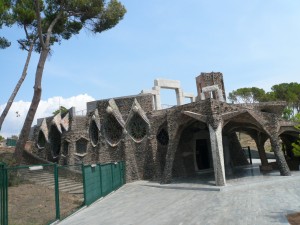 Colonia Güell. This one is not in Barcelona proper and must be reached by tour bus or on your own by car. Located in the village Santa Coloma de Cervelló this 'town' used to be an industrial colony created by Mr Güell. The idea was that workers had all their needs met while living at Colonia Güell, and therefore would work harder, longer hours, producing better product. It seems like a sort of slave camp by today's standards, but perhaps back then it was a good deal in that workers and their families were offered medical attention, food, and an education by Mr Güell. It makes for a fascinating day-trip, though I'd recommend going with a guide to get the most out of it. The highlight is the Gaudí crypt inside the village church. For more information about Colonia Güell, click here.