I'm not advocating necessarily waking up with a glass of "vino tinto" (red wine) with your scrambled eggs and jamon…Although that isn't out of the question in this area where wine flows often more freely than water.
La Rioja is in Spain's far north, just below the sunny shores of San Sebastian and nestled between the popular towns of Bilbao and Pamplona. The towns and villages in this area are quiet and sleepy, with the business of wine being the main industry.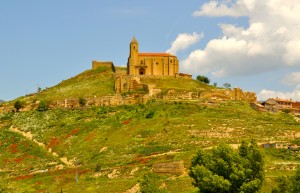 With hundreds of wineries producing over 250 million litres of the good stuff a year, it's easy to see how La Rioja has become known as one of the wine capitals of the world. Warm days, temperate nights and a nutrient-rich clay soil make the area perfect for growing hearty Tempranillo grapes, which makes up the bulk of local wine production.
The area is also home to countless hospederias, where you can stay on a working winery, along with a large variety of bed and breakfasts and pensions.
Bodegas Puelles is one such hospederia. The Puelles family built a dam on the nearby creek in the seventeenth century and set up a mill powered by the controlled water flow. The mill ran until 1964, when the family decided to begin growing grapes to sell to local winemakers. Business was brisk until the 1974 crash of the local grape market and it was no longer to actually sell grapes in bulk to winemakers; it was a better economic choice to grow the grapes and start to make the family's own wine to sell.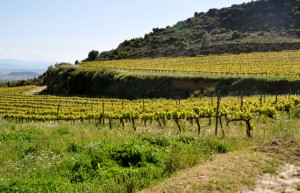 So that's what they did. Over the years, they slowly added more land to their holdings and now have six hectares of vineyards on both sides of a large main house, bottling operation and guest quarters. All the grapes are harvested by hand and the family takes great pride in ensuring a quality product.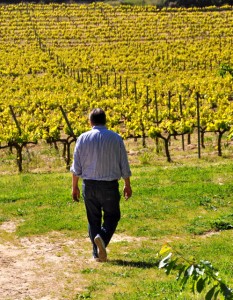 All the wine in La Rioja is separated into four classifications:
Joven (young), meaning wine that is less than one year old and not aged in oak. Joven wines are usually fruitier and lighter in nature.
Crianza, for wines matured at least one year in oak. These tend to be richer and fuller in taste.
Reserva, meaning those wines aged at least three years, with at least one year in oak. Reserva wines are often preferred by wine collectors for their robust taste and opportunity to improve a bit with age.
Grand Reserva, the most selective classification and often a winemaker's best vintages, for those wines aged at least two years in an oak cask and three years in the bottle.
Wherever you stop in the region, whether a taberna, cafe or restaurante, when ordering a glass of house red wine, you'll often be asked "Joven" or "Crianza," meaning the server wants to know your preference. Be assured that likely whatever establishment you are in, the house red will be an excellent choice and value, often at less than 1 Euro (about $1.30) per glass. Undoubtedly there will be other choices listed either on a menu board or card with specific labels offered, but if you are unsure about which wine is better than the other, a pick of the house red will likely not do you wrong.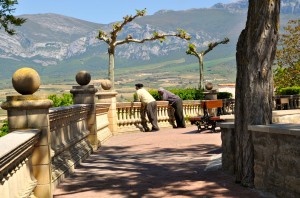 You can fill your days wandering between the charming towns dotting the hillside all throughout this region, some perched on summits like cake toppers, others, tucked cozily into local valleys. Dozens of signs for bodegas (cellars) dot the main highways and towns like Haro, Logroño, Ábalos and Briones have many options to choose from. Some require appointments for tastings or tours and others are open during set hours. A good resource for the entire region and mapping out your bodega choices is the Regulatory Board of Denominación de Origen Rioja. Be sure to check out the hours and prices for your potential targets in advance to best plan your days.
One of the best ways to learn about the rich history of the La Rioja region, tour a working bodega and sample a large selection of varietals is to visit the Museo de la Cultura Del Vino, located in Briones and run by the Dinastia Vivanco company. This wine making family is one of the most successful in the region and established this impressive museum to educate guests on the region's heritage and importance.
For either 8 euro (museum entrance only) or 15 euro (museum plus guided tour), you will receive more information than you ever thought possible about not only the La Rioja region and its grapes, but also about the entire wine making process from beginning to end.
Thousands of artifacts educate and entertain and it's easy to spend several hours here. A walk through the museum's collection of thousands of corkscrews alone can be dizzying! Videos showcase the craftsmanship behind barrel and bottle making, and interactive exhibits such as a "smell bar" allow you to really get a sense of all the effort that goes into a single glass.
After your visit and tour, be sure to stop and linger on the museum's stunning back patio, where you can enjoy a glass of red or white wine (between 1 and 3 euro) and of course a tapa or two (2 euros each). As you savor and sip, take in the vast spread all around with thousands of vines and picturesque villages in the distance. If La Rioja is a wine lover's dream, you may never want to wake up!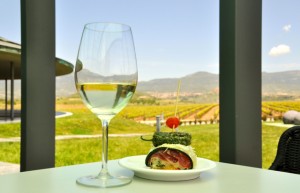 Writer and photographer Aimee Cebulski has traveled to 47 countries and sipped wine from Italy to South Africa. She recently completed The Finding 40 Project a compilation of interviews with women around the world all facing the big 4-0.