Soon after missionary and doctor David Livingstone described the sight of the Victoria Falls to the outside world they became a tourist destination. Thus, following the routes he described in his journals, hunters, explorers and missionaries descended upon them. By 1898 a small settlement of white pioneers had sprung up on the banks of the Zambezi River and in 1904, when the railway arrived, the development of the two towns either side of the Victoria Falls became unstoppable. Today Victoria Falls – one of the Seven Wonders of the World, is shared by both Zambia and Zimbabwe as all that divides them is a bridge and the mighty Zambezi River, where you'll find the award winning David Livingstone Safari Lodge & Spa.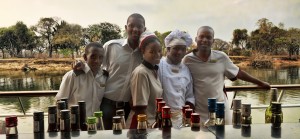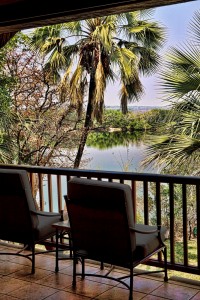 Following an exchange of smiles and a swift check in I was escorted to the lavish Royal Suite (Room 231), the vastness of which I've never before experienced. Beneath a thatched vaulted ceiling and African rugs strewn over quarry floor tiles was a well-stocked wet bar; a lounge dressed in leather and teak; a bubbling indoor Jacuzzi; a dressing room; a spacious bathroom; and a massive four poster mosquito netted bed overlooking a private balcony and the Zambezi River beyond. Every whistle and bell is in place, from two wall-mounted televisions, to in-room international plugs, two air conditioning units and of course, fabulous African art adorning the walls. This suite – and in fact, the entire hotel, screams acute attention to detail with no expense spared.
For a glamorous African sunset, a sun-downer river cruise aboard the hotel's Lady Livingstone is an unforgettable experience – complete with possibly the best cocktail mixer in all of Zambia. On the top deck our knowledgeable on-board host, Freddie, overseas the serving of drinks and snacks and also acts as a wildlife spotter. Following the sunset cruise indulgence yourself in an hour-long treatment at the Health Spa & Wellness Centre – the sweet and savoury body scrub is highly recommended.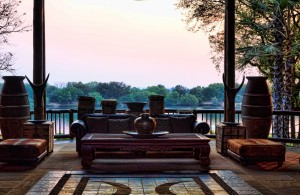 Dinner is a silver service affair with British Chef, Darryl Freeman, presiding over a temple to fine cuisine. He creates specialist dishes like mini crocodile burgers topped with onion marmalade; slowly braised impala (antelope) with Nshima (thick cornmeal porridge) served with local cabbage cooked in peanut butter; and for desert it's baked cheese cake with citrus salad and a sweet pastry – each dish a Salvador Dalí creation. Live silimba music (a xylophone type instrument with a range of flat wooden keys mounted over gourds) quietly offsets it all on the terrace below. Be sure to book a balcony table.
Activities are all arranged on site through the hotel's activities centre and includes, amongst others, helicopter rides, white-water rafting, elephants back safari's, lion walks, micro-lighting, sunset boat cruise (leaves from the hotel's jetty), river safaris, tiger fishing, Victoria Falls bridge tour; and bungee jumping. Transportation to activities is included in the price.
The David Livingstone Safari Lodge is the new four-star kid on the block who officially opened in 2009. They have 72-rooms and five suites in the US$261 budget range. For the remainder of 2013 they are running a special three-night bed and breakfast deal which includes a dinner for two and a sunset cruise on the Lady Livingstone for US$553 which, in effect, is one free night.
The tourism market is a good mix of UK and European with new interest from Eastern Europe. The Australian market is very strong and North America is picking up too – all averaging on a three or four night stay. Other than a few Hollywood greats, George Bush Jnr. stayed at the David Livingstone Safari Lodge in July 2013 and the Russian Ambassador visited soon thereafter.
Sales and marketing is done in South Africa through the Three Cities Hotel Group but bookings are done through David Livingstone Safari Lodge & Spa at www.thedavidlivingstone.com

.
Thorntree River Lodge: For the ultimate bush experience Thorntree River Lodge is a must. The lodge is regularly visited by hippos and elephants and have what must be the most secluded river frontage in the area. They are situated on an inlet of the Zambezi and are within the Mosi-Oa-Tunya National Park, which is a stones-throw upstream from the Victoria Falls. Robert Van Gent who manages Thorntree River Lodge claims the river frontage to be an elephant highway. The lodge offers nine secluded and spacious double-bed chalets at a full board all inclusive rate of US$350 per person – which includes wines and spirits. The menu choice is fixed but changes every four days. Visitors are mostly from North America, Australia and Europe. www.thorntreeriverlodge.co