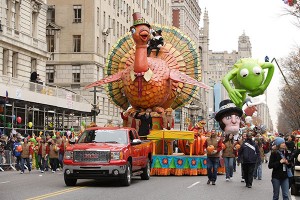 As a major holiday, there are numerous activities and festivities to see and be part of, but none equals a spectacular Thanksgiving Day Parade. Nowadays, you can choose what location you want to the see the festive floats, giant character balloons and the marching bands, from New York City to Chicago to Philadelphia. It just one of those things that the TV cannot do justice to, the sights, the sound and the smell, so plan ahead to take you and yours on a memorable trip to celebrate Thanksgiving Day.
New York City: The Macy's Day Parade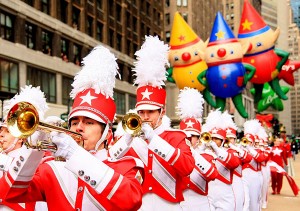 As one of the most famous parades, the annual Macy's Day Parade is televised across the world for all to see. On the procession route, the streets are literally teaming with about 3-million spectators. Almost in its 90th year, it's no wonder it is the most popular parade with its gigantic character balloons that effortlessly float down the street, the creative floats, marching bands, cheerleading, dance groups and the list goes on. Ensure you know the route and where the best place to view this spectacular parade. You can even stay in a hotel which will give you direct view of the street. There are even Thanksgiving Parade Packages on offer to encourage you to take a balcony view.
Chicago: McDonalds Thanksgiving Parade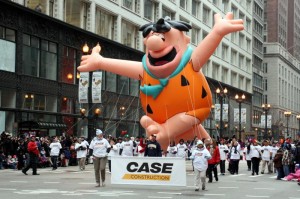 Also known as 'Chicago's Grand Holiday Tradition' this parade primarily takes place along State Street and has been ongoing for at least 79 years! It began in 1934 as the 'State Street Christmas Caravan' and became known as the Thanksgiving Day Parade in 2003. The parade boasts 50ft big character balloons, drill teams, circus acts, cheerleading, marching bands, in fact it includes all of the dazzling aspects you would expect to see in a parade, plus celebrities from sports, TV and film and of course, the sponsor – Ronald McDonald! You can expect to be part of the 425,000 spectators who line the route. Look out for the special staged performances by various groups for added entertainment.
Detroit: America's Thanksgiving Parade
Starting on Woodward Avenue, Detroit, Michigan, the America's Thanksgiving Parade makes its way through a downtown route. The amazing parade was inaugurated in 1924 and was started by a department store. Since then, it has grown to have at least 75 units of floats, marching bands, cheerleaders and helium balloons. But one thing that distinguishes it from other thanksgiving parades is it features unique costumed artisans who wear large paper mache' heads. The 'Big Head' collection now stands at over 300 and originated in Italy. The larger than life characters include everything from the fairy tale three little pigs to animal characters of horses, birds and even pandas. Another unique aspect is the 'Distinguished Clown Corps' which are corporate people who swap their suit and ties for clown costumes where they take the opportunity to hand out candy to the hundreds of spectators that fill the streets.
Philly Thanksgiving Parade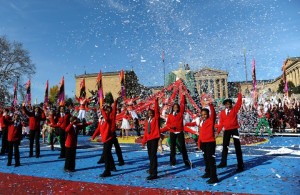 The Grand Daddy of all the Thanksgiving Parades is hosted in Philadelphia. It has been in existence since 1920 and is presently edging it's way up to it's 100th year! Starting on JFK Boulevard the route covers 1.4 miles and there are bleachers along the way so spectators can take a seat and enjoy all that it has on display. No matter where you stand you cannot miss the giant helium-filled balloons which include popular Disney and Sesame Street characters, Nor will you miss the sound of over 20 high school marching bands. You can either enjoy the excitement from the street or reserve hotel room that overlooks the route where you can drink hot chocolate while looking out from the window.
Houston: Thanksgiving Day Parade
Since 1949, the annual Houston H-E-B Holiday Parade has drawn hundreds of thousands of spectators to downtown Houston. Under new sponsorship in 2013 the parade aims to give spectators what they are looking for, giant helium balloons, creative floats, marching bands, the Junior High, and Junior Varsity All American Cheerleading Association and even the new attraction of Art Cars! And, don't forget to look out for the signature giant Tom Turkey float which is a delight for big and small kids. So, buy your tickets early if you want to sit in the designated bleachers and grandstands constructed along the route. It's a great opportunity to get out to Houston and sightsee.
So, put thanksgiving dinner on hold while you go out and enjoy a big Thanksgiving Day Parade extravaganza that rolls down the streets near you.