So Spring Break is rapidly approaching and you have made no plans whatsoever? And your family is clamoring for a beach getaway? No problem. The Gulf Coast of Florida awaits in all its magnificent sugar white sand and turquoise water splendor.
Although people have their favorite beaches and I have visited plenty of them, none compare to the gorgeous beaches which line the Gulf of Mexico in Florida. With plenty of family-friendly accommodations, great seafood restaurants, lot of shopping opportunities, and great fun activities for families, this coast is the perfect choice for a spring break getaway.
Check out these locations, pick up the phone and make a reservation, then announce to your family that Spring Break is now planned!
1. Destin.One of several beaches sprawling along the Gulf Coast in what is commonly known as "The Panhandle" because of the resemblance to a frying pan handle on the state of Florida, Destin has a number of hotels and resorts but I have stayed numerous times at the Sandestin Golf and Beach Resort and it's a wonderful place for families. With houses, condos, and hotel rooms, Sandestin offers a wide choice of accommodations, many right on the beach. The sprawling, 2400 acre resort is a great place to ride bikes with wide, tree-lined paths wending through the resort from the bay side to the gulf side. Some accommodations come with bikes provided but, if not, it's easy to rent them for a very reasonable rate from the bike rental shop at the marina.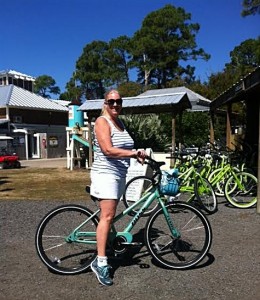 Plenty of pools dot the resort but the beach is always a great way to entertain kids. The Village at Baytown Wharf offers a myriad number of things for kids to do from the free Adventure Land Playground to the Baytown Adventure Zone with fun activities like zip lining to the more sedate Baytown Carousel. They even have a complete arcade and laser maze. When you are ready for dinner, dress up a bit and spend the evening at Bistro Bijoux where you will have an amazingly delicious dinner. Be sure to try the shrimp and grits – you won't be sorry! If you want to go more casual, stop in Gringo's for some fresh tacos or burritos, all made with local and fresh ingredients. If you have a rainy day, spend some time at the Silver Sands Outlet Mall where you can find dozens of shops with some great deals.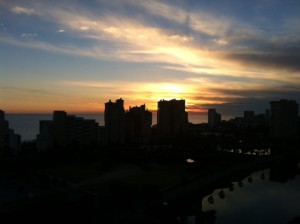 2. Panama City Beach.Long known as a great spring break destination, Panama City Beach is the perfect place for families because of the beautiful beach and tons of fun activities. You will have your choice of accommodations, but the Laketown Wharf Resort is a perfect choice. With one, two or three bedroom condos, all furnished beautifully and all facing the Gulf, you will be very happy with your choice. They offer a seasonal Kidz Club for kids aged 4-12 with tons of fun things to do. My grandson especially loved the five pools and we had to check out every one. The small pool situated in the middle of the lake was a favorite.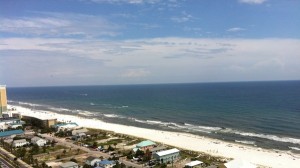 Be sure to check out Gulf World Marine Park with the kids. Small but beautifully maintained and with healthy, happy sea life, the location is a lot of fun for the whole family. The extensive Titanic exhibit and Ripley's Believe or Not may seem touristy but kids love them. For lunch or dinner, check out Pineapple Willy's right across the street. You have to book a cruise with Paradise Adventures one day as everyone in the family will love it. We took the cruise to Shell Island where they have inflatable water slides, trampolines and other items floating in the lagoon for everyone to climb on. They also have kayaks and beach toys available at no extra charge.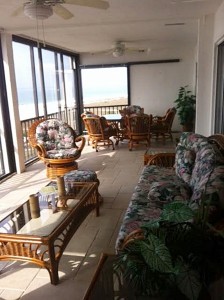 3. Sarasota.Drive a few hours further down the Gulf Coast and you will find Sarasota and Siesta Key, voted the best beach in the United States. The white sand here is powdery soft and made from 99% pure quartz so it stays cool underfoot even on the hottest days. Make a reservation for the Crescent Royale condos in Siesta Key and you will be right across the road from the beach with a great view. We stayed in 7a which is a huge, four bedroom condo with an amazing, glassed-in porch that we found ourselves reluctant to leave. The recently renovated unit has a large living room with a state-of-the-art kitchen that includes a subzero fridge, granite countertops, and every amenity you can imagine. The pool is also nice when kids want a break from the beach. Just a few blocks away is the Siesta Key Village with lots of cute little shops and restaurants. Have dinner one night Café Gabbiano in the Village and be sure to order the lobster ravioli as it is to die for. If you are a wine aficionado, they have an amazing assortment of wines.  Sarasota is the winter home for the Ringling Brothers Circus so there are performances, a museum, and reminders of the circus history everywhere. If the kids want to see alligators in the wild, take a tour with Myakka Wildlife Tours. Spend a day playing on the beach at the nearby Lido Key, then head to the Tommy Bahama restaurant for an amazing dinner. Trust me, order the Parmesan Crusted Sanibel Chicken – everyone will love it!
No matter where you go along the Gulf Coast, you will find beautiful beaches and plenty of fun. Now make that reservation!