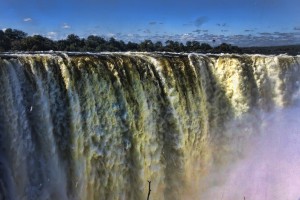 Traveling to the interior of Central Africa before the advent of the railway was near impossible. On land the journey between Cape Town and Victoria falls could take the better part of four months, on train though, it was just four and a half days. By 1904 the railhead from Cairo had reached the Zambezi and required a bridge to be built to cross the chasm. The bridge was constructed in fourteen months by the Cleveland Bridge Company of Darlington, England. Whilst the bridge was being built the Victoria Falls Hotel was constructed, initially to house twenty of the engineers working on the bridge. Originally it was a simple long structure of wood and corrugated iron containing a dining room and bar, bedrooms and an office. Today the 161-room Victoria Falls Hotel is one of the most famous luxury hotels in the world (a member of the exclusive Leading Hotels of the World group) and is the preferred African address for members of the Royal family, statesmen and celebrities from around the world.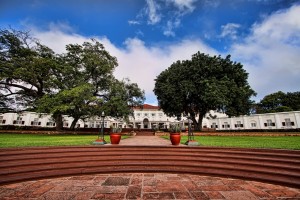 The hotel is a neo-colonial gem with a courtyard entrance overlooking lily ponds, lush flowering shrubs and palm trees. This leads through to several elegant lounges offering serenity and seclusion and delivers you to the renowned Stanley Terrace. From the terrace you have uninterrupted views across the iconic Victoria Falls Bridge which connects Zimbabwe and Zambia. At certain times of the year you'll see the massive plume of waterfall spray rising several hundred feet into the air.
Accommodations consist of suites and rooms at the height of opulence and class. They're spacious with plush damask bedding and antique Edwardian-styled furnishings like four-poster beds and roll-top baths that echo its historic charm. This is effortlessly combined with the comfort, luxury and convenience of Wi-Fi, climate control, satellite television and every other imaginable modern-day whistle and bell.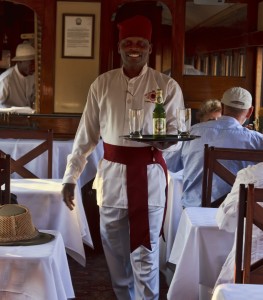 The Victoria Falls Hotel offers some of the finest cuisine in the country. With renowned Development Chef, Michael Ovens, you are guaranteed an exquisitely prepared meal at every sitting. Both the elegant ambience of The Livingstone Room and ethnic evening entertainment in the Jungle Junctions has meticulously prepared menus that are impressive and varied. The hotel is distinguished for its five star service and is intentionally aimed to leave every guest feeling like royalty. A fine selection of wines and liqueurs are available to accompany each dining experience.
To ensure you're not spoilt by the additional calories you can work if off in the swimming pool, on the tennis court or you could walk it off following the hotel's private pathway to the very audible Victoria Falls – just ten minutes away.  The Victoria Falls is a natural wonder that defies description as its turbulent water gush more than 700-million litres over a 110 metre high gorge. The surrounding lush rainforest is teaming with wildlife, prevalent especially at dawn so plan to spend several hours taking in its views from numerous observation points – and be prepared to get soaked in 'the smoke that thunders.' Raincoats are available for hire, but be sure to take along suitable protection for your camera gear.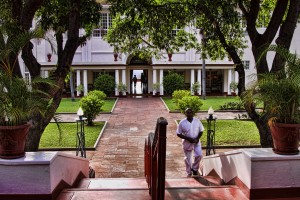 Style and sophistication is a trademark of the Victoria Falls Hotel, making it a true five-star experience. But if you chose to stay elsewhere a visit is well worth the time to walk through the lobby, courtyard and to the veranda which oozes character and history. Stop for an afternoon tea on the Stanley Terrace and feel the history.
HISTORIC TRAIN JOURNEY: Experience the red carpet treatment aboard the authentic No. 512 Steam Train which takes you on a stately two-hour 'Out of Africa' journey to the centre of the Victoria Falls Bridge. You would be forgiven for thinking you've been transported back in time as cumber-belted waiters serve you champagne and canapés in a true Victorian carriage. Whilst taking in majestic sunset views from the Victoria Falls Bridge. I'm certain you'll agree there to be no better way of seeing one of the Seven Wonders of the World. This is a taste of train travel from a by-gone era.
FINE DINING: Here is an extract of Chef's signature seven course fine dining Degustation Menu served in 'The Livingstone Room:' Hand dived Scottish King Scallops with South African black pudding, pea puree, apple and micro greens. Zimbabwean Beef Wellington with wild mushrooms duxelle, wholegrain mustard mashed  potato, wilted Swiss chard, crispy leeks and a red wine and tomato jus. And for desert Crepe Suzette flambéed at your table with Grand Marnier.
GOING GREEN: The Victoria Falls Hotel is playing a leading role in an eco-initiative by developing community-based enterprises which contributes toward creating a clean and resilient conservation-economy. This is done by way of promoting green technologies that are efficient, affordable and user friendly. The initiative proposes to reduce pollution, avoid deforestation, make maximum use of areas already in use, rehabilitation of degraded land and create conservation commodities such as eco-compost and conservation-farmed produce. Special project emphasis is on food security for communities living in and around the wildlife areas with emphasis on well-managed, high yielding gardens and plots. Intensive eco-training teaches tillage practices together with the building of eco-compost worm units, organic vegetable gardens and rotational crop plots.
Victoria Falls Hotel room rates start at US$280 and includes a sumptuous breakfast www.victoriafallshotel.com
Nearest Airport: The Victoria Falls International Airport (VFA) is 22km away.
High season: July to September