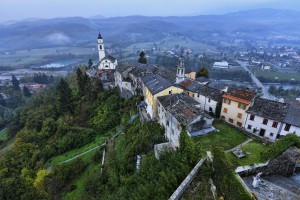 Driving from Parma, navigating a winding mountain road to Tuscany, I came across Castello di Compiano, a medieval castle embraced by fortified walls and built atop a rocky outcrop of a mountain village. The castle's jaw-dropping views across the Taro River and the Apennines mountains make it one of the most spectacular locations in northern Italy.
Its origins are uncertain but archaeologists claim its existence dates back to the first century. In its life Castello di Compiano has been a royal residence, a prison, military barracks, a girl's boarding school, and now it's an exclusive 13-suite hotel.
Although it's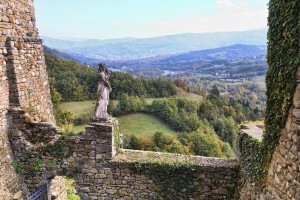 just an hour's drive from Parma and 90-minutes from Bologna (the nearest airport is in Genova), the tranquillity offered by the village, Compiano and its Castle makes this a boutique escape from city chaos. The adjoining park and swimming pool complete the paradise feel.
The accommodations at Castello di Compiano are unique too – HRH Prince Albert II of Monaco recently slept in the Castle. In fact, it's said the Grimaldis (Monaco Royal Family) have their roots here. The suites are all bespoke – some boasting original 16th century fireplaces, wooden floors, ceiling and doors – complete with royal crest. A marble plate hung on the castle wall denotes all the royal families that have inhabited the castle since 800 AD. I stayed in a Junior Suite (€180) which was in the North Tower. It had a loft area with two additional beds (great for kids) and long views across the park.
Other than gala dinners and fashion shows, the gothic Castle has a chapel and banqueting hall which regularly hosts weddings. It's also home to the International Masonic Museum – the first and only museum of its kind in Italy.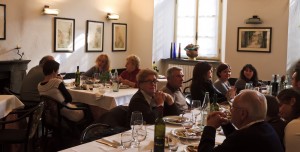 Untouched for centuries, Compiano is a village of outstanding beauty. Just a few steps from the castle, in the ancient village with its narrow cobbled streets, are buildings with sculpted doorways and genuine ancient friezes.
Facing the main square is the superb La Vecchia Compiano, a traditional family-run Italian restaurant with time-honoured flavors. Their seasonal menu (which includes  Italy's famed Porcini and Prugnoli mushrooms and some 400 bottles of Italy's finest) had me and my dinner guest feasting on Chestnut Gnocchi with Ricotta Cheese and Pumpkin Gnocchi with walnut sauce, washed down with a bottle of Pinot Grigio from Veneto (I got a chunk of change from a €50 note).
Italy, I was told, produces the largest amount of wine in the world – most of which is grown in Tuscany. One of its famed wine regions, found between Rome and Florence (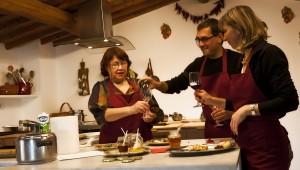 bordering the Tyrrhenian Sea) is Chianti – which is where I was heading. I took in a tasting of truffle flavoured olive oil at Tenuta Casanova, the private estate of former veterinarian turned vine master, Silvano Cis. I then spent a bit of time getting to know his wine cellar, later moving into the kitchen where his wife,Rita, took over for a cooking class. I came away with much Italian cooking know-how, the most tried and tested of which is Tiramisu.
Tiramisu
Ingredients: 3 eggs (whip the egg whites), 6 tablespoons sugar, 250g mascarpone cheese, a cup of espresso coffee (mixed with generous tot of liqueur and sugar), a square of extra dark chocolate.
Method: Prepare the coffee, cream egg yolk with the sugar, add mascarpone cheese and mix well, add whipped egg whites. Layer a dish with good digestive biscuits then soak with coffee. When cooled, cover with cream mix then grate over the chocolate.
I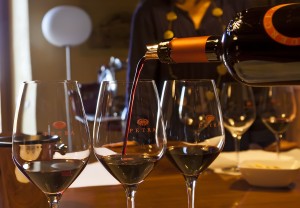 also visited Livorno's prestigious Petra wine estate whose owner, Vittorio Moertti, saw the potential of the sea-breezed hills where his 100-hectare Merlot, Cabernet Sauvignon and Sangiovese vines are dominated by a dramatic winery designed by Mario Botta. The hill tunnels Botta designed create perfect natural maturing conditions in barrels and here I was introduced to some of the best Chianti's.
Back on the road I headed to Grosse and my luxury accommodations.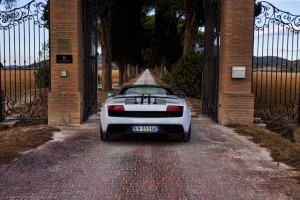 L'Andana is a 33-roomed authentic villa on a 500-hectare estate in the wilds of Tuscany. An indulgent ESPA treatment, a swordfish dinner and a deep comfortable bed awaited me. My opulent superior suite (€1,200) was comfortable and large, and had an equally lavish bathroom. However I was taken aback at the exorbitant prices charged for the lousy service offered. The breakfast was nothing to write home about either.
Heading deeper into the hills I found Laticastelli, where I bedded down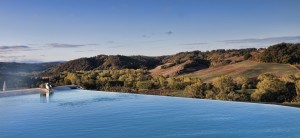 for a couple of nights. Laticastelli is owned by a former Argentinean polo player turned hotelier, Gonzalo Aguilar, who in recent years sympathetically restored the 1200-year old village ruins into a boutique hotel. It has an equestrian theme, infinity pool and 'La Taverna', which must be one of Tuscany's best regional restaurants. My beautiful deluxe suite housed an immense and hugely comfortable four-poster bed (€180).
Over the next couple of days I visited several neighbouring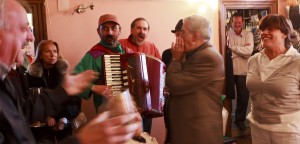 mountain villages, dined at 'greasy spoons' and drank in working men's pubs, each time coming away with new retirement plans and a promise to return and linger just a little longer in the Tuscan hills.
Castello di Compiano Museo e Relais, Via Marco Rossi Sidoli, 15 43053 Compiano (Parma), Tel +39 525 825541, www.castellodicompiano.it and www.lavecchiacompiano.com
Azienda Agricola Tenuta Casanova, Località Sant'Agnese 20, Castellina in Chianti 53011 (Siena), Tel +39 335 6150760, www.tenutacasanova.it
Petra Azienda Agricola, Località San Lorenzo Alto 131, 57028 Suvereto (Livorno), Tel +39 565 845308, www.petrawine.it
L'Andana, Tenuta La Badiola, Localita Badiola, Castiglione della Pescaia,  58043, Grosseto (Siena), Tel +39 564 944800, www.andana.it
Laticastelli,  53040 Rapolano Terme (Siena), Tel +39 389 9147703, www.laticastelli.com