In the heart of Myanmar's sprawling capital Yangon, an opportunity exists to glimpse local life and communities in a way not often available in other cities.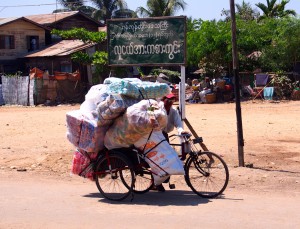 Opened in 1954, the Yangon Circular Railway is a rickety, barely-faster-than-a-jog train that runs a circular path all around the heart of the city, taking approximately 3 hours to cover some 30 kilometers and 39 stops.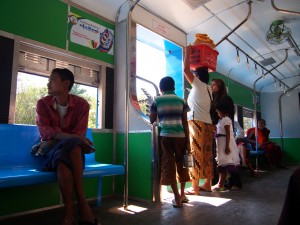 A mix of everything from the official Central Railway Station to a single bench, the stops are a hodgepodge of the various communities around the city. Most stops are brief, some no more than 15 seconds, where locals file and on and off in a rhythmic pattern, transporting goods to and from market locations, bringing home purchases or even offering food and drink to sell right on the train.
Open-air and outfitted with fans, the train is by no stretch of the imagination rapid transit; this is a languid journey for those in no hurry. You are likely to have a bench mate take a quick snooze or local children passing the time playing a game.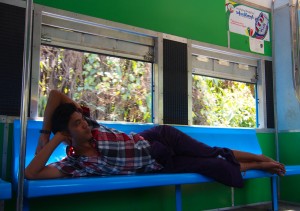 The train has become a viable tourist destination in Yangon, with train operators and station workers knowing to direct visitors to platform 7 at the Central Railway Station, where at a door marked with a small handwritten sign for 'circle rail' you pay the $1 fee and board the train. Throughout Myanmar you will see signs instructing "take care and comfort tourists" and you know at the train station you'll never be directed onto the wrong car. We were led by one of the ticketing agents off platform 7, crossing over two sets of tracks, onto platform 9 because the Circular Railway Train had come in early and on a different platform than anticipated.
You'll get friendly smiles and waves, lots of "mingalabar"s (which means hello in Burmese) and undoubtedly curious kids who will play peek a boo and 'I'm trying hard to not stare at you' games. If someone does come into a car selling food, drinks or other items, you're not pressured or cornered as you might in other countries. Everyone simply is going about their business and you're left to relax and enjoy the ride.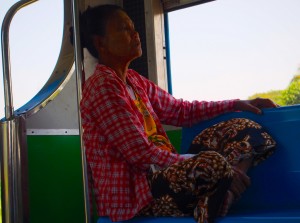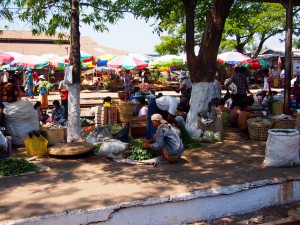 There are no facilities on the train so be sure to bring water, use the restroom in advance, and eat or drink something before you go. Mornings are the best time to go in order to avoid the oppressive afternoon heat and also know you can hop off (and on) the train wherever you want on the same fare if you see something interesting or have had enough and want to taxi back to your hotel. Not every stop will be the most beautiful, but you'll be up close and personal in an unobtrusive way.
The Yangon Circular Railway is one of those great classic train journeys, with a comforting 'clack-clack' keeping time as the world of Yangon passes before your eyes.
With all the countless attractions and activities competing for your tourist dollars, it's hard to know what's the best way to spend your money.  At $1, you are guaranteed to get an unbelievable value for your money along with a number of experiences that a truly priceless.
————
Travelhoppers contributor Aimee Cebulski is the author of The Finding 40 Project (www.finding40.net), a book about women turning 40 around the world and a freelance travel writer and photographer . When not traveling, she calls San Diego, California home and loves sharing insight and budget tips with fellow wanderers.