Now you and your pet can take a European vacation together as several North American and European carriers are offering a Pet Travel Scheme (PETS) whereby pets and their owners can journey together.
Your pet checks in with you at the passenger terminal and rejoins you on arrival at the baggage hall at the destination airport. Pets are loaded aboard into the cargo hold, directly below the passenger cabin. This hold is temperature controlled and provides a comfortable environment during the flight. It's not lit as experience shows pets settle down more quickly and travel better in the dark.
Cost
Charges for transporting pets differ as the price is dependent on the size of container, the pet's weight and the distance being traveled. Excess baggage charges may be applicable and cargo charges will be included in the price quoted. Some airlines restrict the size of the kennel, while others reserve the right to charge significant excess weight fees.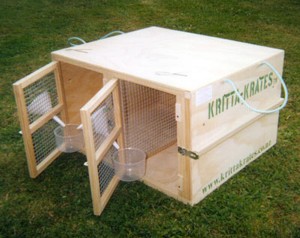 Container
You must have a correctly sized container to carry your pet in, otherwise the airline may refuse transit. The container must be large enough for the pet to stand up, turn around and lie down in a natural manner. It obviously also needs to be sturdy to protect your pet during transport, be secure enough to contain it, and have sufficient ventilation on all four sides.
The door must be fastened in such a manner that it will not open accidentally. Your pet's nose and paws should not be able to fit through any ventilation opening or door  mesh. The container must  have a water pot and a food bowl accessible from outside. Fiberboard or wire-mesh containers are not suitable for air transportation.
Detailed instructions on the container specifications can be found in the IATA (International Air Transport Association) Live Animals Regulations. Most pet stores and many kennels sell containers.
Preparation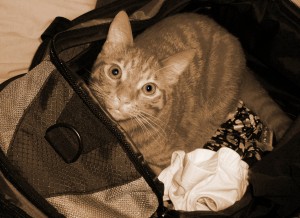 Get your pet used to the container a few days before her flight. A favorite toy or blanket should help her feel at home in a strange environment. Give her only a light meal a few hours before flight departure. As most pets are house trained and do not wish to soil their bedding, it would be kinder not to feed her too much. If the flight duration is more than 12 hours, water needs to be provided, which is checked before loading and during transit.
Pets travel very well and do not usually need a sedative. If sedation is required, it is to be carried out under strict veterinary supervision and sedation details should be clearly shown on the pet's container.
Puppies and kittens must be at least 10 weeks old and must be weaned and able to eat on their own before being transported.
Cats and dogs up to their sixth week of pregnancy can be carried. However, they must have a veterinary certificate confirming the pregnancy and that the pet is fit to travel.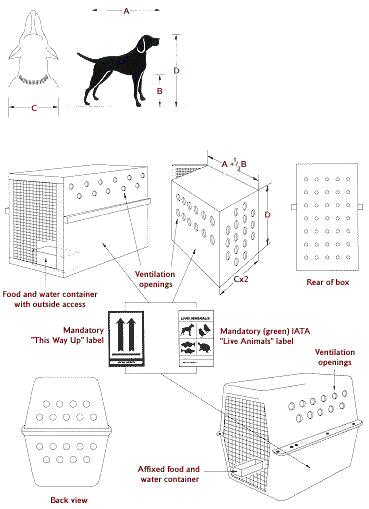 Conditions
To enter the UK without quarantine, pet animals from certain countries must meet certain requirements.
A veterinary certificate is to accompany the animal entering the European Union (including the UK) from North America. It permits dogs and cats to enter EU countries (except Sweden and the Republic of Ireland which have their own rules), using a valid pets certificate.
Veterinary certificates issued for dogs and cats before 1 October 2004 may be used to enter the UK (or other EU states) from participating countries until the "valid until" date
shown on the certificate. However, an official veterinary certificate of tick and tapeworm treatment will also be required before entering the UK.
To bring your dog or cat into the UK under PETS from one of the participating countries you must firstly ensure they have been micro-chipped, vaccinated against rabies and then blood tested. The rabies vaccination (including boosters), blood sampling, issuing the pets documentation, and the tick and tapeworm treatment must all be carried out in the USA in good time.
Your pet may not enter the UK until six calendar months have passed from the date that your vet took the blood test. Only then will the vet issue the relevant documentation. Now your pet may enter the UK via an approved transport company on an authorized route.
If your travels through the UK or Europe exceed one year, your pet will require a booster vaccination and blood test before returning to the UK and re-entering the USA. Veterinary documentation verifying this will be required.
Home Again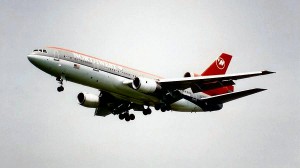 An animal that has just come off a plane needs time to recuperate. Try to keep small children away from the pet until she is ready to play. Be sure to lavish the animal with quiet attention as she has just had her world turned upside down.
Remember to always consider your pet's welfare before your own companionship needs. Will she benefit from a long-haul vacation to Europe with you or would she be less traumatized at a kennel or cattery?
Restricted dog breeds
The following types of dogs cannot be accepted for travel, including cross-breeds: American pit bulls, Pit bull terriers, Japanese tosas, Fila Brazileiros, and Togo Argentinos. All snub-nose dogs (bull dogs, pugs and Pekinese) suffer from respiratory problems which increases with altitude and therefore cannot be accepted for travel – this restriction does not apply to cross-breeds.

Member airlines

Depart:
Atlanta or Houston


Arrive:
London Gatwick


Carrier:
British Airways (accompanied animals only)
Boston or Miami
London Heathrow
British Airways, Virgin Atlantic Airways
Chicago
London Heathrow
British Airways
Cleveland, Houston or Newark
London Gatwick
Continental Airlines (accompanied animals only)
Detroit or Minneapolis
London Gatwick
Northwest Airlines (accompanied animals only)
Denver
London Heathrow
British Airways
Las Vegas
Manchester
My Travel (accompanied animals only)
Los Angeles or New York (JFK)
London Heathrow
British Airways, Virgin Atlantic Airways
Newark
London Heathrow
British Airways, Virgin Atlantic Airways
New York (JFK)
Manchester
British Airways (accompanied animals only)
Orlando, Florida
London Gatwick
Virgin Atlantic Airways (accompanied animals only)
Sanford, Florida
London Gatwick
Britannia Airways, Excel Airways, My Travel (accompanied animals only on all airlines)
Sanford, Florida
Manchester
Britannia Airways, Excel Airways, My Travel (accompanied animals only on all airlines)
San Francisco
London Heathrow
British Airways, Virgin Atlantic Airways
Washington DC
London Heathrow
British Airways, Virgin Atlantic Airways