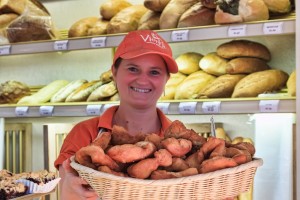 Just 100 miles south of mainland Britain and 45 minutes from London is Jersey, the warmest and most southerly of the British Isles. Jersey also has its fair share of celebrity millionaires: Formula One racing drivers, musicians, artists, writers, movie stars, inventors… however, the famed Jersey residents I came to meet were of the four-legged variety – its prized dairy cows.
Darren Quénault of Classic Herd is the island's only independent dairy farmer producing award winning organic dairy products at Manor Farm in St. Peter's Village.
"We decided to break away from intensive dairy farming eight years ago as we wanted to be independent and have total quality control. We chose to go the organic route to protect the natural environment of our 400 vergées (100 acre) farm and of course for the well-being of our 60-strong herd of milking Jerseys who each produce an average of 18-litres daily. Our organic milk is not homogenised which means the fat is not compressed into the milk, making it healthier as the fat is digested, rather than absorbed, into the blood stream."
Darren answered several poignant questions surrounding issue like disbudding (done under anesthetic), a procedure which is essential in reducing the incidence of bruising or potential injury to other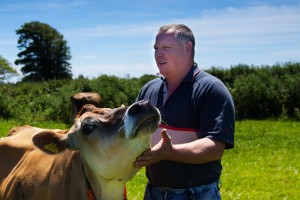 animals. He explained that Jersey cows are specifically bred for milk and naturally have three times the quantity of milk that their young require, so there's nothing industrial going on. All the cows are milked twice a day in between which they're in green pasture land. In the winter months, Darren keeps them indoors and gives them a two month break from milking every year. In short, he pampers his cows, who all trot to greet him when they see him coming and then proceed to lick him until he head scratches them. It's fabulous meeting a farmer with a conscience. No wonder he supplies all of Jersey's top restaurants and hotels.
"All the cows on the island are Jersey cows and only milk produced on
the island is sold here. Like cattle, milk cannot be imported," says Darren.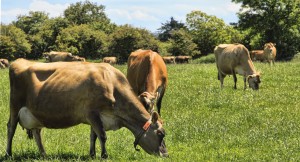 Classic Herd, a family-run farm, perfected their range of soft cheeses before diversifying into luxury ice-cream made with whole milk and double cream. From the milking barn the milk is taken across the farmyard to another outbuilding where it's turned into cream and then ice cream, so it has literally traveled zero miles.
As a small-scale artisan producer and live-stock farmer (including twenty breeding sows), Classic Herd devotes a great deal of time to achieving and maintaining the consistency of their products which include their award-winning cheeses, meat and eggs. You can find them online at www.classicfarmshop.com.
From the Surf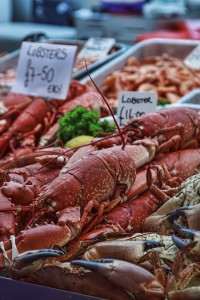 Jersey is surrounded on all sides by the ocean, thus seafood is plentiful. Mussels and oysters are farmed on the south-east coast; and in the north-west, at L'Etacq, there's Faulkner Fisheries (based in a German WW2 bunker) who sell a wide range of fish. Try their BBQ lobster with garlic sauce. Two types of edible crabs are caught around the island – the squat Chancre crabs with its menacing claws and the nasty-looking Spider crabs. You'll find them at St. Helier's Fish Market (between Minden Place and Beresford Street) and at The Fresh Fish Company on Victoria Pier.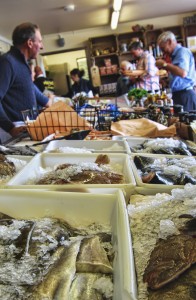 From the Turf
Back in the day when boats were constructed using timber, Jersey was one of the world's largest shipbuilders. Now, other than its financial services, the island's other major export is its Jersey Royal new potatoes. Unique to the island, they are acclaimed by celebrity chefs to be the best variety of new potato because of their unique flavour, texture and 'skin on' aesthetic.
Apples are also an important Jersey crop utilised by La Mare Wine Estate who manufacture cider and apple brandy. They've also recently begun distilling vodkas and gins made from Jersey Royal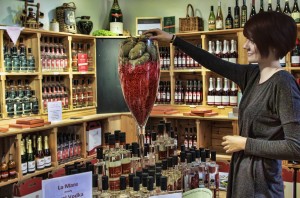 potatoes. Visit the La Mare Wine Estate in St Mary for a tasting and take a walk through the vineyard. Their cream liquor (made from their own brandy, apples and local Jersey cream) is dangerously moreish. They also produce black butter – we're talking Christmas in a jar, with a dark spicy spread prepared from apples, cider, brandy and cinnamon. It's best eaten with apple dumplings, another island favourite. Find them on the web at www.lamarewineestate.com.
The Central Market in St. Helier, a Victorian covered market on Hilgrove Street (aka the French Lane), sells a huge range of local produce and has a corner shop, The Spice House, selling collections of spices and condiments.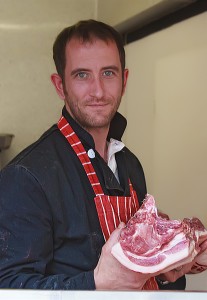 There are a number of farm shops around the island favoured by the locals – some are unmanned and employ the 'honesty box' payment scheme.
From the baker
Two of the island's favourite bakery items are the Cabbage Loaf – so called because it is baked then wrapped in cabbage leaves and a small fried cake-like pastry called the Jersey Wonder – and tradition says the Jersey Wonder should only be cooked on a falling tide.
Must do:
Take a "St. Helier for Foodies" tour with history lecturer, swing singer, and professional Blue Badge Guide and gastronome Pete Webb. The foodie tour encompasses behind the scenes visits to solid star restaurants, markets, delis and Jersey's own winery – along the way gathering menu notes and top tips from professional foodies. More information is available on their website at www.jersey.com.
Drink at:
• The CAMRA award winning Old Smugglers Inn, dating back to the 1700s, is a genuine free-house with four real ales on tap. Their beach location, in St. Brelade's Bay, is superb. Try their Liberation IPA.
• The Prince of Wales Tavern, directly beside the Central Market, is another character pub.
• Priory Inn Devils Hole in St. Mary's serves Anchor steam, a great San Francisco brew.
• At St Helier's Lamplighter Pub you'll find 14 real ales and ciders on tap as well as an extensive blackboard menu of malt whiskeys.
Quick bites:
• On the grounds of the town church is the Chugging Pig, a shabby chic van selling a selection of dishes including Slow Roasted Pulled Pork with red cabbage and Posh Baked Beans with feta.
• For an anti-pasta lunch try Relish in the heart of St Hellier's – ask after Queso de Valdeón – a Spanish Roquefort-like cheese served with truffle walnut chocolates.
• For spectacular sea views and an outside eating area head to The White Horse Beach Bar & Eatery at St. Saviour. They have a Cask Marque accreditation, which means they run a good cellar.
Dine at:
• Reserve a table at The Atlantic Hotel's Michelin-starred Ocean restaurant. Here celebrity chef Mark Jordan has created a temple to fine cuisine. You'll not regret selecting their wine pairing menu (Sergio, their Sommelier, knows his stuff). For a starter select the duck miniatures with fig gel and toasted honey brioche. For mains, the line caught sea bass, Jersey crab and sweetcorn linguini with champagne foam. Finish with a hot chocolate fondant and vanilla ice-cream. The only thing wrong with this restaurant is that it holds just one Michelin star. www.theatlantichotel.com/dining/ocean-restaurant
• Shaun Rankin cooks up a gourmet feast at Ormer, his Michelin starred restaurant in St Helier. Again, do the wine pairing menu and kick off with the Scallop Carpaccio, avocado purée, Bloody Mary jelly and cucumber sorbet; progress to charred Sea Bass, baby cucumber, oyster mayonnaise and wasabi beurre blanc. For dessert indulge in the chocolate rosemary ganache, salt caramel ice-cream, salted peanuts and blood orange gel. www.ormerjersey.com
Stay at: The Atlantic Hotel is a sophisticated boutique hotel situated on one of the most picturesque sites in Jersey and is a member of Small Luxury Hotels of the World. Combining its seclusion, timeless elegance, breath-taking views and Michelin-starred restaurant this 50-room hotel makes a perfect escape. Be sure to sample their breakfast sausage which is exclusively supplied by Classic Herd. www.theatlantichotel.com
New Jersey Link: When the British colonised the US they named the state of New Jersey after the largest of the English Channel Islands, Jersey. Colonists tend to do that – name things after their place of origin, like York, another city in the UK. Adding New to the front of it differentiates the name of their new home from their old one.
For travel information about Jersey visit www.jersey.com