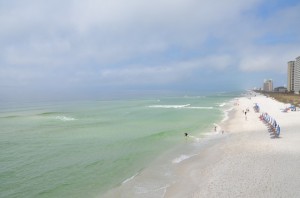 If your family is lucky enough to be one of those which has kids starting school after Labor Day, you still have time to plan a trip to the gorgeous Emerald Coast of Florida. And you should immediately do so. The pure sugar white sand and amazing Gulf of Mexico simply can't be missed. If your kids also have a fall break, plan your getaway for then as the area is still warm and beautiful and the prices will be even lower.
The first time we took our four year old son to the Emerald Coast years ago, he took one look at the white sand and asked eagerly if he could please, please play in the snow? True story. The soft white sand and the astonishing colors of the water which vary from the darkest aquamarine to the palest peridot will have you taking photograph after photograph.
There are plenty of accommodations in this area but we recently stayed in a lovely condo at the Azure Resort on Okaloosa Island in Fort Walton. With a variety of condos ranging from three to four bedrooms, many directly facing the pools and beach area, it's the perfect place for a family getaway. We were in unit 323 which is beautifully furnished with leather furniture and had a huge master bathroom with a great whirlpool tub. Floor to ceiling patio doors in every unit provide amazing views and access to large balconies furnished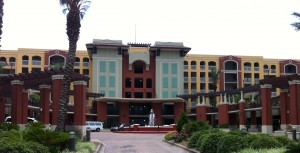 with chairs and tables to enjoy that view. Each of the pools has a hot tub, there is a spray park for the kids, an exercise room, and a wheelchair accessible boardwalk which leads right to that amazing sand.
One of the best things about the Azure Resort is its close proximity to plenty of family friendly activities, shopping, and great restaurants in the area. Check in, enjoy the beach, and try one (or all) of these suggested itineraries.
Day One:
Spend a little time enjoying the beach in the morning, then visit the Gulfarium Marine Adventure Park in Fort Walton. Opened in 1955, this wonderful location with plenty of animals to see, shows, and animal encounters, has been welcoming generations of families to the Emerald Coast ever since they opened their doors that first day. Kids will love the shows and the Park even offers direct animal encounters for an extra charge. We recently participated in the dolphin encounter and it was truly amazing to see these beautiful and friendly animals up close. After your day at the Gulfarium, walk right next door to Angler's Beachside Grill at the entrance to the Okaloosa Island pier. If you want a light lunch, try the Crab & Shrimp Parmesan Dip – it's delicious! A favorite since 1999, their large covered deck overlooks the gorgeous Gulf of Mexico and is wide open to the lovely breeze from the water.
Day Two:
Spend the day enjoying all the water sports the Emerald Coast has to offer or maybe go deep sea fishing or fishing off the Okaloosa Island Pier. No fishing license is required on the pier and you can even rent a pole and buy your bait there as well. In the late afternoon, head to Uncle Buck's Fishbowl and Grill in nearby Destin. Not your ordinary bowling alley, this place is like stepping inside an aquarium. Meticulously detailed aquatic murals decorate the walls and floors and literally hundreds of beautiful, handmade decorations depicting everything from mermaids to dozens of varieties of fish decorate the entire place. An extensive menu is offered in the grill and the appetizers we sampled were delicious!
Uncle Buck's Fishbowl and Grill is located in a wonderful shopping center called Destin Commons. Rather unprepossessing from the road, this shopping center is a truly an undiscovered gem. Pedestrian friendly with lovely fountains and landscaping, there's a large kids play area in the center and a splash fountain that welcomes kids to romp and play. Unique stores dot the center, from a Tervis store with every Tervis cup you can imagine to small, charming local clothing and jewelry shops to Belk, their anchor store, and you can easily spend a day here and leave with an armful of packages, as I did.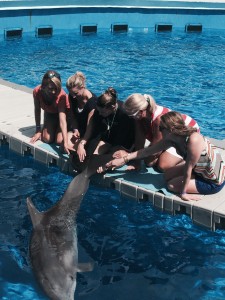 When it's time for dinner, head to Cuvee Bistro which is just a few minutes away. This is not your typical, casual seafood restaurant but rather a quite fabulous gourmet destination with truly amazing food. "Cuvee" is a French term which refers to a "blend of ingredients" and the way they blend the ingredients at this restaurant will have you begging for more. They offer classic French, Asian, and Italian influenced delicacies from Executive Chef Tim Creehan and I can personally recommend Vince Gill's Pecan Crusted Grouper. It's sweet yet spicy and may very well be the best grouper I have ever eaten. Their happy hour which was voted the "Best in Destin" starts at 5:00 and offers their very popular $5 martinis along with live music.
Day Three:
After your requisite morning on the beach, get everyone cleaned up and head back to Destin to Harborwalk Village for an afternoon and evening of fun. Park and walk down to the boardwalk which runs along beside the harbor and features activities for kids that will keep them busy for hours. Everything from rock climbing to face painting to pretty much anything you can imagine! Have lunch at AJ's Seafood & Oyster Bar where everything is fresh and delicious – try the grilled fish sandwich made with local grouper or snapper. This is a great time for the parents to split up and allow one parent some extra time with the kids while the other slips away to the amazing spa at the Emerald Grande which is right next door and an easy walk from Harborwalk Village. The Spa at the Emerald Grand offers complete spa packages or massages, facials, body treatments, wraps, masks and spa parties. The ladies relaxation area had the most comfortable loungers and the most amazing water view that I have experienced at any spa.  I had the Fountain of Youth facial when I was there and it was wonderful!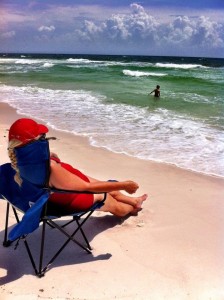 After your completely relaxing spa experience, rejoin the family for a cruise onboard the Southern Star, docked right at Harborwalk Village. This 80 foot glass bottom boat provides an unforgettable dolphin and sunset watching cruise that lasts for two hours and will give you opportunities for some gorgeous photos. The captain even allows kids up to the wheel house to steer the boat for a short time! After your cruise, stop in Jackacuda for dinner and try their amazing fresh seafood and sushi.
A great location for relaxing and people watching on the open deck, the food is equally wonderful. Several people in our group ordered the "sushi bowls" which looked delicious but I went for the fish tacos which were definitely delicious. I didn't need dessert at all but had to try the "Milk and Cookies" which was a small, chilled container of chocolate milk along with homemade sugar cookies filled with a maple bacon ice cream which had real chunks of bacon in it!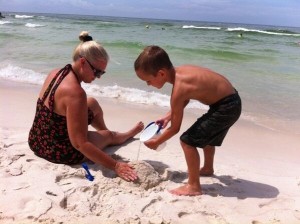 Day Four:
If you didn't get your fill of shopping at Destin Commons, there is absolutely nothing wrong with a return visit for those things you might have missed the first time! There's even a movie theater right at Destin Commons, so send the rest of the family for a double feature and shop away. You will also want to make time either today or sometime during your visit for some time at the Silver Sands Outlet Mall for some great bargains. All the stores often have sales racks so head for those first, but the Coach store will sometimes have special coupons for up to 50% off that day. You can even use that coupon for their clearance area in the back so be sure to stop by. Stuff your car with those shopping bags, pick up your family, and make up for deserting them all day be taking them to dinner at Mama Clemenza's in Fort Walton on your way back to the Azure Resort. The family will love their pasta and pizzas, all homemade with love by this family owned and run restaurant. Tucked away in a shopping center, it may not seem like the best place to have Italian food, but I assure you it absolutely is. Get some cannoli to take home because you are going to be full to eat it right after dinner!
Day Five – Infinity
You can easily while away a week on the Emerald Coast or spend even longer – some snowbirds even come for the whole winter! Kids will be perfectly happy spending hours on the beach swimming, building sand castles, and possibly burying their parents in the sand. There's plenty of other great restaurants in the area that I haven't even mentioned or head to a local grocery to stock up and cook your own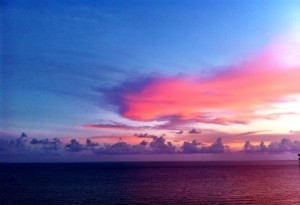 meals in your condo; you can easily buy locally caught fish and shrimp for a fabulous dinner. There are also tons of other activities that I didn't even mention – you will find miniature golf, go kart tracks, and every other fun activity you can imagine. You won't get bored on the Emerald Coast and neither will your kids. Now, make that reservation and let your kids play in the "snow"!