Perched in the misty hills some 3,800 feet above sea level in central Panama, the small town of Boquete (Spanish for 'the gap') has attracted countless visitors  interested in the flora and fauna of the cloud forest since its founding some 100 years ago.
Boquete's elevation gives it a dramatically different climate and feel from the lowlands and tropical coasts that are usually associated with Panama, yet some of these areas are just 40 miles away. You leave the heat and humidity of David, the provincial capital city, and start moving upwards, dropping degrees almost with each mile.
The region's climate creates a nearly year-round cloud forest setting, with mist and rain coming and going at any given time. The temperate weather means verdant green forests and rainbows abound, complete with pine trees and other species not seen at lower elevations.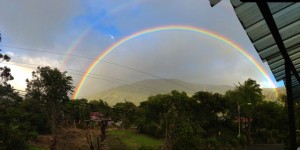 For these reasons, Boquete has become a paradise for birders and hikers. Specifically, the mountains around Boquete are one of the best places on earth to see the rare and colorful Quetzal bird, resplendent in all the bold colors that birders love to catch on film. With a body no bigger than a robin but more than two- to three-foot feathers streaking behind them like a regal robe, local guides are a must for those seeking an encounter with this unique species.
Hikers flock to Boquete as well to explore the territory's countless trails, paths, and farm roads that stretch all throughout the region and lead into the various national parks such as Volcán Barú. Trails range in difficulty from beginner to advanced, with several outfitters offering full day or even multi-day treks deep into the forest.
But what do you do if you find yourself in Boquete and you are neither a bird enthusiast nor an avid hiker? If you find yourself like I did, you may find that your opportunities are limited due to high seasonal trade winds and rain that make many of the mountainous hikes impossible and birding visibility all but reduced to zero.
Even without these two attractions, charming Boquete offers several options for visitors. Below are three different ideas if your plans don't include birding or mountain hiking:
People Watching in Parque Central: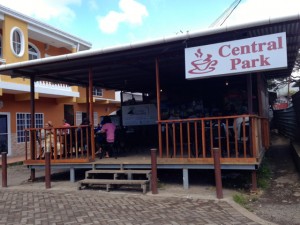 The hub of town is the original Parque Central (Central Park), a space built around a traditional square and lined with lots of trees and tropical flowers to establish a garden setting. The town was originally settled by European and North American immigrants who were most likely looking for a temperate climate to avoid harsh winters. The architecture and layout of the Parque Central reflects this lineage, with many of the buildings featuring colonial-style facades and balconies overlooking the square, much as you might find in Spain or the east coast of the United States.
Grab a seat and a coffee at Central Park Cafe for a prime people watching location. Sit for an hour and you will catch locals going about their daily business at the main municipal building at one end of the square, tourists stopping to snap photos with misty rainbows in the background, and children playing various games and sports in the grass. In the evening, lights bathe the square with a gentle glow while after-dinner conversation and laughter mingle with the winds coming down over the mountains.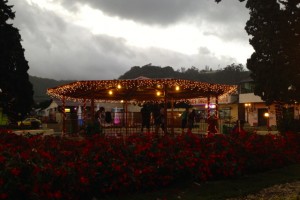 Take an Urban Hike Through Boquete's Neighborhoods:
If weather prohibits you from hitting one of the mountain trails or if getting muddy simply isn't your thing, there are a myriad of other ways to enjoy the gorgeous rolling hills of the area. Many paved roads fan out from the center of town, winding past homes, farm properties, and some of the city's most unique restaurants.
One particularly beloved route begins as you head out of town over the main bridge (at the Parque Central) and cross the river, being sure to stop for many photo opportunities along the way. Head left at the main road just past the bridge and wander for miles up and out of the bustle of town through leafy, tree-lined streets. Go as far as you like and simply turn around when you're ready to head back or grab one of the taxis that frequent the streets for a cheap ride back to the center of town.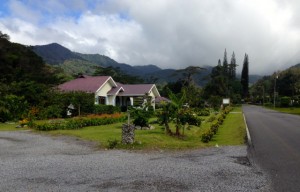 Indulge in a Foodie Paradise:
Boquete's unique history and immigrant heritage offer up some of the best and most anomalous food in Panama. Spend your days wandering between a few of the town's most incomparable options for breakfast, lunch and dinner, such as:
Machu Picchu — Named after the landmark, the Boquete outlet of this popular Panama City restaurant offers authentic Peruvian cuisine such as ceviche and traditional aji de gallina (chicken in creamy chili sauce). Some diners find Panamanian cuisine a bit milder than other Latin foods, so this is the perfect stop for beginners to add a little spice to their palate.
Sugar & Spice Gourmet — A line spread out of the front door is a sure sign of a local favorite, and this popular deli/bakery does not disappoint. Countless selections of soups, pastry delights, and sandwiches prepared on fresh-baked bread pack the indoor and outdoor seating areas for breakfast and lunch daily. Menu options are varied and include diverse choices like a Ratatouille Hot Sandwich, a Hot Roast Beef Pressed Sandwich, Frittatas, and even Belgian Waffles.
The Rock — Just outside of the main part of town is this gourmet gem nestled in a pretty riverside setting. Mains feature a large variety of meats and steaks, along with Panama's signature seafood choices like Corvina and ceviche. A light and bright atmosphere with cozy wood accents makes this one of the city's most upscale choices. Diners can also choose from a large wine list, but note that, like in most of Panama, almost all the wine is imported from Chile, Italy, Argentina, Spain and California – Panama has not quite yet developed its own wine industry.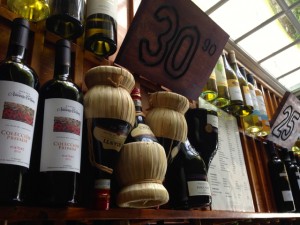 You Can't Make the Wrong Choice!
No matter how you choose to spend your time in Boquete, you'll be treated to a pleasant, peaceful setting in a beautiful forest hideaway. It's a great place to take a refreshing break from the hectic pace of everyday life as well as the beaches and jungle below.