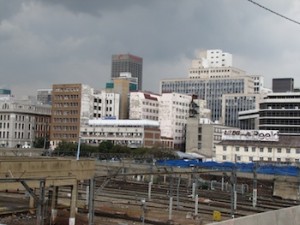 I'm worried about Johannesburg. It's getting a reputation that really isn't doing us much good.
If we carry on like this, our image as a dirty, violent and gangster-ridden city will no longer fool anybody. Everyone will see that's just tough talk designed to scare away the tourists and keep the city to ourselves.
In the old days, tourists were advised that Joburg was best approached with caution and locked car doors. In fact, it was best not approached at all. Now it's full of slick suburbanites and foreign tourists strolling around art galleries and craft markets, enjoying comedy clubs or the cinema on a city center rooftop, and taking cycling tours through formerly no-go townships. One of the oldest pubs in town now runs a flea market at the weekend, and you don't even get real fleas there any more. At this rate, even the notorious district of Hillbrow will start attracting real lords, not just drug lords. Yep, Joburg is moving upmarket and property developers are make a killing – and this time I mean a financial killing, not the usual literal sense.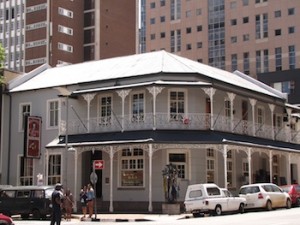 Joburg's 'reclaim the city' trend is seeing coffee shops, galleries, bookstores, and boutiques pop up just beyond the striking Nelson Mandela Bridge, an iconic structure that serves as a gateway to the revitalized center.
Overall, Joburg has more than 40 art galleries, numerous theatres, vibey nightlife and great shopping – and a currency that makes it all laughably cheap for visitors.
That, plus older attractions like the emotionally gripping Apartheid Museum, tours of Soweto, and a lively entertainment scene have earned Joburg first place in the Rough Guide's List of Top Cities to Visit in 2015. The Rough Guide loves Joburg's diversity, crackling energy and pervasive social warmth, aptly describing it as an 'unpretentious, loud, ballsy city' where outsiders are quickly accepted. Not bad for a place that didn't exist at all until a gold reef was first discovered in 1886.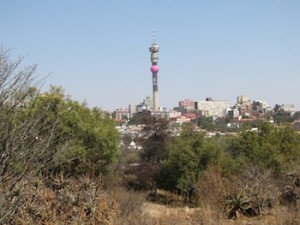 The US-based Good Magazine also ranked Johannesburg as the second most inspiring city in the world in its 2014 Good City Index. It's the ideal jumping-off point for safaris too, and since South Africa was named the World's Leading Safari Destination in the 2014 World Travel Awards, you can easily turn your trip into a city and safari combo.
Since all those accolades should put it on your travel radar soon, here are Joburg's top attractions:
The Apartheid Museum
The Apartheid Museum is Joburg's star attraction – it's a must-see, emotionally stirring place where the brutality and inhumanity of segregation are presented in overwhelming volume. Whichever entrance you come in through is pointedly determined by your skin color, but once inside, everyone sees the same heart-wrenching multimedia displays of survival and grit.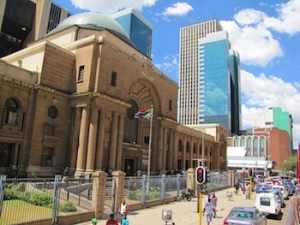 Maboneng
For a funky night out, you can't beat the Maboneng precinct. Action centers around The Bioscope, an independent cinema that lets you take its excellent pizzas into the movie. Stand-up comedy and offbeat shows entertain the crowds at the small POPArt theatre next door. On either side, lively bars and eateries spill out over the pavements, including a popular Ethiopian restaurant.  After a meal and a movie, follow the noise to find the latest all-night nightclubs.

Lion Park
The well-respected Lion Park gets you as close to nature and the safari thrill as you'll ever find near a city. This sanctuary and breeding center focuses on the regeneration of various species, including the endangered wild dog, white lion, and cheetah. It's also a fantastic opportunity to get close to its resident 80 lions, as well as leopards, hyenas, zebras, and giraffes. There are guided drives and you can stay overnight in tented accommodation.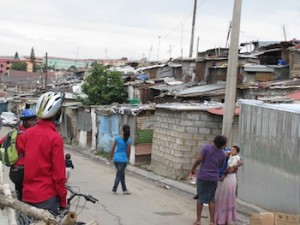 On Your Bike
The township of Alexandra was built by the Apartheid government to house seventy thousand people, but over eight hundred thousand live there now. Witness the lifestyle through the Alexandra Bicycle Tour run by Antony Mmatli and Jeffrey Mulaudzi.
"On a bike you get to appreciate the true essence and see the true lifestyle, and that's what we want to show you. People think this is a no-go area and we're going to shoot you and rob you. But that's never happened because the community responds positively towards tourists," Mmatli says.
One major stopping point is the scruffy Nelson Mandela Yard, where the former President lived in 1940.
Soweto
Way larger than Alexandra, Soweto sprawls on forever and ranges from cardboard and tin shacks to positive mansions. Several companies run guided tours through areas that include Vilakazi Street, the only street in the world where two Noble Laureates have lived, hosting the homes of Nelson Mandela and Archbishop Desmond Tutu.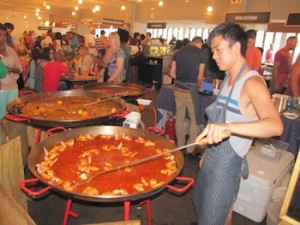 The Big Red Bus
The hop on, hop off the City Sightseeing tourist bus takes you around the city center and to some outlying attractions. For a stunning view, jump off at the Carlton Centre and whizz up to the Roof of Africa observation deck on the 50th floor. On a Saturday, get off at Juta Street for the Neighbourgoods Market, a car park that turns into a market of food and drink stalls that include massive paella pans and wicked beers from micro-breweries. Live musicians entertain the crowds at communal tables on the open-air level above.
Constitution Hill
Constitution Hill is steeped in history as a prison where most of apartheid South Africa's political prisoners served time, including Nelson Mandela and Mahatma Gandhi. It's come full circle now as the Constitutional Court, built to protect our human rights. The museum section includes the Mandela Cell and a documentary about his incarceration. The complex also includes a coffee shop and an art exhibition.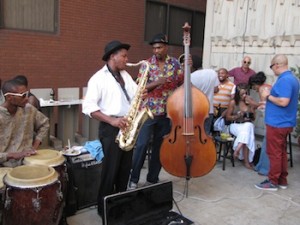 Market Theatre
Joburg enjoys some brilliant theatre – although there's a fair bit of rubbish too. Discerning audiences are often found at the historic Market Theatre, founded in 1976 in the shell of a 100-year-old Indian Fruit Market. It was at the forefront of anti-Apartheid activism through the arts. It still has a penchant for hard-hitting social commentary rather than theatrical fluff, and the opening nights are loud and lively affairs.
Transport:
As a huge fan of public transport, it pains me that Joburg's public transport is so far from ubiquitous that hiring a car or hailing a taxi is almost essential for out-of-towners. The one exception is the Gautrain, a high-speed train that whisks you from O.R. Tambo Airport to the handy hubs of Sandton or Rosebank, two popular touristy areas. It also runs to the city center and there are taxi ranks outside the stations.