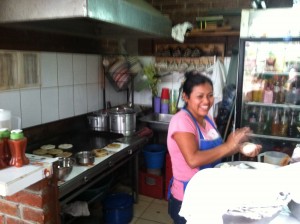 There are few countries where you can drive from the mountains to the beach in just a few hours – with natural beauty bursting from a variety of resplendent vistas, El Salvador is certainly one of these places. Visitors might observe that this same ecological diversity is reflected in the country's cuisine.  From traditional Mayan fare to upscale seafood, you won't be disappointed by this small Central American country.
For a taste of history, start with the ubiquitous papusa, a cornmeal dumpling filled with pumpkin.  The papusa was a staple of the Mayan diet and it has been handed down from one generation to the next for centuries.  Although traditional papusas comprised a vegetarian dish, modern additions include queso (cheese), frijoles (beans) and chicharon (pork).  They're still made by hand to this day and are cooked either over a fire or on a more conventional stovetop.   Best of all, you can find them anywhere from market stalls to fancy restaurants. They're easy to eat on the go, so they make a great snack during a long day of exploring this beautiful country.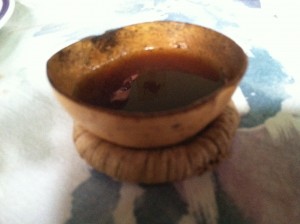 El Salvadorian cosmology relies heavily on corn.  Locals explain that according to Mayan beliefs, man was made from the corn plant and woman was made from its leaf.  As such, it's not surprising that corn plays such an important role in the country's diet—what is surprising is that in El Salvador, you can drink the corn too.  For a traditional drink that will truly knock your socks off, order a shot of chaparo.  The tequila-like beverage is made of corn fermented in a clay pot, but its simultaneously sour and earthy taste is not for the faint at heart (don't be surprised if your eyes start to water).  Another regional specialty is the micheleda, a beer cocktail made with salt, lemon and chili sauce.
Café (coffee) plays a huge role in El Salvador's economy and is making a comeback after years of recession.  The country's numerous mountains make for excellent growing conditions and many former plantations are now operating as hotels with small coffee operations on the side.  They roast their own varieties, which are available to guests with their breakfast or for purchase to take home.  I've sampled several from different regions and still can't decide on a favorite but I will say this: El Salvador is the only country where I don't have to first flood my coffee with milk and sugar.  The flavor reminded me of Turkish coffee, but without the silt-like consistency, and the aroma is strangely but pleasantly nutty.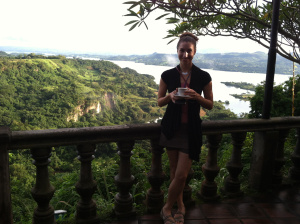 If you're able to order a quesadilla with your coffee, go for it.  Unlike the Tex-Mex quesadilla we know in the US (two flour tortillas filled with gooey cheese and doused with sour cream), the El Salvadorian quesadilla is a sweet cake-like dish served for breakfast or dessert.  It's made from cream, cheese, sugar, rice flour and sesame seed and makes a great addition to a morning cup of coffee, especially when it's baked fresh.
Although much of the country's greatest cuisine has a rustic feel to it, there are plenty of upscale options for seafood lovers and with miles of coastline, estuaries and mangrove forests, El Salvador is the perfect place for fresh seafood.  One of my favorites is mariscada, a soup that is made, according to one guide, "with everything you can imagine from the sea.  Don't ask – just eat it!"  Be sure to order some extra bread to sop up the buttery broth and ignore the calories — after all, you're on vacation!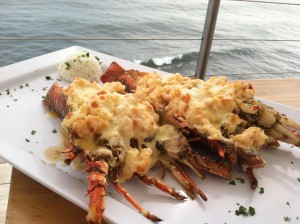 For the ultimate indulgence, however, ask for a langosa: it's lobster stuffed with shrimp and – wait for it – smothered with cheese.  It's essentially an upscale marine version of the lowly Turducken (a chicken stuffed inside of a duck stuffed inside of a turkey). If you eat the entire thing yourself, you'll spend the rest of the day wishing you hadn't, but for those first few blissful bites you'll swear you've died and gone to heaven.  And because the seafood is local, the langosa won't break the bank – your waistline, however,  is an entirely different story.