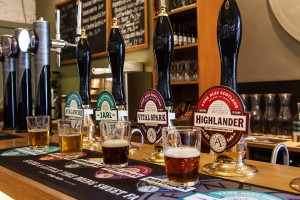 Scotland's west coast is synonymous with excellent seafood. Its miles of coastline land fresh catches every day that are immediately taken to the region's finest tables.
On route to Oban from Glasgow stop off at Fyne Ales (on the spectacular Loch Fyne), an award-winning brewer of craft beers. The ingredients are sourced from around the world and brewed with soft Highland water collected from the hills behind the brewery. They do a guided brewery tour (and tasting) demonstrating how they make their terrific beers. Later take a seat in the yard with a pint and a steak pie made with beef from their own highland cattle herd.
The taste test begins in Oban, a three hour drive north-west of Glasgow. Oban is a historic town renowned for the seafood brought into its harbour. Here you'll not struggle to find a great meal, whether it's good pub grub, a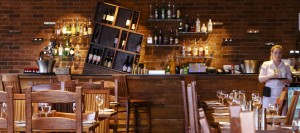 quick take-away or a candle-lit dinner. At the award-wining Fishouse Restaurant with its panoramic harbour views and open kitchen you'll sample local ingredients, simply cooked and served with care. Or for something totally original there's alfresco dining at the Oban Seafood Hut where you get to eat just landed seafood on the pier. At the physical and spiritual heart of Oban wedged into the steep cliff that overlooks town, is one of Scotland's defining places – the Oban Distillery. Take a guided tour of the facility and learn about the ancient art of distilling, then enjoy a dram or three of their superb single malts.

A short ferry journey from Oban is the windswept Isle of Mull where the hills, glens and pastures form a natural larder to farm and harvest. For cheese lovers there Isle of Mull Cheese who continue the centuries old traditions of farmhouse artisan cheese-making. Theirs is a working farm, just outside Tobermory, dating back to the 1850s. Do a farm tour, see the cheese-making process, meet their small herd of pampered homebred cows; and visit the cellar to breathe in the intoxicating aromas of the maturing 25kg truckles of cloth-bound cheese, stacked floor to ceiling on wooden shelves. After the tour sample their unpasteurised cheese in the Garden Barn. Your taste-buds will find hints of what the cows eat – succulent grass and traces of spent grain from Tobermory Distillery and the spring water they drink. Much like whisky and wine, the influence of the teroire and water source is profound.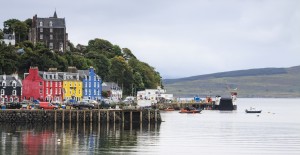 Mull's golden treasure is undoubtedly the Tobermory Distillery, found on the harbour wall of Tobermory – a fitting location for one of Scotland's oldest and finest commercial distilleries who produce the renowned Ledaig single malt collection. It's a gem of a find and the premises don't show much change since it was first built in the 1700s. There are guided tours of the site with several drams of the best 10-year old single malts you're ever likely to taste. They also have a small, well-stocked shop.
Opposite the distillery, facing the harbour is a specialist handmade chocolate shop – Tobermory's Chocolate Factory. Their building was historically a stone workshop but has since been renovated and is now home to luxury handcrafted chocolates and a fabulous coffee shop selling all things chocolate, including drinking chocolate, chocolate cake and pastries. Tobermory Chocolate Shop has become a bit of an institution and no trip to Mull would be complete without a visit.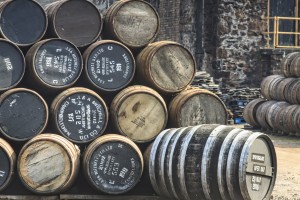 Fifty miles sound of Oban is the peninsula of Kintyre with Campbeltown, a picturesque harbour town with a long history in Whisky, its main town. Here is Springbank – the oldest independent family owned distillery in Scotland run by the great-great-great grandson of the founder. They produces genuinely hand-made malt, using traditional production methods throughout the process – with human involvement at each stage. It is one of the few distillers that guide you through the whole process – from raw barley which is literally laid and combed across the floor, to the bottled product, which is all done on site. Most of the equipment is original in comparison to newer distilleries where the whole operation is computer driven. The walls and air around the old warehouse which guards the whisky is quite literally saturated with intoxicating fumes. Inside they're shaded with a peculiar black mould. 'This,' our guide advised, 'is a derivative of the fumes which escape the ageing casks of whisky – the work of angels.' You get a wee dram at the end and a miniature bottle of Springbank as a gift. This small factory is conveniently located in the centre of Campbeltown.

The Seafood Cabin is an unpretentious and surprising eatery find at the end of a road to nowhere. Prepare for castle and loch-side alfresco fish-fare and expect a veritable seafood feast as fresh as it comes: langoustines, plump mussels, scallops (in garlic butter), crab, oysters, fresh salmon, smoked salmon and hot smoked salmon – all on a platter with salad. Simple food beautifully prepared and served with an amazing array of accompaniments, including a fresh baguette to wipe up all the sauces. It's a child- and dog-friendly relaxed dining experience (no need to dress for the occasion) with horses and sheep grazing in neighbouring fields and chickens pecking at crumbs under the benches. Be sure to leave room for Sophie's home-made Orange Cake! It's a bit of a schlep to reach Skipness on minor roads but well worth the journey as you'll be driving through some of the most spectacular scenery. But don't take my word for it – the Seafood Cabin is recommended by The Times, The Guardian, Waitrose and the BBC.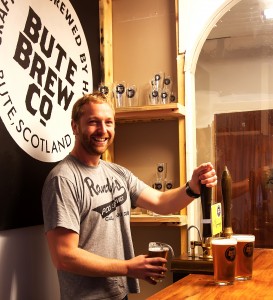 Thirty two miles and two short ferry rides east of Campbeltown is the Isle of Bute where, in Rothesay's town centre, is a small craft brewer – Bute Brew Company, established in June 2014 by Aidan Canavan, formerly a biology teacher. Sitting in the main hall of his micro-brewery, stacked with a brewing kit, long wooden tables, benches, a few shelves displaying his bottled wares and a wooden bar in the corner, Canavan talked me through it all: 'Whilst at a beach BBQ last Christmas, I decided to start a micro-brewery.' He explained how, with no real home-brewing experience he did a short brewing course and subsequently purchased tools of the trade. His first brew was dumped as his casks had not arrived in time. 'In fact it wasn't until my fifth full brew that I found a beer I was happy with,' says Canavan. 'I launched the Bute Red locally and sold out within hours. The build-up to the launch was phenomenal; people were desperate for it.' I took a long pull of the Bute Red. My secret thoughts of how real ale had acquired the stigma of being an old man's drink was immediately washed away with a caramelized almost burnt, malty red ale that has a bitter kick to it. I could immediately identify why it was an instant hit. Bute Brew can be found on Calmac Ferries, several pubs – even a few restaurants in Edinburgh.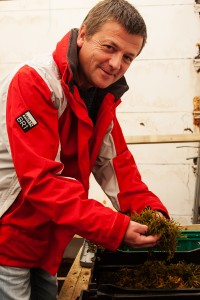 Argyll's food producers are not only set in scenic heaven, but also breathe in clear Atlantic sea air. One of these producers is Iain Mckellar, who makes a good shekel from the shores of Bute by hand cutting fresh Scottish seaweed. 'To ensure purity and nutritional value, seaweed needs to be harvested from pristine seas free from pollutants – like those found here,' says Mckellar, one of the country's leading seaweed foragers, who harvests the sea's vegetable at low tide, sometimes snorkelling for different varieties. Following exposure on a BBC food show, he sells it fresh or dried direct to the public and now also supplies some of the UK's top restaurants. Former truck driver, McKellar continues: 'Seaweed was being gathered from Scotland's shores and eaten as early as 4000BC. Now it's more popular than ever. It's a huge part of the Japanese diet. Some experts concur that this may account for the low breast cancer rate in the country. Gram for gram there's more iron in seaweed than red meat; it contains seven times more calcium than milk – making it a super food. And if you're dieting, eating seaweed is a good way to control your appetite. It's low in fat, but high in fibre, which helps control blood sugar levels and keeps you feeling full. It's big in the beauty business too; and Alginate, used in the brewing industry as a froth thickener for larger, comes from seaweed. That's beside the fact that seaweed is used as a fertiliser and is an ingredient in animal feed – and it can be converted a petrol substitute.' (justseaweed.com)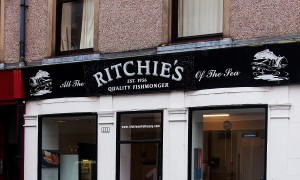 Smoking fish has been part of the time-honoured way of life in Argyll. Here the traditional smokehouse of Ritchie's of Rothesay, one of the most respected smokehouses in Scotland, has been in operation since the 1800s. Ritchie's source their white fish from the North Sea and their salmon from fish farms in the fjord-like lochs of Dunoon (Scotland's west coast). Cured for 48-hours in salt and sugar, the salmon is then laid out on rails allowing the moisture to drip off. To add depth of flavour a secret recipe of something alcoholic is sprayed onto the salmon which is then smoked on racks above splinters of oak whisky casks inside an ancient kiln that resembles Dante's Inferno. The resultant product is a fish that's texture is beautifully marbled, with a depth of colour ranging from ruby red to flamingo pink, and an intense buttery flavour. The entire process, including the slicing, is done by hand in the customary manner – including picking out the little bones. No mechanical device could pay this kind of craftsman-like attention to detail. Besides salmon, their values and heritage is embodied in a further selection of mouth-watering smoked products – haddock, trout, cheddar cheese and un-dyed kippers.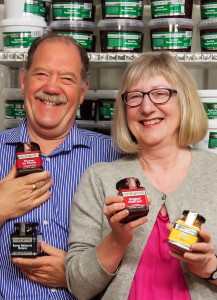 If jars of condiments entitled 'sweet balsamic onion pickle', 'apple and lavender savoury jelly', 'cardamom mustard' or 'marmalade with a wee dram' sounds familiar, you more than likely have encountered Henshelwoods Fine Foods. Bob and Lynn Henshelwood (experienced Deli owners from York) recognised the need for innovative vegan-friendly foods and decided to set up shop on the shores of Rothesay where, as a child, Bob spent many summers at his grandma's. Since their company's inception in 2006 they have acquired no less than 34 'gold medal' food awards including official condiment suppliers to the London 2012 Olympic Games, Glasgow's Commonwealth Games and the 2014 Ryder Cup; they've even supplied condiments to the British Embassy in Tokyo who hosted the Queen's birthday dinner! 'Lynn is the brains of the outfit,' says Bob. 'She does all the research then comes up with these wonderful combinations.'
Forty-eight miles and two short ferry rides will see you to Glasgow where you'll soon discover that the city's soul is ruled by the post-6pm pint. Some of the best drinking holes are found along Sauchiehall Street (near Queen St Station); several streets running off Charing Cross;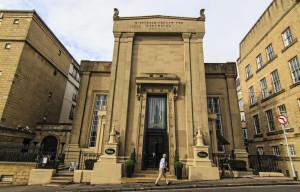 and the upmarket Merchant City area. Try the area round Shawlands Cross for restaurants, bars, and The Shed nightclub. The Corinthian, on Ingram Street, is the city's flagship bar for the rich and famous; its home to five floors of promise where mixologists rather than bar staff get you your drink. From a restaurant, to a prohibition themed bar, nightclub, private drinking rooms, casino and Champagne bar, it's the only place in Glasgow where a visitor can do an entire night's cocktail crawl without leaving the building. Oran More (corner Byres and Great Western) is an interesting whisky pub with some 250 malts to choose from. Then there's The Pot Still in Hope Street, Ben Nevis on Argyle and Bon Accord on North.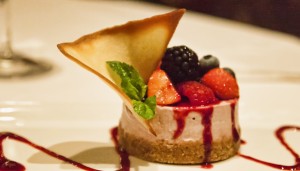 For dinner, head to Rogano, the city's oldest surviving restaurant with a unique 1930's ambience. For the past eighty years its chefs have dedicated themselves to the delicate art of cooking and serving the finest seafood from Scottish waters. Whilst food fashions have come and gone, Rogano has always stood for the unsurpassed luxury and perfect elegance of the finest fish and seafood – salmon, langoustines, scallops, lobster, halibut and oysters – faultlessly prepared and presented in classic style. The Restaurant wine list reflects this tradition, being heavily biased towards white wines from French vineyards. Their four-course wine pairing menus start at £45.
Stay at:
• Oban: The 5* Eriska Hotel is a 25-roomed Victorian Manor House sited on its own 350-acre island just 20-minutes outside of Oban. Rooms are luxurious and Michelin stared dining is an experience unto itself – their restaurant is considered one of the best in the UK. They also have a luxury self-catering cottage option.
• Mull: Taking prime location in one of the brightly coloured converted cottages on the waterfront is the quant The Tobermory Hotel – enquire after a four-poster sea view room.
• Campbeltown: The historic and recently restored four-star Royal Hotel was once hailed as a favourite destination for the Scottish 'elite' it is now the centre piece of Campbeltown's modern-day renaissance, set in old world elegance with 23 sumptuous guest rooms with fetching harbour views.
• Rothesay: Eight-miles and a three minute ferry ride from Rothesay is the quirky three-star Colintraive Hotel, a multi-award winning country inn and gastro-pub with four spacious rooms. They also have a luxury self-catering cottage option at Eilean Dhu.
• Glasgow: For pure decadence book into the Malmaison, a stylish and modern 72-room boutique hotel. It sits imposingly in the Georgian district just off Blythswood Square. Be sure to ask after one of their redesigned suites. Rates start at £99.
For more information about holidaying in Scotland, see visitscotland.com.