A shaded forest with dappled sunlight dancing between the trees; a clear stream that cascades over a severe, silver rock face; a certain hush, save the occasional bird and the crunching of leaves underfoot, and there, in the middle of it, a house like a no other, rising from a waterfall.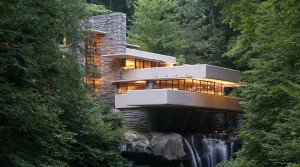 There's a reason why Frank Lloyd Wright remains one of America's most beloved architects. Falling Water, the stunning summer home that Wright designed for the wealthy Kauffman family in the 1930s, garnered instant fame for its daring position within (and incorporation of) the natural landscape.
Falling Water
Built between 1936 and 1939, the house appears to float over Bear Run, a mountain stream in the mountains southeast of Pittsburgh. It utilized innovative construction techniques, including cantilevers and reinforced concrete, all while somehow staying true in color, shape and texture to the surrounding environment, which was much loved by the Kauffman's and their employees in Pittsburgh.
When the family (who owned a successful department store) first commissioned Wright to design the home, they expected it would have a view of the falls. They were shocked to discover that Wright intended to build the house directly atop the falls, incorporating the stream into his design via a small soaking pool beneath the living room and a set of steps to access the falls from inside the house.
It was unlike anything America had ever seen before. Its 5,330 square feet were divided almost equally between indoor and outdoor spaces, including a number of terraces built over the falls. Wright restricted the color palette to light ochre and his signature Cherokee red for the steel. So impressive was the design that Falling Water graced the cover of Time magazine in 1938 and was eventually designated a National Historic Landmark. In 1964, it opened its doors to the public and has now welcomed an estimated 4.5 million visitors, thanks in no small part to the efforts of the Western Pennsylvania Conservancy.
Tours
The only way to truly appreciate Falling Water is to see it in person. But beware: before you make the trek, be sure to book your tickets online! Admittance is by guided tour only, and groups are kept small deliberately to ensure easy maneuverability throughout the home's many twists and turns. Regular tours cost $25 in advance and $27 on site (youth tickets cost $18/$20); they last about one hour and include the guest house which was built behind the main building to house visitors.
Extended tours last twice as long and give visitors access to several spaces not shown on the regular tour; tickets are $72 per person. True Wright fans can also visit the nearby Kentuck Knob house, seven miles south of Falling Water, or purchase tickets to one of the special Sunset or Brunch tours.
Visitors must be prepared to walk a quarter mile from the entrance to the house and should leave all large bags and cameras in their cars; photography is not permitted and comfortable walking shoes are strongly encouraged.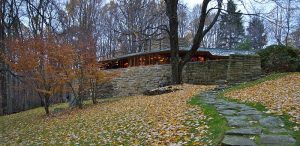 Planning Your Visit
The museum is open daily from April through November except on Wednesdays and on some weekends and special dates (weather permitting) in March and December. Falling water is closed during January and February.
Nearby Attractions
The Kauffman's loved Falling Water because it gave them the chance to escape from the hustle and bustle (not to mention pollution) of Pittsburgh. As such, the home is remote by design and additional attractions are few and far between.
In order to make a true day of it, I suggest visiting Falling Water in the morning, when it is usually less crowded, and then heading over to Ohiopyle. The 20,500-acre state park includes the Youghiogheny [yawki-gay-nee] River Gorge and although its small downtown has only about 50 residents year round, the park is always bustling with visitors during the summer months.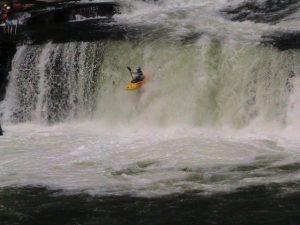 Take a picnic, wade in the river, sunbathe on the rocky banks or book a rafting tour. If you're lucky, you might stumble upon a kayak competition, in which paddlers race their small crafts over the falls. You can also grab lunch or an ice cream for a fitting end to your day at Falling Water.