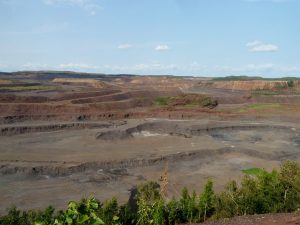 How does it feel?
A little breezy, actually. Standing on a modest hilltop overlooking the Hull-Rust open pit iron mine, where Bob Dylan, then Bob Zimmerman, used to ride his bicycle with his friends, it is easy to see how his youth in Hibbing, Minnesota influenced Dylan's work. This endless iron mine pit is the largest in the world. Locals refer to it as the man-made Grand Canyon.
When it was determined about a century ago that the city of 18,000 was sitting on an incredibly fertile bed of iron ore, the Oliver Mining Company made an agreement with community leaders to relocate the entire city two miles south. And it was literally done. In return, the business funded the construction of many of Hibbing's handsome civic structures that still stand.
To understand Bob Dylan, one has to understand northern Minnesota in general and Hibbing in particular. Growing up, he knew kids from mining families, and his 1963 song "North Country Blues," is an ode to the woes of a miner's wife and perhaps one of the first musical efforts aimed at anti-globalization. As the summer air blows through our hair, local Dylan tour guide Mary Palcich Keyes asks us to think about how many of Dylan's early songs have references to wind. There is the obvious, "Blowing in the Wind." There is "Subterranean Homesick Blues", with its famous reference to not needing a meteorologist to know the wind direction. In "Girl from the North Country," thought by many to be Dylan's yearning for lost love and first girlfriend Echo Helstrom, he recalls the place "where the winds hit heavy on the borderline" and implores her current lover to keep her safe and warm from the "howlin' winds." Hibbing is in northern Minnesota, the nation's icebox, less than 100 miles from the Canadian border.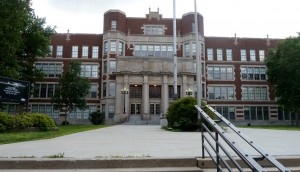 One of Oliver Mining Company's legacies to the city is Hibbing High School, built in 1920 in the shape of a capital "E." It's auditorium, with Czech crystal chandeliers, Belgian brass and orchestra pit, rivals that of many period municipal theaters. It was in the auditorium where Hibbing High School's principal, or maybe it was the superintendent of schools, pulled, or maybe didn't pull, the microphone when Bobby's band played Danny and the Juniors' early rock anthem "Rock and Roll is Here to Stay" during a school talent show. The story goes that a school authority couldn't stand the decibel level of the music so he abruptly ended it. But, says Keyes, that tale, like the one about Dylan being unceremoniously booed at the 1965 Newport Folk Festival for bringing out an electric guitar, has become stuff of Dylan legend.
Keyes related that Dylan told a German journalist that an early influence on his art was a 60-foot-long mural gracing a wall of the high school library. Dark and heavy and crafted by Minnesota artist David Tice Workman, the mural showcases the conversion of the raw iron ore into steel. One sees a steam shovel and a steam engine, but the emotional hearts of the mural are the 16 human figures representing 16 of the more than 40 nationalities who settled here to work the mines.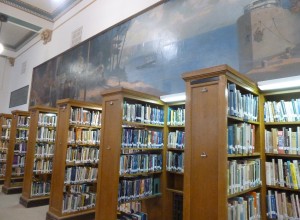 Before Bob graduated high school, he graduated from bicycle to motorcycle. His 1966 motorcycle accident is well know, but a dozen years earlier he also cheated death on a motorcycle. We stand at the railroad crossing on 16th Avenue East between 13th and 14th streets and ponder the spot where in the time it takes to sneeze, the teenage Dylan dragged his Harley out of the way of an incoming train. Dylan took motorbike riding seriously. When he and his friends went out riding on their motorcycles, Dylan commonly said, "We are on a mission."
The tracks are perhaps a 15-minute walk from Dylan's boyhood home, where he lived from ages 6 to 18. The 80-year-old, two-story stucco house is privately owned, although hopes are to open it to the public at some point. If you look at the window to the right side of the chimney, you will be looking at the exterior of the room where the teenage Dylan often spent time writing and drawing. The house is located on Bob Dylan Drive. But it took a long time for 7th Avenue East to be renamed in Hibbing's favorite son's honor. (Actually, the street officially goes by both names.) Dylan had returned to Hibbing for his tenth high school reunion where some of his old classmates made him feel very unwelcome. He then swore he'd never again attend a class reunion; and he never did. Even when Dylan had moved from rebel to mainstream, some of the townspeople were in no rush to recognize him as one of their own.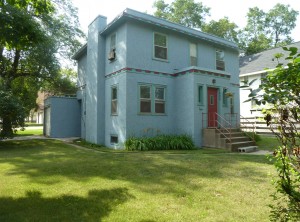 Mary Keyes says, "They wanted him to be driven down Howard Street in a parade and wave to the crowd. That is a very un-Dylan-like thing to do. They resented that he fibbed about his background and didn't discuss being from Hibbing, that he left town right away. I left town right away, too. A lot of us wanted to leave here. It's a small town. And some were just probably jealous."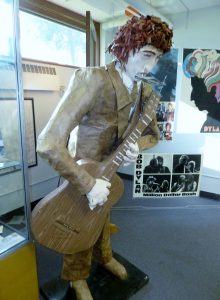 But in 2005, says Keyes, about 99 percent of the residents of 7th Avenue East signed a petition to rename the street for the homegrown American icon. A little over a decade earlier, he was first immortalized here when a Bob Dylan exhibit opened in the city public library. There are Dylan albums, photos of Dylan and friends through the years, concert posters, a captivating photo of blonde Echo Helstrom, and a papier-mache likeness of Dylan engaged in playing guitar and harmonica. There are also physical pieces of the Zimmerman home: bathroom tiles, door hardware, and a window. At one point the owner of Dylan's boyhood home had a full-sized copy of the cover of Dylan's album, "Blood on the Tracks" painted on the garage door. The door was lost to years of exposure but a photograph of it occupies a space on a wall here.
A Dylan pilgrimage wouldn't be complete without a stop in his birthplace, Duluth, 75 miles away. Since Dylan lived here only until the age of of six, there aren't a lot of memories from his childhood to be explored. But one can see his first home, a modest two-family house just a few blocks from Lake Superior, and privately owned. In his memoirs, Chronicles, Volume 1, Dylan recalled his parents taking him to see Harry Truman speak at Leif Erickson Park, along Duluth's waterfront. The statue of Erickson, the Viking who is believed to have sailed to the New World around the year 1000 A.D., is a tribute to Duluth's settlers of Scandinavian descent.
Across the street from the park is the Duluth Armory, a building that holds a special place in Dylan's heart. Silhouettes of those who once appeared here adorn its brick exterior, from Dylan to Truman to Doris Day to Muhammad Ali. In 1998, when Dylan's "Time Out of Mind" won the Grammy for album of the year, Dylan told those assembled, "When I was about 16 or 17 years old, I went to hear Buddy Holly play at the Duluth National Guard Armory, and I was three feet away from him, and he looked at me and… I know he was with us all the time when we were making this record in some kind of way."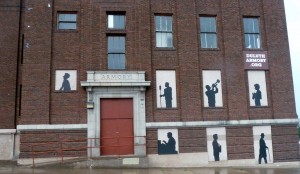 The date Dylan saw Holly play here was January 31, 1959. Holly performed with the Big Bopper, Ritchie Valens, Dion and the Belmonts, and other guests. The concert tour was called the Winter Dance Party. Two days later Holly, The Big Bopper and Valens died in a small airplane crash just after takeoff following a performance in Clear Lake, Iowa. Duluth doesn't boast an entire Dylan exhibit room as does Hibbing, but Fitger's Brewery Complex, not a shopping, dining, and lodging center, does have a Dylan display case — and its most prized relic might be a poster for the Duluth appearance of the ill-fated tour. As for downtown Duluth, much more vibrant than outsiders might expect, the main drag, part of renowned Highway 61, is now officially –what else? –Bob Dylan Way.
IF YOU GO
Plans are to offer guided Dylan walking tours in Hibbing in the future. For now visitors can follow a printed guide available from the Iron Range Tourism Bureau (800) 777-8497; the Hibbing Historical Society (218) 263-8522; and the Hibbing Public Library. A free podcast is available at http://legacy.mnhs.org/sharing-community-stories/projects/hibbing-podcast-project
The Hibbing Public Library is open 10-7 Monday-Thursday and 10-5 Friday, closed weekends. Check in at the circulation desk in order to see the Dylan exhibit.  To schedule either a guided or self-guided tour of the high school, call in advance: (218) 208-0841 or (218) 262-5206.
Hull-Rust mine viewing center is accessible year round during daylight hours. The Hull-Rust Mineview Tourism Center is open daily, 9-5, May 15th through Labor Day. Donations accepted.
Duluth information: (218) 722-4011     www.visitduluth.com
Lodging:
Hampton Inn Hibbing, 4225 9th Avenue West, (218) 262-0000, motel opened March 18, 2015, doubles: $139-$151, includes hot continental breakfast.
Mitchell-Tappan House, 2125 4th Avenue West, Hibbing, (historic bed and breakfast, late Victorian home built for Oliver Mining Company superintendent in 1897, moved to present location in 1918), (218) 262-3862  (855) 622-3862, seven rooms ranging from $85 to $110 per night, includes full breakfast.
Days Inn Cakewalk, 2211 London Road, Duluth, (218) 728-5141, doubles: Sunday-Thursday $49-$89, Friday and Saturday $109-$119, includes continental breakfast.
Finger's Inn, 600 E. Superior Street, Duluth (historic hotel, built as brewery in 1880s), (218) 722-8826  (888) 348-4377. Rooms: May- late October $169-$379, Off-season $144-$324, continental breakfast included.