Istanbul is a melting pot — Asia butting up against Europe, Byzantine symbols displayed along Muslim icons and a food lover's mashup with diverse tastes from throughout the centuries.
The immense myriad of attractions means many visitors spend their days hoofing it from neighborhood to neighborhood, sometimes hopping on the local tram along the way, trying to see it all in just a few days. The result is often a sweaty end to the day, especially in the region's blistering summer months.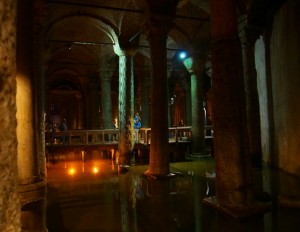 While not as famous as Hagia Sophia or The Blue Mosque, the Basilica Cistern, in the heart of the old town (Sultanahmet), is well worth a stop and a great spot to get out of the sun and heat for a little while.
Built originally in the 6th century during the Byzantine Empire, the Cistern was one of Istanbul's largest underground water stores. It's known as the "Basilica Cistern" because at one time a large Basilica was built above ground at the same spot; today the attraction is all underground.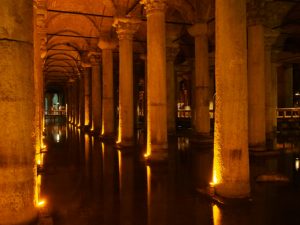 You venture under the street down a stone staircase into the 100,000 square foot space and instantly will feel the temperature drop by 20 degrees (or more). The cool, misty air inside is due to a large amount of marble columns (336 in all), 4-meter thick insulating walls, and water still in place. You now use elevated wooden footpaths to walk around the Cistern, taking in the various Ionic, Doric and Corinthian columns.
A few notable columns draw visitors — including a pair of unique Medusa heads — one placed on its side, one upside down. Historians are divided on the meaning and timing for placement of these structures, or what they really meant beyond decoration; some believe they were chosen to 'protect' the Cistern since mythology dictates just one glance from Medusa can render your enemies to stone on the spot.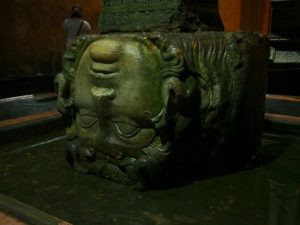 At only 20 Lira (just over $7), the Cistern is a great opportunity to stop and refresh before getting back on the trail to all the wonders of Istanbul!
You won't spend a very long time in the Cistern — You could easily walk the entire space in 10 minutes, but you could also linger, walking slowly and enjoying a cool beverage or snack at the underground cafe while the sun beats above.