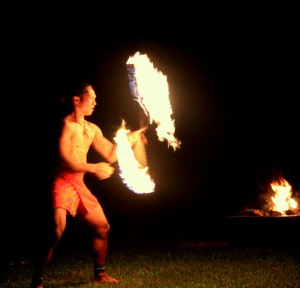 After living on the beautiful Hawaiian island of Kaua'i for the better half of last year, I had the privilege of experiencing many jaw-dropping cultural performances from local artists, musicians and dancers. Because Kauai is the type of mind-blowing place you visit once and think about every day for the rest of your life, I knew I had to return. This time around, I got wind of a new show, the Ahi Lele Fire Show by Destination Events Hawaii. After sharing a delightful brunch with my partner at Kitchen Table on Sunday afternoon and loving it, I revisited the open-aired venue on Wednesday night for the fire show, and I was certainly glad I did. It was, indeed, the best fire dancing performance I have ever seen. To top it off, I quickly learned that this is Kauai's only exclusive fire show which includes a locally sourced three-course meal, embracing the farm-to-table concept in a bold and exciting way.
Located on Kauai's serene north shore, all of this magic takes place at Common Ground; 46 lush acres of pure garden paradise. On Wednesday nights, guests arrive at Kitchen Table at 5:30PM and are invited to roam the premises and explore the tropical garden before indulging in a specialty craft cocktail from the bar. The drinks are made using local liquors and ingredients, Ocean Vodka from Maui, Koloa Light Rum from Kauai, Koloa Dark from Kauai, and even the beer options are from Big Island and Maui. I was very impressed with the refreshingly light watermelon and cucumber mojito!
Then came the three course meal, which was nothing short of perfection. The staff is quick, friendly and happy to be there, which is always a sign of good management. The kitchen is highly professional and sensitive to dietary restrictions (as one of those "annoying" vegans, let me tell you, this is a highly appreciated rarity). It is always easy to tell when food is made with love, and this is what sets Kitchen Table a notch higher than so many other high end restaurants and caterers. The guests around me marveled over their shrimp and pork dishes. The whole meal was beautifully crafted, and the homemade pana cotta was out of this world.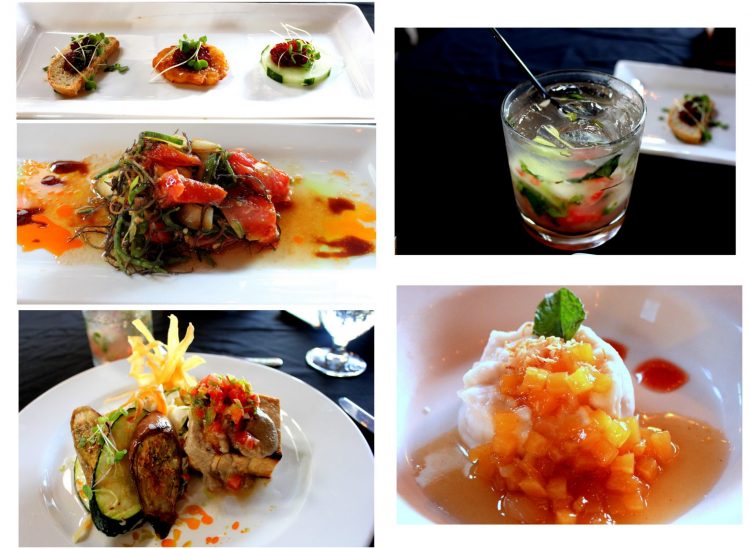 (From top left) Smoked tomato jam appetizers, limu tomato salad, baked tofu with mushroom gravy and grilled eggplant/zucchini/ sweet potato mash, cucumber watermelon mojito and vegan coconut pana cotta with pineapple sauce.
This five-star culinary experience had me realize why this exclusive event is one of a kind. Extending leaps and bounds beyond your cheap run-of-the mill tourist luau, Ahi Lele offers an authentic and elegant soiree, that in fact, isn't a luau at all.
After dessert, the small crowd was escorted down a two minute path under a breath-taking sunset to an outdoor stage back dropped by the all-powerful Mount Makana. The host, Coppin Colburn (who if full of surprises), took the stage and began narrating the show, including interesting historical and cultural information before each act.  A highly skilled crew of local performers showcased various traditional dances from Hawaii, New Zealand and Samoa, accompanied by live Tahitian drumming.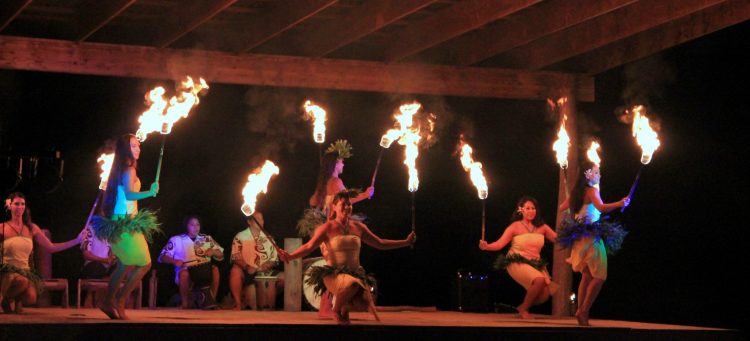 All of the dance routines were awe-inspiring, each act more impressive than the last. Phil Villatora (local coordinator of 'The Children of the Land', non-profit that teaches children Polynesian culture and art) played Hawaiian nose flute and took lead on Tahitian drums alongside Caridyn Colburn and a crew of others. The rootsy drum beats maintained a fairy-tale atmosphere and added that extra bit of excitement during peak fire-dancing moments.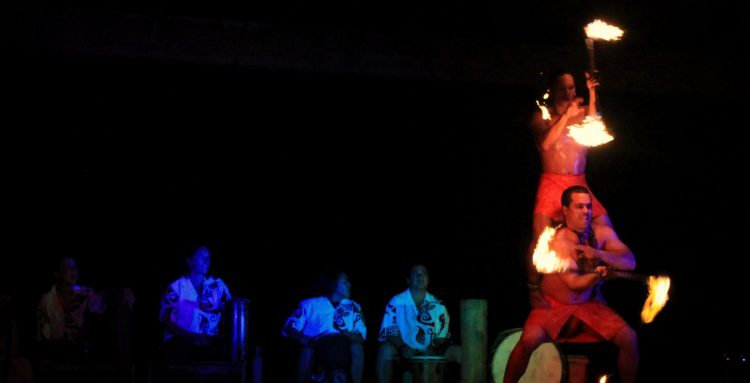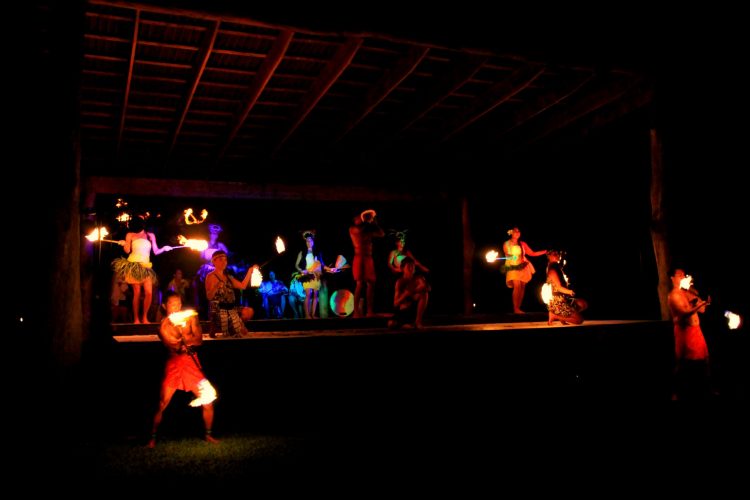 Wrapping up almost an hour of astonishing performances under the stars, the crowd expressed their gratitude to the Ahi Lele entertainers for putting on such an incredible show. They had just experienced something truly unique that would undoubtedly highlight their vacations on Kauai, creating unforgettable memories for years to come.