Nothing identifies the ethos of a nation as readily as its food. Universally, food is used to commemorate important events in our lives. It unites families, celebrates romantic encounters and comforts the soul in times grief. It chronicles the lives of families, it gives account of their past, it characterizes their taste. Much of the East – considered the Mecca of foodie heaven – has a vast and incredibly diverse menu and lies veiled from the Westerner's eye, thus drawing gourmet tourists from around the world.
Regional cuisine is inseparable from the markets, street stalls and climates from which they originate. As such, connoisseurs of good food embark on regular pilgrimages, crossing many borders, in search of the ultimate food experience. Discovering cultures through their food is what it's all about really, so immerse yourself in the flavours and the gastronomic traditions of the world's great cuisines – a recipe for relaxation.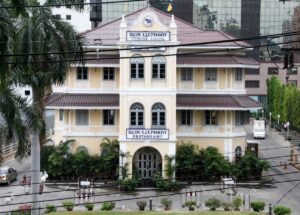 THAILAND
The Blue Elephant Cooking School is in the centre of Bangkok and housed in a gorgeous old mansion on South Sathorn Road – across from the Surasak Sky train station. Your day begins in the Bang Rak morning market where you'll be shown how to select the best ingredients. Later, under personal tutelage, your chef will demonstrate the culinary techniques used in the preparation of Thai cuisine – one of the most delicious and complex foods in the world – which you'll implement like a pro. A few hours later you'll be sampling your Coconut Soup with Chicken, Golden Bag stuffed with Green Curry, Grilled Salomon with Tamarind Sauce and Stir-fried Seafood with Roasted Chili Paste in the Blue Elephant Restaurant, which has morning and afternoon cooking classes at US$85 per person. If you have a sweet tooth you may want to do the afternoon course and learn how to make the Caramel Coconut Flan. The great thing about The Blue Elephant Cooking School is that they don't just teach you to follow a recipe but show you how to be creative and understand the basic of Thai food.
The Blue Elephant Cooking School, 233 South Sathorn Road, Kwaeng Yannawa, Khet Sathorn, Bangkok, 10120
cooking.school@blueelephant.com
Ph (+66) 267 39353/4
Sleep: Ma Du Zi Hotel is a luxury boutique mix of chic and Moorish in the bar-fuelled Sukhumvit's shopping hub of Bangkok (around US$250 per night).
9/1 Ratchadapisek, Klongtoey, Bangkok, 10110
Ph (+66) 261 56400
Eat: Resort Bangphlat is a small boutique Colonial-styled Thai house with a superb restaurant overlooking a pretty garden. Recommended is the steamed Chicken with Chili Dip.
2 Charansanitwong 77/1 Road, Bang Phlat, Bangkok, 10700
Ph: (+66) 288 55737/8
Getting there: The Blue Elephant Cooking School offer a hotel pick-up service, so there are no transportation concerns.
INDIA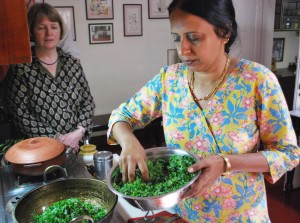 An inspirational hands-on session At Home with Nimmy Paul, in Kerala Province, will help you recreate the complex and fascinating culinary secrets of southern India in your own kitchen; from coconut rich cooking sauces, to spicy Prawn Ulath, aromatic Moppilah Biryanis and other regional favourites such as Meen Molee (fish in coconut sauce) and Meen Parrichatu – a fiery looking fish preparation with rich red sauce. Although lessons are conducted in an informal ambience, Nimmy takes the nuances of  traditional Kerala cooking seriously, so be prepared for an intense experience as she demonstrates the fundamental techniques of creating sensational Indian food – the way Indians cook it. Classes are intimate and deliberately small to allow for plenty of individual attention. Some lessons are demonstration only, others practical – so be sure to stipulate your preference. A three-hour cooking demonstration and meal costs US$30, while a full day hands-on programme, allowing you to eat the sensational foods you prepared, is US$100.
At Home
Variamparambil, Chakalakal Road, Kochi, 682015, Kerala
Ph (+91) 484 2314293
Sleep: Nimmy's gracious hospitality extends still further as she offers exclusive home stays to cooking school patrons. A crisp, clean generous double room, with all meals, as well as a full day cooking class costs US$220 per night. Alternatively, on the waterfront is a five-star colonial beauty – the Taj Malabar Hotel – with spectacular views of harbour at US$152 per night.
Taj Malabar Hotel
Willingdon Island, Kochi, 682009, Kerala
www.tajhotels.com
Phone: (+91) 484 2668010
Getting there: Take the overnight Konkan train from Mumbai which passes alongside the breathtaking Konkan coast. Alternatively, there is the Cochin International Airport – Nimmy's cooking school is an hour's drive away.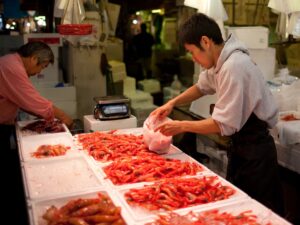 JAPAN
As all sushi pros know, the best sushi is the freshest and Tokyo's Tsukiji Market – with more fresh fish than any other market in the world – is the place to source the makings of perfect sushi. Take a hands-on tour of Tokyo's Tsukiji Fish Market at the very top of your to-do list. Wandering through the world's largest fish market, accompanied by an English-speaking guide, is an unforgettable experience, no less than the sushi class immediately thereafter – held at the nearby sushi school. The instructor is a master sushi chef, who guides you through the basics of knife handling then ceremoniously takes you through scaling, slicing and serving mackerel – and creating your own sushi. It may seem easy until you try sculpturing a flawless sushi yourself, which is why the culinary art and skill-building lesson plan on how to prepare delicate sushi dishes is a must-do experience for foodie visitor to Tokyo. You'll get to prepare several types of sushi, including the classic nigiri style – one sliver of fish on top of a shapely teaspoon sized form of sushi rice; and oshizushi – which is a number of layers of fish and other ingredients squashed down with sushi rice. The tour costs US$160 per person.
Sunshine Tours
(+81) 3 5796 5454
Sleep: The Celestine Hotel is an arty boutique hotel located centrally in the Shiba/Mita district of Tokyo. With two restaurants and a Japanese-Western fusion bar, you'll not need to look far for good food either. You'll be looking at rates in the US$240 region.
The Celestine Hotel
3-23-1, Shiba Minato-ku, Tokyo, 105-0014
Ph: (+81) 3 5441 4111
Getting there: Sunrise Tours offers a pick-up service from numerous hotels (two of the closest being the Shiba Park and the Tokyo Prince Hotel).
For an exciting approach to traditional Malay cooking, Ruqxana Vasanwala of Cookery Magic, has it down to an art. Her passionate and energetic approach to teaching the more subtle techniques of this delicate cuisine go beyond instruction in how to prepare Nasi Kerabu (herbed rice), black pepper prawns (sourced from a local farm on the island), assam laksa and sticky coconut rice with mango. Here cooking is a lively cultural event which takes place either at her colonial townhouse where you'll learn to haggle in the local wet market; or at an old kampong house where you'll be foraging in the garden for 'jungle herbs'. With no blender or commercial product in sight your dishes are made authentically, with lots of chopping, stirring, tasting and laughing. At US$78 per person, it's a fun and educational way to spend half a day and even though it's a cooking class you'll come away feeling as if you'd just visited family.
Cookery Magic
Ph: (+65) 6348 9667
Sleep: The Changi Village Hotel is a contemporary hotel with gorgeous views, a selection of good restaurants and is away from the heat and noise of the city. Its position is great for Changi airport (free shuttle). Double rooms start at US$110.
Changi Village Hotel
1 Netheravon Road
Singapore 508502
Ph: (+65) 6379 7111
www.stayvillage.com/changi
Getting there: It's a short cab ride from Singapore's city centre, followed by a ten-minute ferry trip from Changi jetty to Pulau Ubin Island.
NEW CALEDONIA
For a taste of France and the South Pacific head to the world renowned Escoffier Cooking School in Noumea who, through Superb Food and Wine Tours, as part of a fantastic gourmet experience, offer a two-day cooking course. The itinerary includes a visit to a vibrant market and cooking lessons from a host of international chefs who demonstrate successful crevette preparation, speak of the treatment of choux pastry and oven temperature rules. The demonstration ends with a dramatic presentation of glistening colours, textures and flavours which you'll then need to replicate for your own dinner which you'll enjoy in the Escoffier School restaurant.
Escoffier School
4 rue Georges Baudoux, Noumea, 98822
Ph (+687) 2 76388
Superb Food & Wine Tours (run from March to October and cost US$300)
Ph (+687) 2 99044806
Sleep:
The serene Le Meridien Hotel Noumea (45 minutes from Tontouta airport) overlooks the golden beach sands of Anse Vata Bay and has a great selection of restaurants.
Le Meridien Noumea, Pointe Magnin, BP1915, Noumea, 98846
Phone: (687) 265000
Getting there: The Escoffier School is located a few minutes from the centre of Noumea, on route to Baie des Citrons and Anse Vata, near to the hotel.