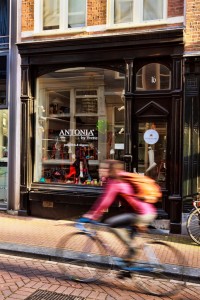 Amsterdam is a city reputed for its inventiveness and claims as its own numerous fashion and design icons. From night clubs to the fashion runway, the city is a trendy stimulus. Even if your budget hinders you from splurging on one-off designs, there are ways of taking in Amsterdam's voguish vibe – on the cheap.
NEW KIDS ON THE BLOCK
The principal Dutch fashion event, Amsterdam Fashion Week occurs every January and July. It's the platform that's launched many young, talented Dutch fashion designers. Besides the catwalk shows, there are plenty of impromptu events and parties where the average onlooker can socialise with the fashion elite.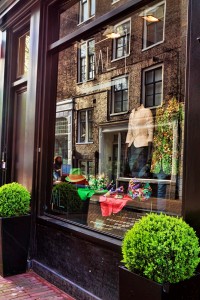 'Red Light Fashion' is slowly transforming the Red Light District into a quirky fashion scene by turning former prostitute windows into exhibition spaces and studios for talented clothing, shoe and street-wear designers. The aim is to give the city's many talented designers a stage from which to display their creations in public.
HIGH END
Amsterdam is compact and a great place for international brand shopping, as well as up-and-coming Dutch designers. The Museum District (around the Rijksmuseum, Van Gogh Museum and Stedelijk Museum) is home to the majority of Amsterdam's luxury boutiques and designer stores. Put on your sunglasses and stroll nonchalantly down the P.C. Hooftstraat – Amsterdam's high-class shopping street. Along three short blocks you'll find Chanel, Louis Vuitton, DKNY, Mulberry, Ralph Lauren, Tommy Hilfiger and more. Renowned Dutch couturiers Frans Molenaar, Mart Visser, Victor & Rolf and Sheila de Vries are totally at home in 'the P.C.' and in the chic Cornelis Schuytstraat.
Of course, you don't have to shop to enjoy fashion. A must-see museum at the top of any fashionista's list is the Museum of Bags and Purses (Herengracht 573). Considered to be one of the top fashion museums in the world, it has a focused collection of bags (over 4000, of the little darlings!) dating back to the Middle Ages. Once you've overdosed on bags, head to the Hermitage Amsterdam (Amstel 51) for gorgeous antique ball gowns, uniforms and jewel-encrusted accessories. Take time to stop at the National Museum of Spectacles, which takes you through 700 years of art, culture and history related to eyeglasses.
TWICE LOVED
There is a whole range of second-hand shops in Amsterdam – from thrift stores to cosy vintage boutiques. Many are located in the Nine Streets district – four of the best within this area include Laura Dols (Wolvenstraat 7) who has a collection of women's clothes from different decades. Downstairs there are party dresses ranging from the 20s to the 90s – and a collection of wedding dresses. If you have a party to dress up for, this may just be the place for you! Then there's Wini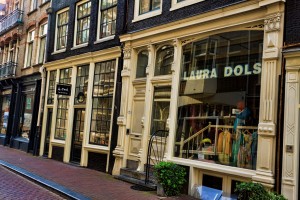 (Haarlemmerstraat 29), who specialises in vintage dresses. The shop sells men's clothing as well, some of it new with a retro feel, like 50s-style polo shirts or flared jeans. There's a collection of vintage fabrics and vintage women's under garments. They have retro kid's jackets, jewellery and, if you're on the market for 60s ski trousers or a perfect petticoat, this is your shop. Don't let yourself be fooled by the small size of 1953 Retro en chic (Staalstraat 2) – it's brimming with must-haves! Once inside you'll find yourself in a boudoir from a bygone era. This shop has many rare items, spanning the period from 1800 to 1980. Dresses, shoes, hats, powder boxes, bags, elegant antiquities and some men's clothing downstairs. Prices range from fairly cheap to more expensive, given that the owner gets some of these rare garments from London and Paris. Out of the Closet (Jodenbreestraat 158) is a thrift chain store from the US. The shop is owned and operated by the AIDS Healthcare Foundation. Funds earned by the re-sale of donated clothing, accessories, furniture and other items goes directly into the organisation's free AIDS programmes around the world, including HIV/AIDS testing, education, prevention, outreach and the care and treatment of patients worldwide.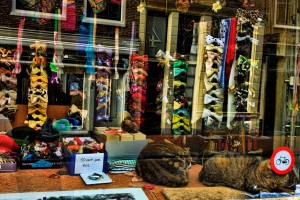 MARKET BARGAINS
At Waterlooplein there's a permanent market, open from Monday to Saturday. Several stalls have second-hand clothing with army wear, dresses and tons of shoes. At the Noordermarkt there are stalls with vintage clothes every Monday morning. It's a real treat to walk around here, rumble through the piles of clothes and try on the crazy boots and party dresses. The first weekend of every month there's a huge flea market in the north of Amsterdam (the free ferry behind Amsterdam Central Station will take you there) at the NDSM Wharf. Count on a good few hours to check out all the stalls.
INTERIOR DESIGN
Although they're open, tolerant and free-spirited, the Dutch are known for their creativity and spirit of commerce. They also have a touch of dry humour; they're thrifty and have a long history in trade. All of which reflects in their practical and incredibly innovative interior design products.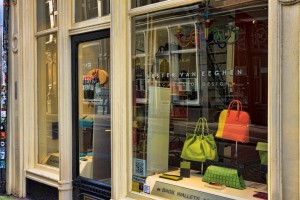 Five of the most exceptional most-visit design stores in Amsterdam include Droog@Home, anAvant-garde design collective that's taken up shop in a century's old building at Staalstraat 7B. Situated in a beautiful old house on Rusland 3 is WonderWood, perhaps the only store in the world to specialise in designer plywood furniture. It
showcases vintage plywood chairs and tables from the 1940s through to the 1960s. Friday Next on Overtoom 31 is a concept store in Amsterdam West that combines interior design, fashion and eating in one ever-changing space. Then there's Store Without a Home on Haarlemmerdijk 26 – its name may be a misnomer, but there's no mistaking the interesting collection of art, furniture, fashion, and accessories from local and international designers. Woonbeurs Amsterdam on Europaplein 22 is for home enthusiasts. Every day you can join in on workshops, decorating advice sessions and presentations in the living theatre, where visitors can see the latest trends in interior design presented in a variety of living styles.
Forget about hiring a car, bring sturdy walking shoes and use them – walking is the only way to see Amsterdam, unless you hire a bicycle. You'll not see a street you wouldn't want to live on, a deli you wouldn't like to get to know, or a view you'd like to call your own.
AMSTERDAM MUST-DO's
Do a cheese tasting at Reypenaer on Singel 182 and savour some of Holland's finest cheeses – some of which pack a punch, especially so when accompanied by a good Port.
Do a canal boat cruise and, depending on the timing of your visit the last two weeks in April offer the best chance of seeing the tulips in Kuikenhof Gardens (

keukenhof.nl

).
Guide yourself around the 4-D Heineken Experience at Stadhouderskade 78. At the end you get to enjoy the ice-cold beverage served in a frosted glass.
Eat your fill on pancakes whilst taking in the views of modern Amsterdam aboard a 75-minute river cruise on the Pannenkoekenboot (pannenkoekenboot.nl).
Who would have thought the words Michelin star and affordable could be used in the same sentence! Reserve a table at Envy (Prinsengracht 381) and partake in their irresistible tasting menu.
AMSTERDAM MUST STAY:
It's impossible to escape the city's history, like that of the quietly elegant Canal House Hotel, an affordable glamorous 17th century merchant house turned 23-bedroom boutique hotel on Keizergracht 148 (canalhouse.nl).
IN NEIGHBOURING ROTTERDAM:
Thirty-five minutes from Amsterdam, and all her tourists, is Rotterdam and fresh mint tea at the restaurant atop the Euromast Tower (euromast.nl). For a 20-minute adrenalin rush partake in a rib shattering high-speed boat ride through Rotterdam harbour in the jet engined 'Fun Jet' (funjet.nl). For a spectacular seafood meal reserve a table at the historic Hotel New York (hotelnewyork.nl). Stay the night at the classy yet inexpensive Mainport Hotel – which boasts spectacular views across the harbour (mainporthotel.com).