Casinos?
Ca'seen them.
Yes, the megalith casinos keep getting bigger and bigger and they will likely always be the top draw for Vegas visitors. But when you are suffering from casino fatigue, and can't take even one minute more of the atmosphere of smoke, sweat and desperation, take a look inside any of three museums that cry out "Vegas" but have nothing – okay, let's say little – to do with casinos.
The Mob Museum (National Museum of Organized Crime and Law Enforcement)
There are many American venues that would be appropriate for a museum dedicated to organized crime. But why not Las Vegas? The Mob didn't come here after the city was long established; the Mob came here to establish the city. Of course, Vegas hardly held a monopoly of gangsters and guns.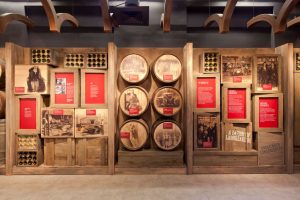 A few steps outside the third floor elevator in this former federal courthouse- the self-guided tour begins on the third floor- one will encounter the brick wall that was once part of a nondescript Chicago garage. On February 14, 1929, seven members of Bugs Moran's gang were gunned down by members of the Al Capone gang in an event that would be forever known as the St. Valentine's Massacre. It was a time when prohibition had turned gangsters into celebrities and neighborhood bars into speakeasies. And after Prohibition was repealed, the Mob got into… well, what didn't they get into? They had their hands in just about everything from vices like gambling and prostitution to clean businesses such as produce and motion pictures – in other words, any place where money was to be made.
While here you can put your hands on just about everything as well. High tech and hands-on in almost every way, visitors can play the roles of both mobsters and G-men. They can both "fake" shoot a tommy gun and take "fake" target practice as a federal law enforcement office would. Ever been in a police line-up? There is a chance to do so here, behind one-way glass. You can't see who is on the other side, but they can see you just fine. And for a minute or so you are Lucky Luciano.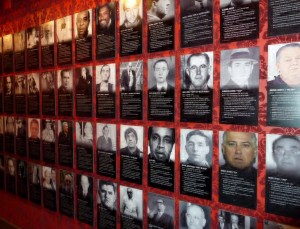 Or possibly Vincent "Vinny Gorgeous" Basciano or Anthony "Tony the Ant" Spilotro. And how did those wise guys get their colorful nicknames? Step up to a computer terminal for a lesson in creative moniker making. Vinny Gorgeous was called that because of his tidy grooming habits and beauty salon he owned called Hello Gorgeous. Tony the Ant? Some say his nickname was merely a shortened version of his first name. Others say it was because he was often labeled a "pi**ant" due to his annoying manner.
The courtroom is the museum's centerpiece. It was in this courtroom that some of the famous Kefauver Hearings that investigated the Mob in the early 1950s took place. A multi-media video presentation affords visitors a seat in the house.
The Neon Museum
If any city was to have a museum devoted to garish and gaudy neon, it would have to be Las Vegas. In downtown and along the Strip, neon signs bloom like desert weeds; in the daytime they are dormant; in the nighttime they are live on stage, singing and dancing and just showing off.
The Neon Museum extends the boundaries of the definition of museum. The museum's Dawn Merritt stresses that this site is a museum, not a collection. Merritt says, "It is an ongoing issue that people don't recognize our signs as a museum and feel compelled to touch them." Management also refers to this enterprise as a neon bone yard, not a neon graveyard. The vintage signs here are not waiting for burial. They are here to be displayed.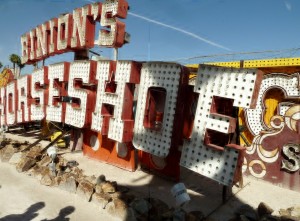 The conglomeration of signs is displayed along a walking path shaped like an "s" outside the former La Concha Motel, whose lobby serves as the museum visitor center. Guided tours take visitors past relics at rest. There are the iconic signs, which thanks to film and television, are well known even to those who have never set foot inside the city limits. There is the massive Binion's Horseshoe sign, with its basic block lettering that once dominated Fremont Street. There is the sign that announced the Stardust, with its famous angular, Atomic font. And there is the base of the curvilinear La Concha Motel sign.
But neon art takes all forms and in Vegas and the surrounding area they were utilized far beyond the lodging and gaming industries. The long-sleeved, smiling, formal dress shirt, named Mr. Happy Shirt bounced up and down as he advertised Steiner's Cleaners, known locally as the dry cleaner to the stars, on Tropicana Boulevard.
According to our guide, Danial Mente, there are more styles and motifs in neon art than one might imagine. Those meandering lines that look like they were meant for a maze in the smiling duck identifying Ugly Duckling Car Sales are part of a design called channeling, in which metallic channels hold the chemical-filled glass tubes to keep the colors vibrant. And not all "neon signs" are neon. Different gases produce different colors. If sign designers wanted a shade of lavender blue they would go to argon.
National Atomic Testing Museum
If you want to see a picture of Miss Atomic Bomb 1957, this is the place to be. And if you want to see Christmas ornaments decorated with atomic symbols, or a Kix cereal "atomic bomb ring" from 1946 – which would bring the largest ever response to a cereal giveaway – take a look inside Las Vegas's Atomic Testing Museum.
Should you have the urge to experience the closest thing to being in the midst of an above ground nuclear test, complete with winds and noise, there is no better place.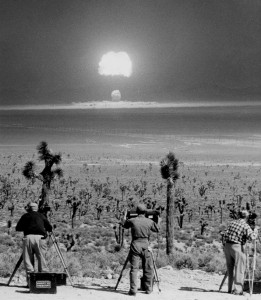 In the relative cool and darkness of pre-dawn mornings in the 1950s, Las Vegas residents and visitors awoke to see spectacular lights that always dazzled no matter how many times they appeared. These lights were not those of the neon jungle so associated with this adult Disneyland. Their purpose was significantly more ominous.
After the first atomic test lit up the desert sky with a fireball brighter than the sun at 5 a.m. on January 27, 1951, diarist and Vegas resident Georgia Lewis was outraged. She wrote at the time, "The atomic bomb! No one asked us what we thought about it. All the gambling people are furious, for, naturally, they would fear that people will no longer come here…It shook us awake with the most terrific blast."
There are enough galleries devoted to atomic pop culture here to interest even those who don't have degrees in physics from M.I.T.  Yes, there are explanations of the principles behind what makes an atomic bomb, including an animated and watchable 1950s-era film with dancing electrons. However, much of the museum space concerns not just pop culture and science but the politics and history behind the Cold War.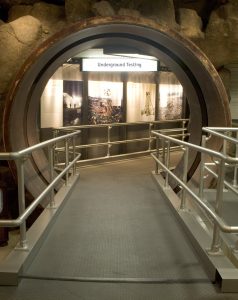 Why was the desert outside Las Vegas selected for atomic testing? For one thing, testing on this parcel of land, bigger than Rhode Island, was less costly than the South Pacific where previous tests had been conducted. Additionally, the land was already owned by the federal government and under military control.
Anyone old enough to remember bomb shelters? In the re-created underground bomb shelter here, mannequins representing the suburban nuclear family (no pun intended) stand in front of an industrial sized black canister that held standard issue drinking water supplied to households through the Civil Defense program.
If You Go:
The Mob Museum (National Museum of Organized Crime and Law Enforcement)
300 Stewart Street, Las Vegas, NV 89101; (702) 229-2734; www.themobmuseum.org
Hours: Sunday through Thursday 10am-7pm; Friday and Saturday 10am-9pm in the summer, 10am-7pm rest of the year.
The Neon Museum
770 Las Vegas Boulevard North, Las Vegas, NV 89101; (702) 387-6366; www.neonmuseum.org
Hours: Open for both day and night guided tours. Check for hours depending on season.
National Atomic Testing Museum
755 East Flamingo Road, Las Vegas, NV, 89119; (702) 794-5124  (702) 794-5161; www.NationalAtomicTestingMuseum.org
Hours: Monday through Saturday 10am-5pm; Sunday 12pm-5pm.