Needing to escape the cramped, airless Mach-4 lifestyle of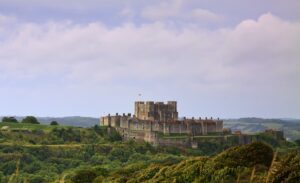 our giant anthill capital where nothing works properly and everyone gets in everyone's way, I headed to Dover. I was reliably informed that other than the war-time tunnels beneath Dover Castle few outsiders ever willingly visited as the only other thing to do was board a ferry to France.
Apart from fortifications, galleries, gardens, restored structures, a nature reserve and discount shops on Wellington Dock, what I found was a sleepy treasure trove of coffee shops, market squares and musty smelling antique shops showcasing such items as a fully operational 60's pin-ball machine, a hand-beaten copper bath and ceremonial hand-carved wooden chairs. My destination however, was elsewhere – in fact just a few minutes outside of Dover, past sheer pockets of perfection, tucked away in a lush world of woodlands and fields studded with tiny farmhouses.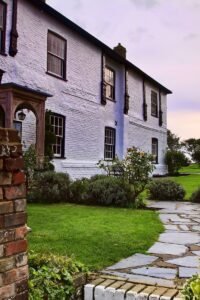 Across from the quiet moss-softened church of St. Peter in Westcliffe is the gracious Wallett's Court, an idyllic country manor house turned hotel with an expansive wrap around landscaped garden. Here I spotted a waiter deliver tall glasses of something cool to a couple playing croquet beneath giant oaks.
The Wallett's Court is clearly a popular retreat for people of a genteel and discerning nature. An engaging club-ish atmosphere prevails in the lounge and bar where old friends carry out embracing rituals over high-tea. The building's eccentric history, which dates back to the Doomsday Book, seeps through the walls. Memories of royalty who once visited whisper from beneath the doors; the carved oak pillars also give evidence of historic noblemen.
Instead of a hushed elevator there's a creaky Jacobean staircase leading to a centuries old fresco; and in The Restaurant there's a priest hole running down the side of the chimney which, together with refined music, the tink of cutlery on china and the sparkle of champagne being carefully poured, all add to the charm and ambience of a temple to great locally sourced food. One may leave this multi award-wining restaurant (repeatedly featured in The Good Food Guide) fractionally wider in girth and lighter in wallet but rest assured it will become a firm favourite.
Accommodations in the three period rooms of the manor house are within keeping yet contemporary in the other 14-rooms contained in the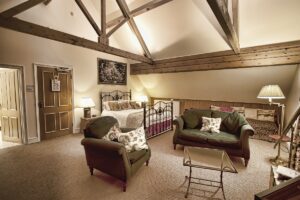 surrounding converted farm buildings and especially spacious in the two suites found in the former Kentish hay barn. Particularly so in the Lord Aylmers Suite, my generous lodgings, where I took a long soak in the Victorian roll-top bath before folding down for the night.
Feeling empowered and energised following a dawn dip in the indoor hydrotherapy pool, I stepped into a cloak of salty mist at St Margaret's Bay (Hugh Grant is regularly spotted here) where a pink-yellow dawn revealed a land of almost breathless beauty.
Later I went in search of caffeine and found it in the hopelessly romantic Pines Garden Tea Room, hidden in an area of quiet posterity near the beach. A deep armchair and crochet blanket at a picture window invited me to indulge in a cream tea – and being a technology-free zone, allowed me to grow momentarily thoughtful whilst listening to the birds. Was that Stephen Spielberg I just spotted walking in I wondered?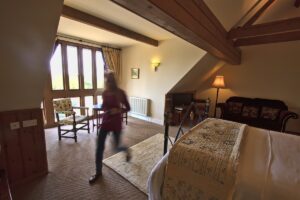 On my return to Wallett's Court, their world-renowned masseuse, Ben Barnett (also a qualified engineer and ex pro footballer, who's services are on call to movie and music moguls) assured me of an unforgettable spa treatment.  Following a 10-minute parboil in the sauna I was led away to a cabin in the woods where I was half expecting a bracing no-frills Turkish-style massage in which I'd get smacked around a little, pressed and kneaded, rolled up then folded into a ball of pasty – possibly discovering new muscle groups along the way. What I received instead was a Hydrotherm massage, which translates to an hour of mind-altering three-dimensional hands-on massage, whilst lying on a warm waterbed, covered in warm luxury towels, coupled with intense meditation.
There's an unspoken graciousness to living in Kent's countryside. It's about the cut of the collar, the preciseness of hedge clipping, of worn-around-the-edges gargoyles, the grandness and piety of old stone and the faint sweet aroma of grandmothers perfumed sachets – much like the attention to detail and polished glass perfection at Wallett's Court, truly an indulgent escape.
Wallett's Court Country House Hotel & Spa, Westcliffe, St Margaret's-at-Cliffe, Ph 01304-852424, www.wallettscourthotelspa.com. Bed and breakfast rates start at £120; luxury suites are £190.
For the ultimate girly weekend go glamping in a luxury tepee complete with a double bed, fur throws and electricity. Rates start at £130.
A three-course meal in The Restaurant (with an AA Double Rosette) costs £40/pp and excludes drinks.
REN Spa treatments start at £30. See online menu for details www.wallettscourthotelspa.com.
The Pine Garden Tea Room, Beach Rd, St Margaret's Bay, Ph 01304-853173, www.pinegardens.co.uk. Cream tea for two comes in at under £10. They also have a mouth-watering lunch menu consisting of good and simple organic food.