Want a Halloween celebration full of fantastical costumes, throbbing music and jumping bodies?   Welcome to the West Hollywood Halloween Carnaval, the world's largest Halloween street party.  It's a Halloween celebration that's both family-friendly and hedonistic at the same time.  If you love Halloween, dressing up, or just partying with thousands in the street, then making a pilgrimage to West Hollywood for the Carnaval is a must.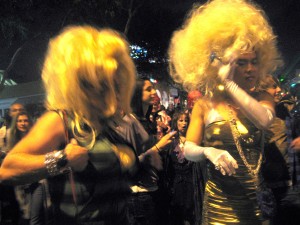 West Hollywood – known to locals as WeHo – is one of the country's most progressive and accepting cities.  The town is known for innovate policies and laws protecting human rights, affordable housing and environmental initiatives.
Though it occupies only 1.8 square miles within Los Angeles, WeHo is jam-packed with great restaurants, exciting nightlife, boutique shops and swanky hotels.  A great place to visit any time of year, WeHo is THE place to be for Halloween, when thousands of costumed revelers – some estimate as many as 500,000 attendants – descend upon the town.
In a city where pretending to be someone else is a much-aspired to and respected profession, Halloween is the ultimate holiday for Angelenos – the time of year when you are applauded for dressing as outrageously as possible, and when everyone is in character.  Carnaval-goers often spend the entire previous year working on their getups in preparation for the annual costume parade and contest.  Revelers can expect to see characters ranging from standard Halloween fare like famous celebrity look-alikes and gory creatures to more creative interpretations such as clever visual puns, fabulous drag queens, political figures and news headlines.  It's not just humans who get all dolled up; the events include a pet costume contest and parade.  And for the little ones, there's an afternoon Youth Carnaval, with rides, face-painting, games, and their own costume contest.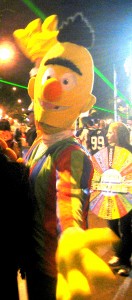 Santa Monica Boulevard, the main drag of WeHo, is closed off to cars for the festival, and at night this is the center of all the activity.  Admission is free, and revelers wander up and down the street gawking at the incredible outfits, taking pictures with their favorite costumes, enjoying food vendors and partying in the street.  For a small fee you can jump in one of the music tents and enjoy world-class DJs and live performers.  Dance clubs and bars line both sides of Santa Monica Blvd., and if you pop in one of the clubs you'll find yourself grooving along with some of the best-disguised and dolled-up crowds you've ever seen.
This anything-goes festival is unlike any other carnival in the world. You'll never find a crowd quite as outrageous or as accepting, and the excitement in the air is contagious.  For a Halloween you'll never forget, make a plan to visit West Hollywood this year.
Where to stay
WeHo and the surrounding areas of Los Angeles are filled with hotels for every budget.  A few picks:
USA Hostels Hollywood
If you crave a vibrant, youthful atmosphere, just a short cab ride away from WeHo is this Hollywood hostel.  Rates start at $32 for a shared dorm, $82 for a private room.
Beverly Laurel Hotel
A clean, standard hotel in a great neighborhood, this property is attached to the diner Swingers, for all your noshing needs.  Rooms start at $101.
Elan Hotel Modern
A modern hotel in a prime location, right in between West Hollywood and Beverly Hills.  Rooms start at $160.
Chateau Marmont
This historic hotel is a favorite of celebrities, with top-class service, a pool, and garden restaurant and bar area.  Definitely a splurge, rooms here start at $415.
Where to eat
WeHo and its environs are home to some of the best restaurants in a city full of incredible restaurants.  Here are a few suggestions of only-in-LA places:
The Bazaar
An innovative tapas restaurant with a memorable atmosphere, including multiple dining rooms with different themes, created by famous chef Jose Andres.  Reservations are a must.
The Gardens of Taxco
Unlike any Mexican restaurant you've ever been to before, this eatery won't hand you a menu.  Instead, a waiter will tell you verbally what is available (and he can roll his r's like no one else when he describes the Chicken a la Crema – "It tastes like it was borrrrrrrn in the sauce!").  Go on an empty stomach to fully appreciate this 5-course feast.
Real Food Daily
Serving only organic, vegan cuisine, Real Food Daily is known for pleasing both meat-eaters and vegetarians alike with their creative, delicious concoctions.
More Information
For up-to-date information on parking, street closures, event times and more, visit the city of West Hollywood's official website at: http://www.weho.org/halloween.