Europe is known for having an extensive and impressive array of Christmas markets, but the seasonal merriment doesn't have to stop there. In springtime, when flowers, trees and hibernating critters begin to come out of winter hiding, new markets also start to pop up across the continent. Some are devoted mainly to Easter, and all the fuzzy lambs, cheerful bunnies and religious traditions that come with it, while others are more widely in celebration of Spring. In either case, they make for a wonderful opportunity to get out and enjoy the warmer temperatures and savor the flavors of fruit-topped waffles and marinated meats and veggies grilled to perfection, while browsing stalls bursting with festive treasures in pretty pastel palettes.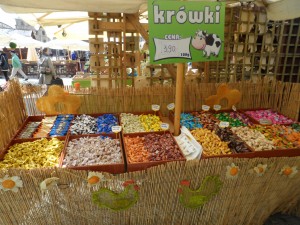 Krakow, Poland
A sure sign of Spring's arrival in Krakow is when dozens of little wooden huts, adorned with brightly-colored flowers, woven wooden baskets and white storks (a national symbol in Poland), show up in the giant main market square. This means the annual Easter market is about to open up, and happens around the same time that the bars and restaurants lining the square bring out their tables and chairs for outdoor dining – and suddenly, with all of this, the whole area is bustling with new life again. At the market, some of the old favorites from the city's Christmas market return – eats like sweet roasted nuts and smoky, grilled mountain cheese with cranberry topping both come back to tempt springtime visitors. The beeswax and pewter stands also reappear, and being able to watch candles and jewelry being made in front of you is just as cool as the final products turn out to be! Special Easter stands also abound, selling religious items (Polish Catholic) such as pussy willows and bunches of rainbow-dyed pine branches, as well as the famous, intricately decorated pisanki/eggs and sugary holiday candies in every shape, size and color.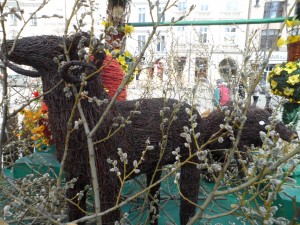 Frankfurt, Germany
Germany hosts so many enormous and exciting festivals all year long, and the Spring Dippemess in Frankfurt certainly fits that bill – it's actually the most popular springtime event in the whole country. As is often the case with this type of grandiose fanfare, it is a winning combination of a traditional market alongside a glitzy carnival, complete with rides and games so enchanting that they are capable of luring in fairgoers of all ages. The folk festival boasts seven centuries of history, and the name Dippemess comes from an old word for pottery, dippe, which also used to be the main focus of the gathering. Naturally, nowadays plenty of pottery is still on offer at the market, along with other staples, including large, frosted heart-shaped cookies with phrases on them, and all sorts of unique items bearing the Dippemess name. And, for those fans of the more notorious German celebration, Oktoberfest, rest-assured you can get big, cold mugs of beer at Dippemess as well. Popcorn, cotton candy and shiny mylar balloons are also in plentiful supply – this is a carnival, after all!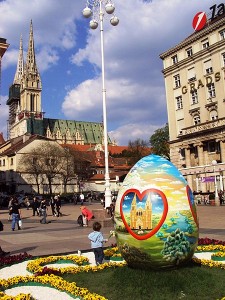 Zagreb, Croatia
Croatia is quickly becoming a major tourist destination in Europe, and with its accession into the European Union next year, it will only continue to grow in that regard. Easter is an egg-stra egg-cellent time to visit the nation's capital, with lots going on in honor of the holiday. Several larger-than-life easter eggs are displayed in the city center, with detailed paintings on them by local artists that specialize in something called Croatian Naïve art. You can get your own smaller but still beautifully embellished eggs for souvenirs from the annual Easter Fair, along with other nifty, artsy wares like ceramics, framed paintings, eggs, jewelry, accessories and seasonal decor, many done in traditional styles. The fair has quite a lively entertainment schedule too, with jugglers, magicians, a fashion show and more all in the lineup. Lastly, for more of an in-depth background on local customs relating to the feast day, this year the Ethnographic Museum has a special exhibit called "Easter Egg Festival – living Croatian tradition".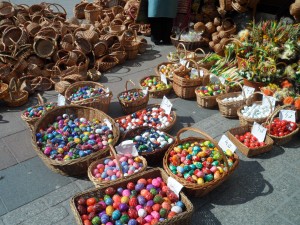 Vienna, Austria
In Vienna, they take Easter markets very seriously, as there are four of them and all have their own unique vibe. One is a rather regal and ravishing affair, as it is held on the grounds of the sprawling and spectacular, yellow and white Schoenbrunn Palace, the leading tourist attraction in town. So, you can conveniently visit this and the market all at once! The Easter Bunny makes an extended appearance at this market, even hosting the Marzipan Easter Bunny Workshop, where kids can learn to make and decorate treats and then bring them home to show off. The market at Freyung Square sets itself apart each year by building an entire mountain out of tens of thousands of painted Easter eggs. Two other markets, the Arts and Crafts Market Am Hof and Kalvarienberg Market, are also well worth a visit, with the former being the perfect place to find lovely little ornaments for putting on an Easter tree, as well as other creations from throughout Austria. The latter market is more of a combination Lent and Easter market and is open far longer than the others, starting on Ash Wednesday and continuing through to Easter Monday.