Adventurers have found many ways of conquering the legendary Cape to Cairo route – by pedal bike, motorbike, battered Land Rover or fragile aircraft. But if you really want to travel this fabled journey in style, climb aboard the Rovos Rail.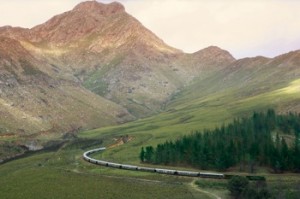 This South African train bills itself as the most luxurious in the world, and for once it isn't over-the-top hyperbole. The exquisitely restored carriages cocoon you in a world far removed from reality, in a rare experience that really is all about the journey, not the destination.
Gentlemen are expected to don a jacket and tie for dinner, and to behave like gentlemen. I even forgot how to swear, since such lowbrow language would be terribly uncouth in such genteel surroundings.
Rovos Rail started as a hobby for its founder Johan Vos, who salvaged some railway coaches dating back to the 1920s from scrap yards and restored them with help from the Railway Preservation Society. Gradually his hobby became an all-consuming business, and the gorgeous carriages now chug from Cape Town to Cairo in a magnificent five-star 28-day journey. The adventure includes an off-rail diversion as a private aircraft flies guests from Victoria Falls to the island of Zanzibar, then back to Tanzania for four days in the Serengeti.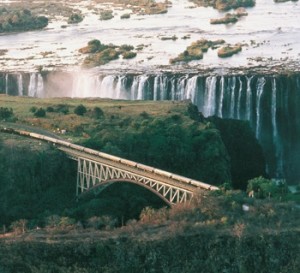 The route winds past the source of the Nile in Uganda then follows the river up through Sudan to Abu Simbel in Egypt. Three nights on the Nile and a quick flight to Cairo conclude what must be the ultimate African escapade.
Sadly there are so few elite and wealthy travelers with time to spare that the trip will only run again in 2014. But there are departures every week to Namibia, Victoria Falls and a nine-day South African golf experience, winding through stunning scenery to reach fine greens including the Ernie Els signature course at Oubaai. My more modest rove was a two-day chug from Pretoria to Cape Town, a cosmopolitan city where it's well worth staying for several extra days.
Everything felt special from the moment I walked into the private station and exchanged my luggage for wine and canapés. I strolled along the platform admiring a huge hissing steam engine that wouldn't actually be pulling us. South Africa's railways are no longer geared up for steam engines, because coal supplies have been removed from the stations and fire breaks needed to protect tinder-dry fields from flying sparks have been eliminated. But you really don't mind what's pulling you once you're ensconced in your cabin, admiring the ingenious design and superb craftsmanship.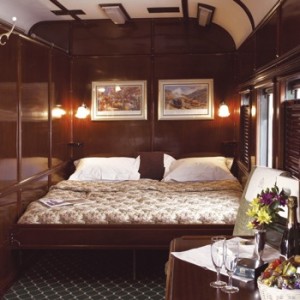 It's at night when the oddity of train travel is most intense, when the generous double bed rocks from side to side and even from head to tail if the engine driver is particularly vigorous. I lay there absorbing the noises, with the clickety-clack of tracks surrounded by an unruly orchestra of other sounds. Furniture creaking and glasses clinking on the desk, a squeal of breaks, the roar of another train passing, and a constant muffled murmuring as if the train is egging itself on to the next horizon.
Chatting to train manager Joe Mathala is a wonderful way to pass the time. He's been with Rovos Rail for 23 years and has some amazing, poignant and hilarious tales to tell.
On this trip just 22 guests were pampered by 18 staff on a train whittled down to 11 carriages. Four sets of trains now criss-cross Africa, each carrying up to 72 passengers when the length expands to an impressive 20 carriages.
Foreigners dominate the train because it's too pricy for the average African, but Joe says prices are kept high to deter the riff-raff and ensure passengers are of a certain caliber. "If they can afford the price they can afford to behave," he says. "When the exchange rate was low everybody could afford it and we really battled to get the quality. Some people didn't even have ties," he says, his eyes wide with exasperation. Now his hand luggage includes an assortment of ties so improperly dressed guests can be brought up to standard.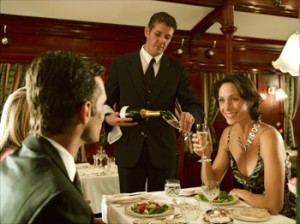 Soon the musical notes of a glockenspiel announce it's time for dinner in the elegant dining car. With meals served four times a day I was already battling the bulge, despite resisting the delightfully anachronistic high tea of tiny sandwiches and dainty cakes. Superb four-course lunches and dinners are produced from a skinny galley that magically rustles up piping hot and beautifully presented meals with astonishing efficiency. We feasted on grilled scallops and slow roasted lamb, rock lobster and ostrich fillet, mushroom-flavored Brie and dark chocolate fondant. Each course is paired with a different wine specially chosen to complement the flavors.
It's a long way from the dining car at the front to the observation lounge at the back, and I tottered along swaying corridors as if my legs were even drunker than they already were. I have to see the stars, I said, stepping into the open-air carriage at the very back. The clear-aired Karoo in the center of South Africa is one of the best places in the world for stargazing. But a Karoo winter is a bitter experience, and I peered out from beneath a beret, scarf and thick coat for five seconds before ducking back inside.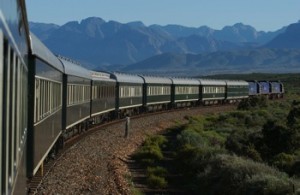 In the morning as we approached Kimberley the staff walked along the corridors announcing pink flamingos. That's an unusual wake-up call, so we popped out of our cabins to see thousands of pretty pink birds settled on Kamfers Dam. Kimberley is famous for a diamond rush in the 1870s that spawned a greater number of millionaires per square meter than any other place on earth. Frank our guide was a garrulous raconteur, spinning entertaining yarns as he showed us around the museum and the Big Hole, the largest hand-dug excavation in the world.
Frank had everyone so enthused that when we toured the recreated mining town outside, a group of tourists squatted in the gravel sifting for stray gems, as if diamonds really do lie strewn across the soil of Africa. Then we were back on the train for a slothful afternoon of eating, drinking and admiring the pristine landscapes.
After another night of insomnia our driver pulled into the tiny village of Matjisefontein. It's the sort of place you can tick off in an hour, or get sucked in and stay for a lifetime. There's a small transport museum and fascinating bric-a-brac in the Marie Rawdon Museum, a rambling building crammed with eclectic items as if several generations had lived on top of each other and never thrown anything out.  There are false teeth and an apothecary room, blancmange dishes and wartime uniforms. A film crew was setting up in the street outside, captivated by the old style charm of this National Heritage village.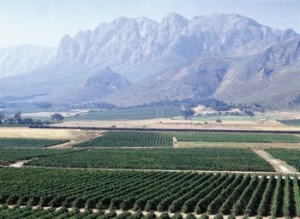 As our train tackled the final leg towards Cape Town, we blasted through long dark tunnels and emerged to see snow on the Hex River Mountains. Then we wound into Cape Town with cameras clicking as we caught sight of Table Mountain tinted by the setting sun.
My journey wasn't over yet, because a taxi was waiting to drive me to St James Manor, a Rovos Rail guesthouse 40 minutes out of Cape Town. I said goodbye with sadness, yearning to make the return journey by rail as well. Yet the Manor eliminated all thoughts of that when I walked into my suite and saw a glorious view of the ocean, a Jacuzzi, and a bed that wasn't shaking of its own accord.
Rovos Rail truly is a magnificent experience if you're rich enough to laugh off the bill and strong-willed enough to ignore the surfeit of fine food and drink. Otherwise you'll disembark with your wallet noticeably depleted and your figure noticeably enlarged. But what a fabulous way to go.
Details:  Rovos Rail journeys vary from two days to a 14-day Cape Town to Dar Es Salaam adventure or the 28-day Cape to Cairo epic. Details from www.rovosrail.co.za