The next move is the most important of them all, our tango teacher said as I wobbled precariously on one leg.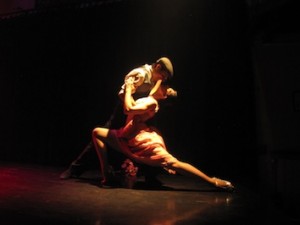 My other leg was provocatively hooked behind my partner's thigh, and I couldn't imagine executing any other move except falling on the floor. "The final move is a sexy face," she said. You can't get away with a "trying not to fall over" face in the tango, so we aimed for sexy or sophisticated expressions as we posed for photos to prove we had indeed taken a tango lesson in Buenos Aires. Then we swished into a small theatre below the dance hall, where a troupe of six professionals and a singer showed us how it's really done.
The tango is a fiery blend of seduction and conflict, with aggressive strutting and macho flamboyance giving way to  lingering holds as the woman concedes that her adversary is man enough to become her lover. It's the perfect dance for Buenos Aires, a city that gradually wins your heart. It took three days of walking the streets before it finally showed its soul. Until then, it felt like a pastiche of everywhere else, with Irish students serving Italian food in streets that look French, sound Spanish and are bristling with Brazilians. "Doesn't it have a character of its own?" I wondered.
I found its soul lurking in San Telmo, one of the oldest neighborhoods where narrow cobbled streets are lined by a mix of run-down apartments and spruced up antique shops. The earthy locals congregate here, making a buck from tourists without leaving you feeling fleeced, and spilling out to play in the streets at an hour when I'm thinking of heading for bed.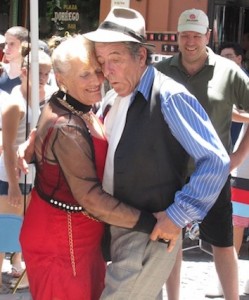 San Telmo's traditional Sunday market brings out the antique and trinket stalls, food merchants and mime artists, the gold-painted accordionist and the tango dancers. One elderly couple who must have been stunning in their heyday gave a mellow display, their tenderness evident as wrinkled cheek touched wrinkled cheek. Their tango faces were neither sophisticated nor sexy, just supremely content.
I felt pretty happy myself after mastering the buses sufficiently to cross the city to San Telmo courtesy of the Number 17, instantly feeling an affinity for the place that you miss from the protected bubble of a taxi. It hadn't been the easiest task, since the buses only take coins – which are in dreadfully short supply – or transport cards bought from a newsagent. It could be urban legend, but I heard that the wily taxi drivers make a tidy profit by hoarding all the Ars1 coins and selling them to bus commuters at Ars1.20 each.
Buenos Aires wakes up early in the morning and maintains a steady hum throughout the day. But it really kicks into life after 9pm when everyone comes out to play, filling up cafes and arguing about football or who cooks the best steak. Bottles of wine are shared and finished, and more bottles ordered, as the dinner and debates roll on way past midnight.
Adjusting your internal clock to join in the swing isn't as simple as winding your watch back when you land. It needs an attitude adjustment too, so you don't expect dinner by 8pm or think it's weird to queue for ice cream after midnight. It's a hectic pace to maintain, which maybe explains why I hardly saw anybody over 50. The place is full of teenagers and students, with a few grumpy old waiters who look annoyed to have lasted so long.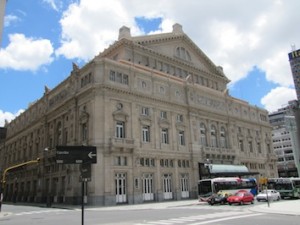 The city has plenty of gorgeous buildings and wide, grand streets to stroll through, although broken pavements and running repairs can be perilous for the ankles. The most famous landmark is Casa Rosada, the pink government palace where Eva Peron made her moving speech to the masses.  To reach the palace, I had to skirt around barriers erected by police carrying riot shields. In the distance I heard the approaching clatter of saucepans and other kitchen utensils being beaten in protest against crime, government corruption and bruising inflation. Secretly, I was relieved that Argentina isn't some squeaky-clean place where everybody conforms. It's a place of mavericks, entrepreneurs, workers and dreamers, giving it an enticing spark and energy.
A decent stroll away is the Teatro Colón, a stunning French Renaissance opera house, with some of the best acoustics of any theatre in the world. I didn't catch a show, but I heard the music anyway. The park across the road displays photos of the theatre's history with piped operatic arias to enhance the scene. It was delightfully wacky, in the spunky way Argentineans have of making the mundane more entertaining.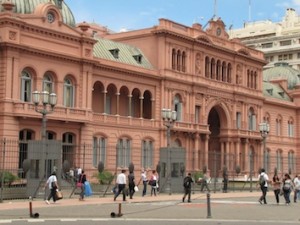 The country is famous for its steaks, but I was more interested in the leather. We tracked down Murillo, a street where about 30 workshops create their own designs in shoes, jackets and bags. Murillo isn't far from Palermo Soho, another area jazzed up by designer boutiques and trendy wine bars. Oddly, for a country that's a major wine producer it's not easy and certainly not cheap to drink decent wine by the glass. Even when you think you've got one, you may not get what you expect. In one decidedly down-market café I ordered glass of wine in my finest Spanish. The whole bottle arrived, but since the entire bill for wine, two empanadas and two pastries cost roughly £7, I wasn't complaining. I couldn't – after half a bottle of wine for lunch, I was struggling to even speak.
Empanadas are little fast food miracles. They're half moon-shaped pastry parcels stuffed with meat, chicken or veg, served steaming hot but too delicious to delay the mouth-burn. I was fascinated as the kitchen assistant deftly plonked heaps of fillings onto pastry circles then folded them over and crimped the edges with his fingers.
From Buenos Aires it's easy to reach Argentina's other attractions – the glaziers of the frozen south, vineyards in the north, or the pampas grass of the cattle and cowboy west. For me, the highlight was always going to be the stunning Iguazú Falls, straddling the border with Brazil. It's a jaw-dropping sight, with hundreds of separate cascades churning over vast amounts of water from the deceptively placid river above. Solid wooden viewing platforms stretch for kilometers along the shores in both the Brazilian and Argentinean sides, putting you above, below and sometimes right in the spray.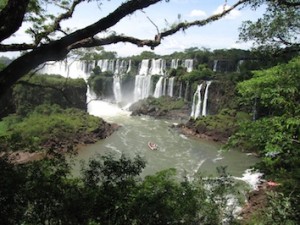 I was mesmerized by speedboats fooling around in the basin of some falls, revving up for foolhardy dashes so far into the ferocious curtain of mist and spray that they disappear from view. Soon I was climbing on board myself, urged by my young tour guide Nelton to sit at the front. Helpful chap, I thought, telling me where to sit for the best view. Nelton, of course, turned out to be an adrenaline junkie, and since the boat goes in fore first, I was in for the biggest drenching. It's quite literally breathtaking, as the water bouncing up from beneath the falls floods into the boat so densely you can barely breathe. But you're laughing too much to draw breath anyway. It's hugely exhilarating, and the relentless sun had us dry within the hour.
That night we were served by an English student in an Italian restaurant, yet it all felt delightfully Argentinean. Just for fun we practiced our dance routine on the pavement as we left, producing smouldering tango faces without toppling into the gutter.
For me, Buenos Aires is much like its tango – there's no heady love at first sight, but a gradual seduction as it reveals its bold character and embraces you in its uncompromising arms.