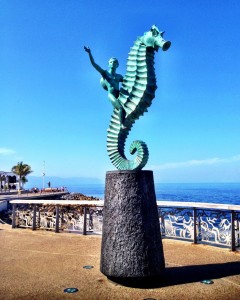 It's been thirty years since I last visited Puerto Vallarta, but in retrospect, that trip in my early 20's turned out to be a life defining one. I credit the time spent among the locals there –so welcoming and eager to include us in their daily lives- for my later foray into travel writing as a profession.
Located on Mexico's Pacific Coast where Jalisco and Nayarit meet, the town is tucked among the lush rainforests of Banderas Bay. It struck me as a poor but very proud community back then, but though they often had very little to share; they always invited us to join them and simply celebrate life.  So when I was recently invited to explore two new resorts in today's increasingly built up and modernized beach area, I worried that the charming little town from my past might have now become totally unrecognizable. But I'm happy to say that, though the landscape has indeed changed, the welcoming spirit of the people remains the same and you need not travel very far from the resorts to unearth their colorful culture.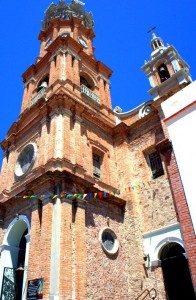 Old and New in Harmony
A great way to get the lay of the land is to take a day tour with local guide Andres Chavez of Tours and Traslados (book through Amstar). We began on the now famous Malecon (seawall/boardwalk) lining the main town. Our guide explained that the youth of the boy on the seahorse statue represents the fact that Puerto Vallarta, Mexico is still growing as a tourism destination. Everywhere we went, it seemed that old and new  intertwined seamlessly- yes, still a work in progress- but comfortable in its ongoing evolution. Sidewalk vendors operating on the cobblestones as in days of yore yet the new concrete boardwalk boasts free WIFI.
The old section is now called the Romantic Zone and it's crammed with lively cafes and nightlife spots,  and the newer area also offers lots of entertainment and dining. We wandered through the market stalls along the river (be prepared to say "No, gracias," a gazillion times!) and stopped to visit the iconic church Our Lady of Guadalupe. Our guide pointed out the mismatched mosaic of stones on some walls were made with rocks supplied by locals to ensure that the project was completed when the church ran out of funds to buy materials. It's a glorious structure- inside and out.
Rainforest Lunch and Tequila Tour
Next, we stopped at scenic vistas along the road to take photos en-route to lunch at El Eden, a local eatery surrounded by rain forest that crests a waterfall. This is where the film Predator was shot. Fresh fish, seafood and tropical drinks  served in a whole pineapple were enjoyed by all. And the soothing sounds of a bubbling river, live music, and chattering tropical birds were frequently punctuated by  the exhilarated screams of zip-liners whooshing full speed past the terrace from the mountain top above. Surreal.
Then we set off to  tour Quinta Dona Chelina- an artisan tequila factory that still does everything the old fashioned way like using big open fire pits and crushing the agave by stone wheel and burro. The resulting tequila was amazing, especially the almond flavored one, rich and smooth. On the way back to town, I noted that the little  houses were all very much as I remembered them- women hanging clothes on the fences, neighbors chatting in little social spots- children playing in the streets… the communities have remained close knit and colorful and I was glad to see that progress hadn't erased that. But as much as I enjoyed the spartan travels of my youth-our hotel didn't even have hot water back then- I have since become accustomed to having more creature comforts while traveling, so now it was time to explore the resorts.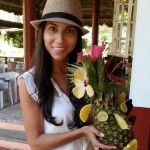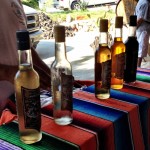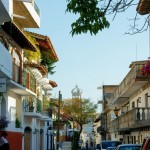 Secrets Vallarta Bay & Now Amber Puerto Vallarta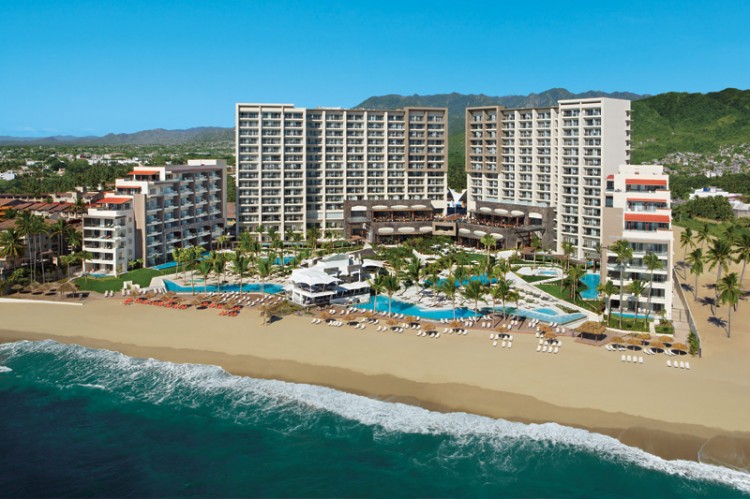 I have had the pleasure of staying at the Secrets brand resorts at other destinations and I thoroughly adore their upscale all-inclusive adult-only Unlimited Luxury concept. That entails all food, drinks, top shelf spirits, 24/7 room service, NO tacky bracelets, a la carte dining without reservations and much more… but I had never visited a "Now" resort before. This Now Amber Puerto Vallarta is the sister resort of the Secrets installation  which is adult-only, but the Now brand is always family-friendly. I have nothing against children, but  I prefer not to have young ones doing cannonballs on my head while I'm trying to relax on a on a floaty mat in the infinity pool. So I was a little concerned about the "shared" concept of this property at first. Turns out I had nothing to worry about as the design here is pure genius. The resorts have separate lobbies and are physically separated by abundant greenery, a concrete staircase, and the Oceana dining spot. However, if you do have children along there  is plenty for them to do on the family-friendly side including a dedicated Explorer's Club for kids.
So many whirlpools… so little time!
It was also my first time staying at the Preferred Club option of Secrets which has its own entrance, private concierge and daily snacks and hors d'oeuvres offerings in its own lounge with a dedicated bartender. Preferred also offers additional rewards, amenities and extras like complimentary WIFI and free international calls. But for me, the absolute icing on the cake was a massive whirlpool tub on my balcony looking out onto the sea. I am a huge fan of hot tub therapy, and here there were so many on this property that it was hard to find time to soak in them all! Beyond my balcony, there are two by the seaside pools on the adult side (and some on the family side, too) and scads of water jet options in the Secrets Spa by Pevonia's hydrotherapy circuit. I was so relaxed and waterlogged that I barely needed the expert massage by Jaime in the spa, but I was glad to have indulged anyway as it was heavenly. Visit: Secrets Vallarta Bay and Now Amber Puerto Vallarta.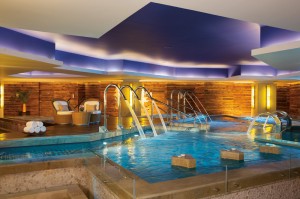 Horseback ride brings me back full circle…
One of my fondest memories of my first trip was horseback riding along the beaches, so when I spotted "Alfredo" right outside of my room with his three horses ready for beach rides I had to partake. I grabbed a young colleague for company and a bag of apples in order make fast friends with our mounts, and off we went.  It was an enjoyable, peaceful ride past local families fishing and frolicking in the surf against a backdrop of a spectacular sunset. And in that very moment, I felt as at home there as I did so long ago…Puerto Vallarta, Mexico is still a very special, unspoiled and soothing escape.
Visit: www.visitpuertovallarta.com