Though best known for their colorful Carnival, Aruba has all kinds of cool festivals, annual events, and visitor-inclusive celebrations happening all year round!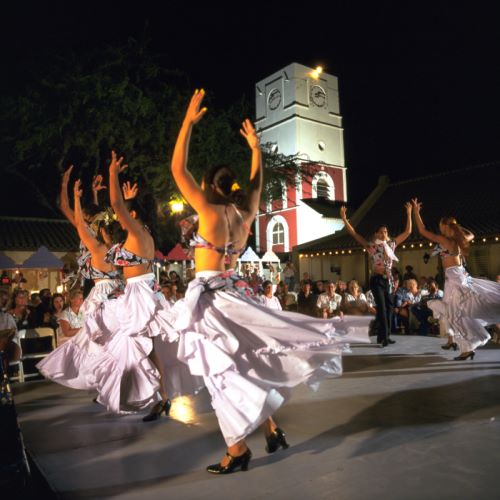 Though Carnival lasts for three months, it really doesn't matter when you visit Aruba as there are all kinds of gala events going on all year-round. And you need never worry about the weather for outdoor festivals: Aruba is outside of the hurricane belt and boasts a balmy average of 85 degrees with only 20 inches of rainfall per year! Here are some of the most popular offerings, but there are many more. Visit their tourism board calender of events (http://www.aruba.com/thingstodo/events.aspx) to discover what's happening when you plan to visit and to check for updated information on dates and locations.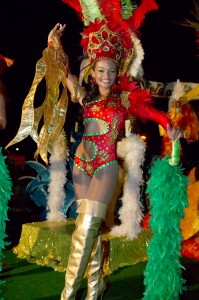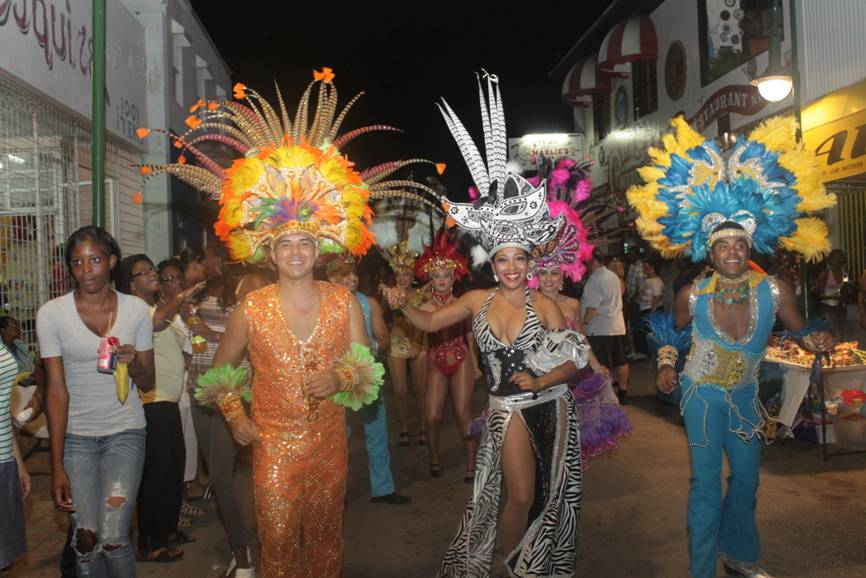 Carnival takes center stage on Aruba beginning from early January right through to March, bringing all 100,000 residents out into the streets to celebrate in high style. This is tropical glitter and pageantry at its finest, and of course there is lots of infectious music surrounding the jump-ups, parades and pageants. Costumes can take thousands of dollars to make, and the theme planning begins an entire year in advance. Popular events include the Tivoli Lighting Parade, Jouvert Morning in San Nicolas (locals have dubbed it the pajama party as it begins before sunrise and most show up in their night clothes), the Children's Parade and of course the finale with the grand midnight burning of "Momo" the effigy king. 2012 will mark its 58th consecutive edition; and now there is a new mini-version of carnival called the Carubbian Festival that showcases a preview of the real deal in San Nicolas all year-round. Carnival style costumes, music and dancing, local food and crafts, and a jump-up party atmosphere rock the entire main street of the town Arubans call Sunrise City every Thursday night from 6-10pm. Some resorts offer packages that include transport there and back. Then there is the weekly Bon Bini Cultural Festival that showcases local music, dance and food in downtown Ornajestad every Tuesday night from 7-9pm at historic Fort Zoutman. There are also specific days of the year that the entire island celebrates with cultural pride, such as Flag & Anthem Day on March 17th and the Dutch Queen's Birthday on April 30th. And if you are on island June 24th (St.John's Day) and notice lots of smoke in the air, do not be alarmed as bonfires are purposely set all around the island as part of Dera Gai (Rooster Day), a special island-wide cultural celebration with song and dance among all the communities. And at the new visitor center of Arikok National Park, regular weekend events to showcase local music and dance in their courtyard are planned for the near future.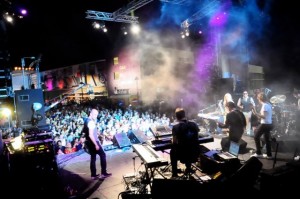 Musical Celebrations
The Aruba Soul Beach Music Festival is held on Memorial Day holiday weekend each May. It's a two-night concert series that has featured international talents like Jennifer Hudson, Toni Braxton, MJ Blidge, Alicia Keys, Brian McKnight and more. Caribbean Sea Jazz Festival is held at Casa di Cultura each year in early October with a star studded list of musical talents attracting crowds of some 7,000 jazz fans, and the first Aruba Music Explosion took place in September 2011 in the Piedra Plat Stadium, and was such a rousing success with headliners like Micheal Bolton and Air Supply alongside local talents that it is now planned as an annual event. For classical music fans there is the annual Aruba Piano Festival going into its 6th season in 2012, it is also in September and features world class musical artists playing a whole lot more than just pianos; and for homespun music, every January right after the fireworks have faded locals start the year off in musical style with singers traveling from home to home in an ancient tradition called Dande, designed to bring good fortune for the coming months. There are also public concerts that mark the occasion as well.
Food, Wine, Film, Art & Fashion Festivals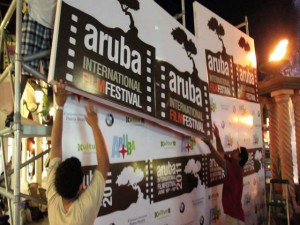 The island now rolls out its very own red carpet for the annual Aruba International Film Festival(AIFF). Held in June, it will mark its third year in 2012. International film industry types, jet-setters, and famous actors like Richard Gere and Kim Cattrall have been among the glitterati spotted there, and the after-parties are world class. High fashion has also hit the island runways as of 2011: their first annual Aruba In Style was a huge success in November. Hosted mostly at two Marriott brand hotels, the Aruba Renaissance's adult-only hotel and also at the Aruba Marriott's new adult-only H20asis pool, the fashion shows, celebrity cocktail parties, premier DJ events, styling sessions and more really put Aruba on the haute couture map. And they intend to make it even bigger and better next year!  As for the palate, every year the Westin Hotel hosts the gala Aruba Wine, Food and Art Festival highlighting the talents of local and international chefs and spirits companies as well as renowned artists in June. There is also a monthly Food and Wine Festival highlighting food from Aruba's local restaurants in Arawak Gardens. Many resorts and restaurants host their own culinary galas: check the local news website (www.aruba.com) for updated information.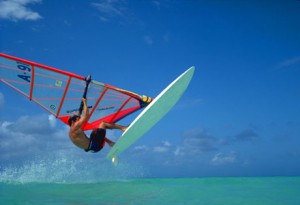 Sporting Events
Regattas, pro-am golf tournaments, international beach tennis championships and even drag races bring out fans in droves, but the island's biggest and most famous annual sporting event  is by far the Aruba Hi-Winds in July, which showcases some of the world's very best windsurfers and kiteboarders and has the entire island in party central mode until its over. There is also two wonderfully social and socially conscious eco-events held every year where visitors are welcome to join in- the annual Aruba Reefcare Project attracts thousands of locals and visitors out for two days of reef and beach cleaning with great parties in July. And then there is also Aruba's official National Coastal Clean-up Day (Nov. 12th). Many visitors like those who stay at Bucuti which is an extremely environmentally-conscious resort, join the locals to help keep Aruba's glorious natural wonders clean and pristine for the future.